The stock market has been volatile for many months now but this is not a new phenomenon. We have experienced similar conditions several times in the past and the magnitude of price corrections have been bigger than what we are experiencing now. For example in the crash of 2008 the Nifty fell more than 50%, in 2011 it fell more than 25% and in 2015 it corrected around 20%. Over the last 3 months, Nifty has corrected around 7%. Periods of moderate to deep corrections in the past lasted for few months to even a year or longer.
Deep corrections and prolonged volatile periods are stressful for average equity investors because most people find erosion in value of investments made with their hard earned money difficult to cope with. Another aspect of equity market volatility is the uncertainty about the length and depth of correction. From a psychological standpoint, most people find uncertainty to be very challenging for making financial decisions. However, as the chart below shows, equity as an asset class though intrinsically volatile, grows in value over a long investment horizon and gives superior long term returns.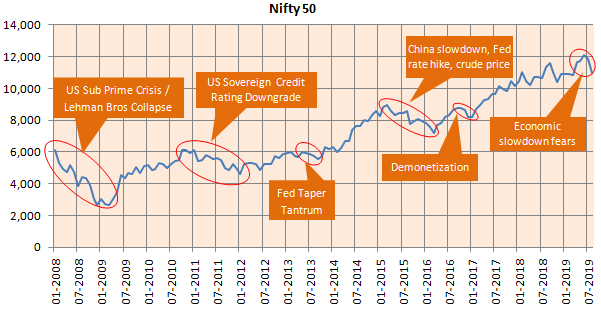 Data Source: National Stock Exchange
While historical data shows that equity is the best performing asset class in the long term, investors must be prepared for a bumpy ride in their equity investment journey. Here are some pertinent observations about Nifty growth over the last 11 years:-
Nifty gave negative annual returns in 3 out of the last 11 years


Nifty gave unsatisfactory returns (less than 7%) in 4 out of the last 11 years


Nifty gave healthy returns (more than 15%) in only 5 out of the last 11 years
Source: NSE India Website
While Nifty performance has been negative/unsatisfactory for 7 out of 11 years, Nifty has given 9% CAGR returns in the last 10 years (period ending 1st September 2019 – Source: Advisorkhoj Research), which is higher than fixed income or asset classes over the same period. Patience is, therefore, the key in wealth creation through equity investments. In fact, with disciplined and systematic investing you can get higher returns by taking advantage of the volatility.
How disciplined investing through SIP creates wealth
Mutual fund systematic investment plan (SIP) is a disciplined way of investing in equity. Let us assume that you started investing Rs 10,000 every month (on the first business day of the month) from January 2008 in Nifty 50 Total Returns Index (TRI) through SIP and continued your SIP despite market ups and downs till date (30th August 2019). The market value of your SIP would have Rs 27 lakhs on a cumulative investment of Rs 14 lakhs; annualized return of 10.73% which on a post-tax basisis much higher than the average inflation rate (5 – 6%) and other asset class (e.g. fixed income, gold) returns. Source: Advisorkhoj Research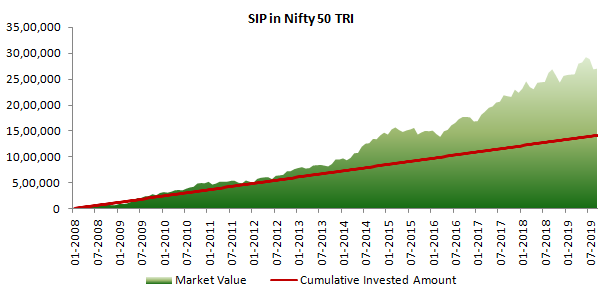 Data Source: National Stock Exchange
Conclusion
Equity is a volatile asset class. You should invest according to your risk appetite and have a long investment horizon


SIP is one of the best investment methods for wealth creation. Since you invest small amounts of money from your regular savings every month you can keep investing for a long period of time and benefit from equity market growth through the power of compounding


By investing a fixed amount every month (or any other interval, you can take advantage of price volatility in the stock market through Rupee cost averaging of acquisition costs


Patience and discipline are the two key factors in wealth creation. You should not let periods of volatility distract you from your long term financial goals. You should continue with your SIP irrespective of market conditions to achieve your long term wealth creation goals and seek the guidance of your financial advisor
Mutual Fund Investments are subject to market risk, read all scheme related documents carefully.
#Wise With Edelweiss – An Investor Education Initiative by Edelweiss Mutual Fund.