Why diversify globally?
For most retail investors in India, equity as an asset class is limited to just Indian stocks or mutual fund schemes which invest in domestic stocks. Adding international stocks or funds - to your portfolio provides several diversification benefits. All stock markets do not move in the same direction always – in the last 2 years US S&P 500 gave 10% CAGR return versus Nifty CAGR of 7%. By diversifying internationally, you can reduce single country risk brought about by climate related factors, political upheavals, trade sanctions, war etc. International diversification will reduce overall portfolio volatility. It will also enable you to get exposure to a wide variety of - sectors, especially those which are in nascent stages of development in India, however established internationally.
Technology as an investment theme – Wealth creation potential
Technology stocks have been among the best performing in the US stock market over the last 5 years. As per Michigan State University, Artificial Intelligence, Cyber security and E-commerce are among top 5 fastest growing -sectors globally. Technology megatrends are very difficult to predict e.g. estimation of cell-phone adoption by the year 2000 made in the mid 1980s was 0.9 million subscribers, however, the actual number of subscribers in the year 2000 was 109 million. If you invested just Rs 10,000 in Amazon stock during its IPO in 1997, by now your investment would have multiplied 2,100 times to Rs 2.1 crores (as 14th February 2020).
Why are technology megatrends important in investments?
Disruption in technology is a key driver for wealth creation. Out of the 10 largest tech companies by market cap in year 2000, only 3 have managed to stay on - the top 10 list in 2019. Therefore, identifying megatrends and early on-boarding to these megatrends as investment themes are crucial factors in getting superior returns from investments in technology sector.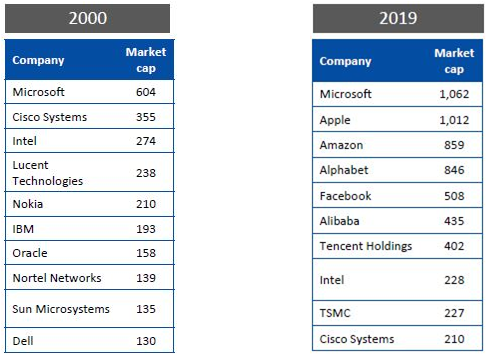 Source: Edelweiss MF, Market Cap in USD Billions
Why invest in US Tech Stocks?
United states is the biggest economy of the world with a GDP of $18 Trillion


US stock markets (NYSE and NASDAQ) are the largest in the world. They are also the most diversified and mature equity markets.


Technology and financials account for 34% of US market capitalization


US is home to a quarter of the Fortune 500 companies


The US has been and continues to be at the forefront of technology and innovation. Some of the largest technology companies are head quartered in the US and listed in US exchanges.


US is the home to the best technology businesses that have gone to become giants e.g. Apple, Amazon, Microsoft, Facebook, Google, Tesla etc.
Why should you invest in technology megatrends now?
Wealth creation potential of investments in technology megatrends that are in early adoption to rapid adoption stage is huge e.g. if you invested Rs 1 lakh in Google stock at the time of its IPO in 2004, your money would have grown to more than Rs 3.5 crores. Technologies like PC/laptop, Smartphones and tablets have attained high levels of maturity in terms of adoption across the world. Technology businesses like enterprise resource planning, database solutions, information technology services etc. have also attained high degree of maturity. Some of the technology megatrends that are in early to rapidly growing adoption stages are cloud computing and digital transformation, artificial intelligence and machine learning, electronic payments, autonomous cars machines, 5G and over-the-top (OTT) streaming.

Source: Gartner Group, U.S. Department of Commerce, J.P. Morgan Asset Management estimates. The chart shown above is for illustration and discussion purposes only. Most recent as of 30 September 2019
How and who should invest in US Technology Sector?
You do not need to open an overseas bank account or investment account to get exposure to international markets like the US – you can invest through international mutual funds which invest in international stocks


We have stated a number of times in our blog that your core equity portfolio should comprise of diversified equity funds across different market cap segments according to your risk appetite. But you can improve portfolio returns across different market conditions by investing in international funds. Investors can diversify their portfolio by investing in US technology sector


Investors who are looking to invest primarily in upcoming technology companies with strong fundamentals, growth and next Gen Ideas. You do not have to be a technology expert to invest in a technology mutual fund. You simply need to be aware of technology trends and its growth potential


You need to have a long investment horizon and sufficiently high appetite for risk for investing in Technology sector
Edelweiss US Technology Fund of Funds is an open ended mutual scheme investing in JP Morgan Funds – US Technology Fund. The underlying fund invests in:-
Companies that are aligned with technology mega trends


Highest conviction technology and technology-enabled ideas


The underlying fund makes detailed assessment of attractive business models and invests accordingly


Growth-oriented, Multi Cap, flexible approach to offer best ideas in technology-driven sectors
The JP Morgan Investment team has an average 23 years of fund management experience, Six Sub Sector Specialists, thus leveraging from the insights of the Global JP Morgan platform. The chart below shows the performance of JP Morgan Funds – US Technology Fund in INR terms over various trailing periods (ending 30th December 2019) – returns over more than 1 year periods are annualized.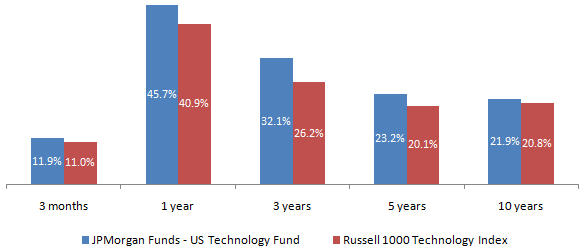 Source: JP Morgan Asset Management as on November 30, 2019
Edelweiss US Technology Fund of Funds is open for subscription at face value during the NFO period which closes on 28th February 2020. Investors should consult with their financial advisors if this NFO is suitable for their long term investment needs.
Riskometer –

Mutual Fund Investments are subject to market risk, read all scheme related documents carefully.
#Wise With Edelweiss – An Investor Education Initiative by Edelweiss Mutual Fund.