What is ESG?
ESG stands for environmental, social and governance. In investment parlance, companies' performance on environmental, social and governance parameters is an essential consideration in ESG investments. The fundamental premise in ESG investments is that companies which adopt ESG principles have the potential of delivering sustainable earnings growth in the future. It is also about a company's risk management, i.e. how it manages its own operations to minimize negative impact from ESG risk factors.
ESG as an investment theme is gaining awareness all over the world. Global investments in ESG theme is over $40 trillion as on July 2020 growing at a CAGR of 15% since 2016 (source: Pension & Investments website).
Why is it gaining so much awareness?
There is much greater awareness and appreciation about environmental risks like climate change among investors' especially demographic profiles like young investors and women. As more millennials join the workforce and start investing, we are likely to see even more interest in ESG themes.


With communities getting more connected with each other through social media platforms there is greater awareness about social factors. The devastating impact of the COVID-19 pandemic on certain sections of the population has further increased awareness about ESG factors.


Over the past two decades we have seen several large corporate failures which could have been attributed to failure in corporate governance. These failures resulted in huge loss of shareholder wealth. Even in the recent past we saw high profile cases of wrongdoing involving senior management of public companies. Investors are now much more aware and are avoiding companies which do not have high standards of corporate governance.


COVID-19 has brought into focus how companies respond to sustainability crisis and renewed focus on ESG investments. Global ESG fund flows in Q3, 2020 stood at $80.56 billion a record high (source: esgclarity.com).
How ESG affects us?
ESG factors focuses on risks that affect the environment, society and investors. These risks have a longer impact on business sustainability compared to the traditional financial and non-financial factors used to assess business risk.
Environmental e.g.



Climate change


Pollution including waste management


Renewable energy use



Social e.g.



Employee health and safety


Workplace diversity and inclusion


Product safety and quality



Governance e.g.



Protection of all shareholders


Business ethics and prevention of corrupt practices


Accountability of board of directors
How are ESG factors helpful in investments?
Companies that have strong ESG practices not only have lower risks but in the long run tend to gain competitive advantage due the following reasons:-
Build strong brands and customer relationships due to ESG values


Cost savings through superior energy conservation, waste management and reduction


Superior productivity due to better labour relations and employee engagement


Faster approvals, less regulatory interventions and better Government relations


Less vulnerable to lawsuits and opposition from local stakeholders


Superior return on capital due to investments in sustainable assets
Following are the benefits of ESG investments:-
Lower Risk


Improved financial performance


Improved valuation


Potential higher return to shareholder
ESG investments outperformed the market
Historical data as given below shows that ESG investments have usually outperformed the major market benchmarks across different market conditions. National Stock Exchange has constructed an ESG index for the top 100 companies by market cap - Nifty 100 ESG Index.
The chart below shows the annual returns of Nifty 100 ESG TRI versus Nifty 50 TRI. You can see that the ESG index outperformed Nifty in most (both bull and bear market years).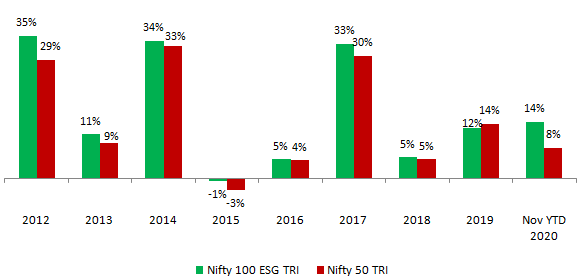 Source: National Stock Exchange, Advisorkhoj Research (as on 30th November 2020). Disclaimer: Past performance may or may not be sustained in future
Why is ESG important for investors?
As of April 2020, around 2,750 asset managers (AMCs) representing over $100 trillion of assets under management had signed the United Nations Principles for Responsible Investing (UNPRI) which has integrating ESG principles in investments among its most fundamental priorities (source: unpri.org). More and more Foreign Institutional Investors (FIIs) are using ESG principles when making investment decisions in Indian equities. Investors should understand that ESG principles are not only used in equity investments but also in debt investments. Companies with negative ESG impacts may find it difficult to raise capital in the form of equity or debt, which may affect their financial performance and investor returns in the medium to long term.
What should investors keep in mind?
ESG as an investment theme is relatively new in India. ESG research requires a lot of specialized expertise. Retail investors who may lack expert knowledge in this area may invest in ESG theme through ESG mutual funds and ETFs. There are a few ESG mutual funds chemes in India. When investing in ESG funds you should know criteria used by the fund managers to select ESG stocks. You should invest in ESG funds where there is little or no room for ambiguity in terms of what the fund managers can invest in and what they cannot invest in.
You can also refer to the Nifty 100 ESG, where National Stock Exchange has clearly specified how companies are selected and the index constructed.
Conclusion
ESG is becoming one of the most popular investment themes in the developed markets. Even though ESG theme is relatively new in India, it is expected to gain traction in the coming years. There is increasing focus on Environmental, Social and Corporate Governance issues in India and companies which adopt these in their business practices are likely to outperform in the future. With FIIs increasingly using ESG factors in investment decisions and DIIs (mutual funds) also likely to increasingly use them in the future, individual investors should give due consideration to Environment, Social and Governance in their investment decisions. However, it is recommended to consult your financial advisor before taking any investment decision.
Check out the Infographic of ESG investing
Issued as an investor education initiative by HSBC Mutual Fund.
Mutual Fund Investments are subject to market risk, read all scheme related documents carefully.