Human race has made great evolutionary progress but in our quest towards industrialization, we have caused significant changes to our ecology and climate. Greenhouse effect due to industrialization has resulted in significant rise in temperatures in different parts of the world.
In the last few decades, global land and ocean temperature have risen by approximately 1 degree Celsius, resulting in melting polar ice-caps and corresponding rise in sea levels (source: NASA). In the last 20 years, 7,348 major natural disasters were recorded globally, claiming 1.23 million lives and costing $2.97 trillion in economic losses. Scientists believe that many of these natural disasters are directly or indirectly linked to climate change (source: World Economic Forum Agenda 2020/10/Natural Disasters).
Impact of climate change in India
Climate Change is happening everywhere and India is no exception. The impact has already started being felt. The pictures below show several examples of the adverse impact of global warming / climate in India. Policymakers, industries and citizens of our country should take the issue of climate change seriously and be prepared to combat it jointly for the future of our children and coming generations.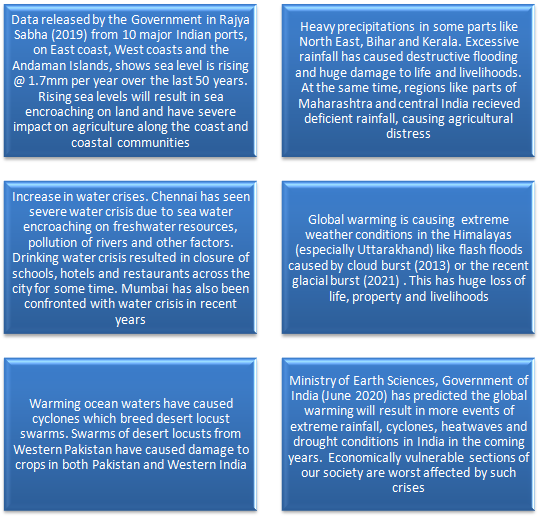 Source: Economic Times (August 2020), Times of India (August 2020, February 2021), Livemint (August 2019, March 2020)
How climate change affects businesses
Many of us think that, climate change is the concern and responsibility of policy makers, environmentalists and social activists. The reality is that everyone is affected by climate change including businesses, either directly or indirectly. It is everyone's joint responsibility since all of us are impacted in some way or the other due to climate change.
As investors, you also may be impacted by how climate change affects companies / industry sectors that you may have invested in or plan to invest.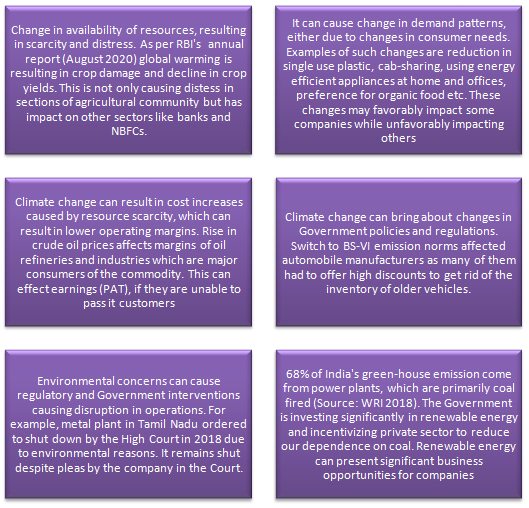 Source: News18 (March 2020), The Hindu (August 2020), WRI (2018), Economic Time (November 2020), RBI (August 2020)
What are companies doing about climate change?
Responsible companies with visionary management teams are looking into the future and are integrating principles of sustainability in their business strategies and operations. Examples of strategic responses to climate change challenges are as follows:-
Use of renewable and clean energy sources like solar and wind power. Use of clean / renewable energy sources will reduce our dependence on non-renewable energy sources like fossil fuels. The Government announced the launch of National Hydrogen Mission in Union Budget 2021. Being a zero-carbon fuel, hydrogen is considered to be one of the key sources of clean energy for the future.


Automobile companies focusing on developing and manufacturing electric cars reducing the dependence on fossil fuels which causes greenhouse emissions. This includes car manufacturers in India as well. Electric cars made by Indian manufacturers in affordable (budget to mid) price range have already been showcased in auto expos in the country.


Adoption of digital technology and digital innovations can result in lower carbon footprint. Reduced paper usage (preservation of forests), less commute by working from home (less greenhouse gas emission and pollution), rationalization / consolidations of offices / branches through automation and digitization (more efficient use of resources) is not only beneficial for the environment, it also helps in reducing costs and increasing profitability.


Companies which have adopted sustainability as their business / operations philosophy are using the 3 R's mantra – Reduce, Reuse and Recycle. In other words, these companies are reducing the use of natural resources which Mother Nature has given us. In her Budget 2021 speech, the Finance Minister talked about the achievements of India's ship re-cycling industry, which meets 1 – 2% of the country's steel demand and employs tens of thousands of people. The Finance Minister indicated that the ship re-cycling capacity can be doubled in the next 3 – 4 years (source: Union Budget 2021). Ship re-cycling is just one example; consumers and industries produce a huge amount of waste, and there is huge potential in re-cycling when compared to how much waste other countries re-cycle.


According to Confederation of Indian Industry (CII), Indian companies are adopting voluntary emission reduction targets. In 2009 the Government (Ministry of Corporate Affairs) published Corporate Social Responsibility Voluntary Guidelines, recommending that all businesses formulate a corporate social responsibility (CSR) policy. Two years later, the guidelines were superseded by the expanded and more detailed 'National Voluntary Guidelines on Social, Environmental, and Economic Responsibilities of Business'. In 2011, the capital markets regulator, SEBI mandated the Top 100 companies report on Environmental, Social and Governance (ESG) initiatives undertaken by them.
Sustainability is gaining popularity
The good news is that more companies around the world are adopting sustainability as part of their business mantra. The global market size of global Green Technology and sustainability is expected to grow from $11.2 billion in 2020 to $36.6 billion by 2025, growing at a compounded annual growth rate of 26.6%(Source: marketsandmarkets.com Green technology and Sustainability report).Moves like these are good for the planet and for the investors as it gives them a chance tobecome global citizens. Investors around the world, especially young investors are embracing sustainability and responsible investing.
What can you do as an investor?
As investors, we want you to make the world a better place for our future generations, which includes our children and grand-children. You should support such responsible businesses, which are committed to the future of our planet and our future generations. One probable step can be byinvesting in climate change funds. Companies committed to sustainability have lower risks arising out of potential litigations, Government / regulatory actions, asset obsolescence etc. All of us have to be more responsible and aware that natural resources are depleting very rapidly hence take small steps to begin with like saving water, reducing carbon foot print or stop using plastic which can gradually become a part of our life. As an investor we have to take such small steps to save the planet and be more responsible. One step towards this direction can be consulting with your financial advisor to understand ESG funds.
Additional reading material:-
Climate change Infographic - https://cutt.ly/lk9HMlO


Global diversification – https://cutt.ly/Jk9H4b4


ESG - https://cutt.ly/ck9H6jl
Issued as an investor education initiative by HSBC Mutual Fund.
Mutual Fund Investments are subject to market risk, read all scheme related documents carefully.