The Sensex has fallen nearly 26% in the last 1 month (3rd March 2020 to 3rd April 2020) and 33% on a year to date (Calendar Year 2020) basis (as on 3rd April 2020). The January to March quarter(of Calendar Year 2020) saw the worst performance by Sensex and Nifty in the last 28 years. The Coronavirus pandemic has shaken markets all over the world. India is not the only market where stocks crashed, most of the major markets (US, UK, Germany, Japan etc) saw sharp cuts. Though a sharp fall in the market values of equity investments is likely to be stressful for many investors, we think that instead of panicking, investors should use this opportunity to tactically increase the asset allocation in equities.
Equity creates wealth despite volatility
While equity as an asset class can be volatile, historical data shows that it is best performing asset class in the long term. The chart below shows the price history of the BSE – Sensex. You can see that despite several big corrections (ranging from 20% to 60%) the Sensex has always recovered and made new highs.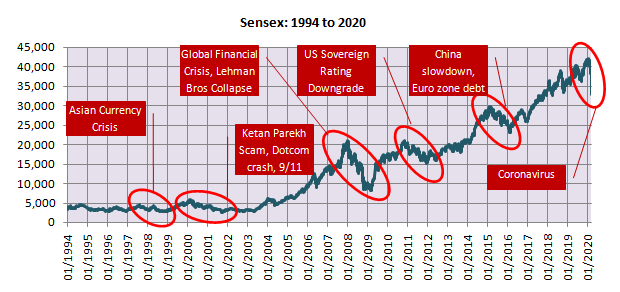 Source: Bombay Stock Exchange (1st January 1994 to 3rd April 2020) *(as at April 2020)
Is this a good time to invest in equity funds?
While some investors are panicking in the current situation, we know that there are quite a few investors who are actively considering investing in equity mutual funds at these market levels.
The table below shows the long term returns if you invested in the Sensex when it corrected 25% from its peak over the following 7 to 15-year investment horizon after each 25% correction. There were 4 major corrections of more than 25% viz. the Asian Currency Crisis (1998), Dotcom crash / Ketan Parekh scam / 9-11 terrorist attack (2000 – 01), Global Financial Crisis (2008) and US Sovereign Rating downgrade (2011).

Source: Bombay Stock Exchange (1995 to 2020), Advisorkhoj analysis
We can see four instances when the Sensex has fallen by 25% in last 25 years in the above chart. The Sensex has given 12.5% / 13% CAGR returns* plus dividend yield in 15 years post that 25% correction on those two occasions (year 1998/2000). If you are patient and remain invested, you will be able to recover your short term losses and get better returns over a longer investment horizon.
The 25 year Sensex CAGR was 8.8% butyou can see that in almost all cases you got much superior returns if you invested at a level 25% below the peak. The Sensex is currently (as on 3rd April 2020) down 34% from its peak. Keeping the situation and history in mind, we suggest that this may be a good time to invest in equity funds because prices have fallen substantially.
Should you try to catch the market bottom?
Recoveries from past bear markets have shown us that, investors trying to time the market bottom missed investing at attractive prices. This is because a bottom is confirmed only when prices have recovered substantially and market makes lower lows. The table above shows that despite bottoms being made at substantially lower levels, investors still got significantly higher than long term average returns on investments made at levels 25% below peak.
Valuations are quite attractive at current levels (please see Price to earnings (PB) chart below).We can see clearly that market downturns can create significant opportunities. Over-the-top market pessimism often presents opportunities to buy equities at attractive levels. If you are worried about near term volatility, then you can invest a portion of your investible funds in equity, invest the rest in a liquid fund and transfer to equity funds systematically through 3 to 6 month STP. Through STP you may be able to buy on dips if prices fall further.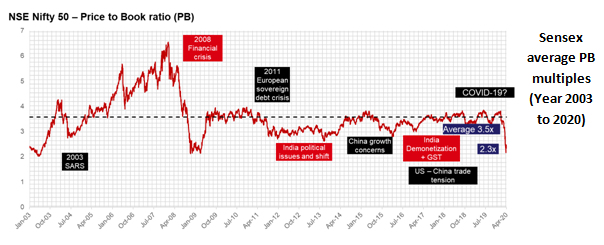 Any performance information shown refers to the past and should not be seen as an indication of future returns.
Source: Bloomberg, Nifty 50 PB ratio, data as at March 2020.
Markets are supported by RBI and GOI measures
The RBI delivered an unscheduled 75bps rate cut to bring repo rates to multiyear lows of 4.4% on 27th March 2020 and also maintained accommodative stance


RBI has also announced liquidity measures of Rs.3.74 Lakhs Cr along with debt moratorium option


The Central government on 26 March 2020, announced a COVID-19 relief package worth Rs. 1.7 trillion (USD 23 bn or ~0.8% of FY20E GDP)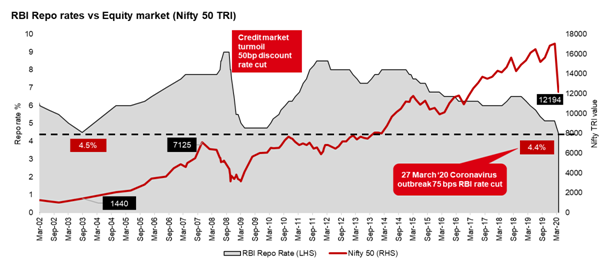 Source: RBI, Bloomberg, as of March 2020.Any forecast, projection or target contained in this presentation is for information purposes only and is not guaranteed in any way.
Summary
In these difficult market conditions, it is useful to remember Warren Buffet's advice to investors, "Be fearful when others are greedy and be greedy when others are fearful". The deep correction in the stock market has made equity valuations attractive for long term investors. We have seen that investors got attractive returns from investments made during deep corrections. However, you must have a long investment horizon and high appetite for short term volatility. Historic wealth generation opportunity will be back to investors. However, investors should consult with their financial advisors before investing.
Read here on the benefits of equity mutual funds in your portfolio.
Watch a short video on how you can empower your dreams, with equity mutual funds
An investor education initiative from HSBC Mutual Fund
Mutual Fund Investments are subject to market risk, read all scheme related documents carefully.