Shiva Prasad Konduru is an Investment Advisor from Warangal. He is also a trained Software professional. However, after losing money in the stock market, he started learning about investments and became a full time financial advisor. He is passionate about goal based investments and investor education. Being a techie, he created a Mobile App 'Wealth Manager' which he thinks can help thousands of Investment advisors and Investors. In an interview with Advisorkhoj, he confessed that money making is not the sole idea behind creating this App. He feels privileged as the App was launched by CEO of Birla Sunlife Mutual Fund, A. Balasubramanian.
Let me congratulate you on creating the app 'Wealth Manager'. How this idea came to your mind?
There are lot of APPs in Google Play Store, once I searched for Mutual fund related apps I could not find any app suitable for mutual fund advisors and investors and consulted my Nephew Mr. N. Kishore Kumar. Being from a software back ground, we together, discussed and recently launched the beta Version.
How this app is going to be helpful to your fellow advisor friends, industry and investors?
Once you download the app from google play store you don't need internet it will work offline. With this app we calculate, for example - Future Value of Money, Systematic Investment Plans (SIP) returns, lump sum + SIP investments etc. When advisor meets the investors, normally they ask how much amount they will get from SIPs after a certain period of time. And, then the advisor has to calculate or visit websites of AMCs in order to answer the query or calculate in excel sheet. For this advisors has to carry a laptop, but nowadays android mobile is available for very low prices. So, he can quickly answer the queries without opening the laptop. This is a situation faced by all in the mutual fund industry. In SIPs, we have included investment untouched years in our app. I asked some of my client to Download and calculate for their need and as a result of that some of the investors increased their SIPs. Click here to view the 'Wealth Manager' App details https://play.google.com/store/apps/details?id=wealth.financial
From a techie to stock market investor to a financial advisor – which role you really liked and why you kept changing the roles?
I last money in Harshad Mehta period and tech bubble because of not having good knowledge in stock market trading. I wanted that whatever happened to me should not happen to my family members and friends. I love to be an advisor and my weakness is gadgets and internet.
How are you planning to monetize the app?
We have developed this application for not making money. It is developed purely for the benefit of small (B15) advisors and investors.
Mr. Balasubramanian, CEO of Birla Sunlife MF launched your 'Wealth Manager App', how they are helping you promote the app?
I want to give a big thank you to K.S. RAO, Head of Investor Education & Distributor development, who helped me to launch the 'Wealth Manager App' through Mr. Bala in South Zone Birla Sunlife Privilege club meet held in Hyderabad. I also thank the entire team of Birla Sunlife Mutual Fund who helped and encouraged me in launching the App.
Please share your learning as a stock market investor. I understand you made losses in the market and then started learning finance to manage your own money? Please elaborate.
By being a trader the investors earn some money in few stocks and lose the same money in other stocks. The Money earned is always lost by reinvesting them in the stock markets. After seeing and doing all these, I realized small and Goal based investment will fetch more returns then chasing stocks and thus started looking in to mutual fund and became an advisor.
How challenging is it to manage others money? Are you enjoying becoming a financial advisor? Don't you get perturbed by the tightening regulations and changing dynamics of the advisory business?
Due to my personal experience I am able to manage mine, relatives and friends investments. I got most of the business through 'word of mouth' publicity by existing clients only. I believe, in every field there should be a regulator and we should do business according to the regulation.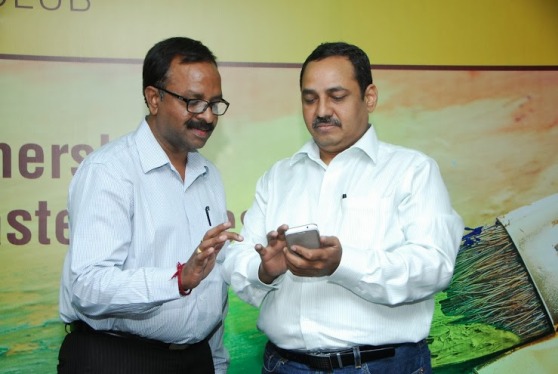 Mr. Balasubramanian, CEO, Birla Sunlife Mutual Fund examining the 'Wealth Manager' App.
Should retail investors participate in the stock market directly? What message you would like to give them as you yourself have burnt fingers in the market?
Without having adequate knowledge investments in stock market will always be risky and investors might lose hard earning money. Investments should always be goal based and systematically follow a proper investment advice.
Mostly, investors get confused between saving and investing. And they assume insurance as investments. How do you explain these to investors, your thoughts?
Yeah, you are right. Most people do not know the difference between savings and investments and they consider both the same. People have to realize insurance is not an investment product and t is totally need based. But, unfortunately, in our country most of the insurance products are mis-sold as investment products.
What is your focus – increasing the AUM or increase the client base? How you want to expand your client base?
My advice is mostly in SIPs and debt funds. I get new clients through my exciting clients and I also conduct financial education workshops to get new clients.
How many clients do you manage currently under your umbrella?
More than 200
How do you differentiate yourself from other advisors in Warangal?
I got knowledge through my personal experience and I consider this as a noble profession. I am service oriented and the entire motive is not making money alone.
You are also imparting financial education to youngsters in Warangal. How this thought came to your mind and what are the benefits of doing it?
I started imparting financial education first to my relatives, friends and their children after completing their Graduation. I explained them the importance of starting investing early and goal based investing. Now, I have started giving financial education to college students and other segments of the society just to promote financial literacy in society .
Warangal's total contribution to Mutual Fund Industry AUM is only 0.02%. What you and other MF advisors are doing in terms of promoting Mutual funds in Warangal?
Through investor education programs.
What else would you like to add up?
Our country needs investor education in right direction especially for young generation in the age group of 25 – 35.