After a dream bull rally which saw the stock market climb to all time high, the market has turned volatile in the last one month. The Nifty has given up nearly 1,400 points, falling 8% in the last month or so. The broader market has also been volatile with midcaps falling 8% in the last month or so. Fears of new Coronavirus mutation and rising hospitalizations in developed markets, persistently high commodity prices globally and concerns about the pace at which the US Fed will unwind the stimulus are putting pressures on the equity markets. Investment experts expect the market to remain more volatile till we have more clarity on the COVID situation in the winter and central bank actions in relation to economic growth.
However, from a long term perspective however, the outlook for Indian equities is positive, as the economy is showing clear signs of recovery.
Strong performance by SBI Focused Equity Fund in current conditions
Valuations in Indian equity market have been stretched for some time and selective stock picking is important in such conditions. In this context, the performance of focused equity funds is relevant as these funds invest in a concentrated portfolio of no more than 30 stocks.
In the last one month (ending 25th November 2021), focused funds category average return was -0.7%. Over the same period, SBI Focused equity fund gave 5.1% return. We have often seen that a fund which is able to buck the market trend in volatile conditions, often puts itself in a strong position from a medium to long term perspective. Even if we look at year to date returns in 2021 (as on 25th November 2021), which includes both bull market and volatile market, SBI Focused Equity Fund is the best performing scheme in the Focused funds category.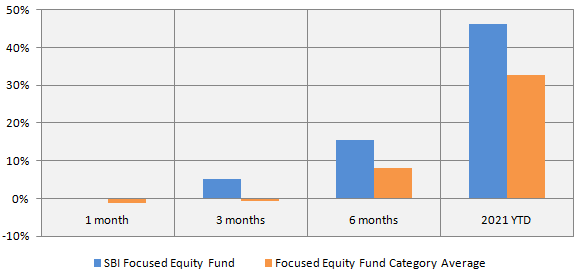 Source: Advisorkhoj Research
About SBI Focused Equity Fund
The scheme (formerly known as SBI Emerging Businesses Fund) was launched in October 2004 and has Rs 21,676 Crores of assets under management (AUM) as on 31st October 2020. The scheme's AUM has tripled in less than 2 years showing strong performance and investor confidence in the fund. The expense ratio of the scheme is 1.93%. Industry veteran R.Srinivasan is the fund manager of this scheme. Srinivasan has 26+ years of industry experience and has been the managing the scheme for more than 10 years. The long continuity of the fund manager of this scheme, in our view, has enabled the scheme to deliver strong performance.
Investment Strategy
As mentioned earlier, focused equity funds can invest in a maximum of 30 stocks. SBI Focused Equity Fund is market cap agnostic – it invests across large cap, midcap and small cap segments. It has a large cap bias (45%) with substantial allocation to midcaps (34%). Interestingly, SBI Focused Equity Fund has about 14% of its assets in US tech stocks like Netflix, Alphabet (Google) and Nvidia. As far as domestic sectors are concerned, Financial Services, Consumer Goods, Information Technology, Telecom and Power account for more than 60% of the portfolio. You can see that the fund manager has a mix of cyclical and defensive sectors in its portfolio mix. The scheme holds about 7% of its assets in cash, which may seem high to the average investor but is prudent in our view, given the evolving market situation.
Performance Consistency
We have discussed a number of times in our blog that rolling returns is one of the best measures of performance consistency over long investment tenures. The chart below shows the 3 year rolling returns of SBI Focused Equity Fund over the last 5 years (ending 13th January 2020) versus its benchmark index S&P BSE 500 TRI. You can see that the scheme has consistently outperformed the benchmark most of the times over 3 year investment tenures in the last 5 years. The average 3 year rolling return of the scheme over the past 5 years was 12.15%.

Source: Advisorkhoj Rolling Returns
Wealth creation by SBI Focused Equity Fund
The chart below shows the wealth accumulated through Rs 10,000 monthly SIP in Focused Equity Fund, Growth Option over the last 5 years (period ending 25th November 2020). You can see that with a cumulative investment of Rs 6 lakhs you could have accumulated wealth of more than Rs 11 lakhs over the last 5 years through monthly SIP. The annualized SIP returns (XIRR) over the last 5 years was 25.11%.
We must mention here that, past performance may or may not be sustained in the future and your returns will depend on prevailing market conditions. However, as you can see in the chart below, as well as the rolling returns chart above that, SBI Focused Equity Fund has a long term record of alpha creation (outperforming the benchmark index) across different market conditions over sufficiently long investment tenures. The credit of consistent alpha creation undoubtedly goes to the fund manager of the scheme.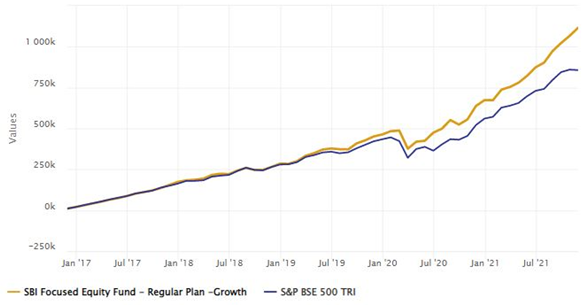 Source: Advisorkhoj Research
Our take on SBI Focused Equity Fund
We expect the market to remain volatile in the coming weeks, as the market waits to get more clarity on the evolving situation on various fronts as mentioned earlier. The longer term market outlook is positive, given the improving economic growth but investment experts believe that the market will be stock specific in the coming weeks and maybe months. We have important events coming up in the early part of next year e.g. Fed's outlook and strategy, OPEC's direction on crude prices, our Union Budget for the next fiscal year and important State Assembly elections. These events will provide direction to the market.
We think Focused Equity Funds with strong track record in different market conditions may be good investment options for investors. SBI Focused Equity Fund manager's track record on stock selection and alpha creation speaks for itself. Investors with high risk appetites and long investment tenures (minimum 5 years) should consult with their financial advisors if focused funds and particularly, SBI Focused Equity Fund is suitable for their investment needs.
Mutual Fund Investments are subject to market risk, read all scheme related documents carefully.