Why you want to start a SIP: Do you have a Goal in mind
The usual reasons why investors start investing are because either they need to save taxes or just because they have some surplus in their bank accounts. Most of the investments are made with no particular goal in mind and therefore get redeemed as and when there is a need of money. If you want to start a SIP just because your friends are doing it, then it's like starting a journey without knowing the destination. That's why determining the goal is the most important factor. It is important to know why you want to start the SIP – Is it for the corpus that you want for your retirement or for the higher education of your kids or the bunglow you want to build at age 50 or maybe the big car you want to buy after 5 years or so. Once you are clear about what is the goal that you should start the SIP. We all know that with our current or even possible future income it will not be enough to fulfil all these goals. Therefore, an accumulation of investments over a long period of time through SIP route powered with compounding could generate the desired results. Hence, if you have a list of financial goals or just a goal then you may want to start a SIP.
Know the Money Value of the Goal
However, having a list of goals or a goal is not enough to fulfil them. You have to attach a money value to the goal by determining what the present cost of the goal is and what is likely to be the future cost of this goal, depending on when you wish the goal to be fulfilled. Therefore, first determine the future cost of the goal. For example - If you are planning to invest for higher education of your child in a foreign university, you need a corpus of minimum 30 lakhs as per present value. However, if your child needs this education after five years the future value will be approximately 44 lakhs assuming inflation at 7.5%. Therefore, you need to start the SIP with the goal amount as 44 Lacs and not 30 Lacs. Knowing the money value of the goal, both present and future, is the key to determine why and how much you need to save through SIP.
Is it a Short, Medium or Long Term Goal
Short term goals are those which should be ideally achieved in a year or two. These goals have a very brief investment horizon and require safe and steady returns during the SIP tenure. Medium terms goals are those which have a minimum investment horizon of three to five years. A portion of investment in Equity Funds could be beneficial in such a scenario along with debt and balanced funds. Here, you need to be careful as you should plan to choose an asset classes which offers long term capital gains. Long term goals are the ones that are five, ten or maybe many more years away. Retirement or higher education planning for a new born child, your retirement home or even a world tour could be a long term goal. Defining the investment horizon of the goal will let you determine the investment you make in present time to attain the required corpus in future value.
Choose the Right Asset Class to Reach the Goal
Choosing the right asset class is called asset allocation. Experts have said asset allocation determines your returns rather than individual selection of funds. In Mutual Funds you can select from Liquid Funds, Equity Funds and Debt Funds. The amount of investment you make in every asset class will determine the future value of the corpus. Liquid funds or short term debt funds are ideal for a short term goal as they provide returns in a short investment horizon. Partial investments in debt and or equity funds or balanced funds are crucial for medium term goals. And for a long term goal you can depend more on equity oriented mutual funds. If you are a risk averse investor, whereas for medium or long term goals of just three to five years onwards, you must invest equally or inclined towards debt to balance out the volatility of equity funds.
Which One is the Right Scheme for Your SIP
You need to find a scheme that does the hard work for your investments. Ideally, you should invest in a diversified equity scheme that has consistent performance for the last three, five or ten years and often having outperformed the category average and benchmark returns. The Asset Management Company should have good standing in the market and the fund manager an impeccable reputation in managing funds. A good track record of the fund manager is essential for choosing the right fund.
What is the Right Amount for Your SIP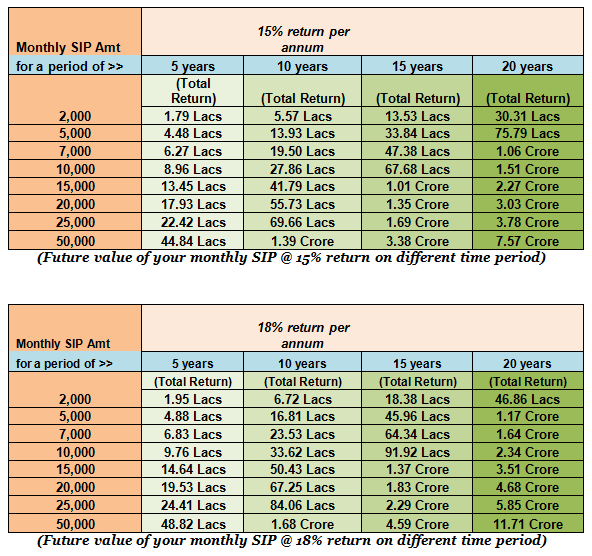 The above table contains a few illustrations of what could be the possible future values of monthly SIP investments. The future value could vary due to changes in the rate of returns generated over a period of time. If you have righty calculated your future goal value then deciding the right SIP amount should not be a problem, if you keep the return expectation little lower. For example – the fund chosen by you may show a historical annualised return of 18% but while deciding the right SIP amount you should conservatively calculate the return, say at 15% annualised. Therefore, even if in future the fund is able to generate 2-3% lesser then its historical returns, your goal amount will be achieved. Therefore, it is essential to invest the right amount because in case of shortfall for certain corpus against which options such as borrowing can push investor in financial trouble.
Choose SIP Date and Bank Carefully
Choose a monthly SIP date according to the credits you are getting in your bank account, For example – your salary credit, monthly interest or rental income or any kind of credit which is of fixed nature and hits your account on a particular date every month. Your SIP ECS mandate or post dated cheques should be dated after theses credit dates. Again for example, if you are getting salary credit on 1st of every month, you can choose any date on or after 2nd of every month. Also, it is advisable to maintain a bank balance of at least one month of your SIP instalment value. This is just to avoid any default in SIP in case your credits are delayed for few days etc.
It is also important to choose the bank where you are getting your credits and from there you are allowing direct debits for your SIPs. Avoid giving SIP debit instructions from a bank where you hardly maintain any balance or get any credits. Transferring funds from one bank to another could be time consuming and you might just forget it.
Conclusion – Now that you know your financial goals, the current and future cost of these goals, determine the SIP amount and select a fund suiting your risk appetite and embark on a journey of wealth creation. Remember, each goal is a different journey and mixing up one goal with another must be avoided. Reviewing your future goals and returns on an annual basis is a great idea and advise from a financial advisor is always most welcome.