SBI Mutual Fund is launching a New Fund Offer of an Exchange Traded Fund (ETF) which will track the Nifty India Consumption Index. The NFO – SBI ETF CONSUMPTION - Opens on 30th June 2021 and closes on 14th July 2021. Investors can subscribe to units of this ETF during the NFO period. Upon the closure of the NFO, the units of the fund will be listed on stock exchanges and the investors can buy / sell units of this ETF on the stock exchanges through the trading accounts. We will review SBI ETF Consumption NFO in this blog post.
Consumption theme in India
Domestic consumption is one of the most important themes of the India Growth Story. India enjoys a demographic advantage as far as this theme is concerned. We have a young population; the average age is just 26.8 years (Source: Statista, April 2021). As per 2011 census, 90% of the population is below the age of 60 and more than 50% of the population is in the working age group. Favourable demographics and rising disposable income are primary demand drivers of our consumption growth story. India's consumption market has tripled in the last 10 years and is expected to triple from current levels (Rs 115 trillion) in the next 10 years. The consumption theme has been favoured by many investors and fund managers over the past few years.
Nifty India Consumption Index
The Nifty India Consumption Index represents the performance of a diversified portfolio of companies representing the domestic consumption sector which includes sectors like Consumer Non-durables, Healthcare, Auto, Telecom Services, Pharmaceuticals, Hotels, Media & Entertainment, etc. The Index comprises of 30 companies across 8 industry sectors.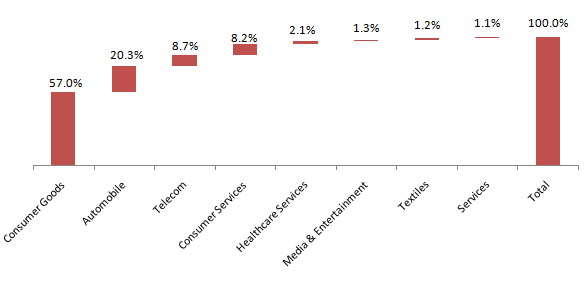 Source: National Stock Exchange (as on 31st May 2021)
Performance of Nifty India Consumption Total Returns Index
The chart below shows the growth of Rs 10,000 investment in Nifty India Consumption Total Returns Index (TRI) over the last 10 years ending 31st May 2021.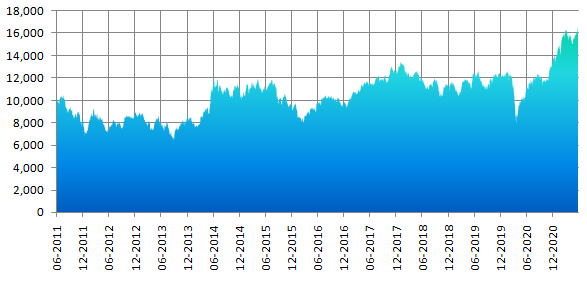 Source: National Stock Exchange, Advisorkhoj Research (as on 31st May 2021). Disclaimer: Past performance may or may not be sustained in the future.
Why invest in consumption theme now?
Consumption theme had been underperforming for a few years, even before the onset of the first wave of COVID-19.


COVID-19 and lockdowns had a significant impact on the revenues of many industry sectors in the consumption theme.


The Nifty India Consumption Index rallied more than 50% in the last 12 months, indicating that the market is bullish on this theme despite current woes.


There is pent up demand which may manifest once the COVID related restrictions are lifted. When the economy opens up, consumption is expected to rebound.


With good progress on the vaccination front across the country, we are likely to see demand return to normalcy sooner than expected.


The India Growth Story is fundamentally a consumption driven growth paradigm. Our favourable demographics (as discussed earlier) will be the key driver of consumption growth. Experts feel that we will able to reap richer demographic dividends in the future.
Why invest in SBI ETF Consumption?
No Unsystematic Risks: ETFs aim to replicate a market index; they invest in the underlying stocks of an index in the exact proportion (weights) as the index constituents. Fund managers of actively managed mutual funds have to be overweight / underweight on certain stocks / sectors relative to the benchmark index in order to beat the index. This gives rise to unsystematic risks in addition to market risk. There is no unsystematic risk in ETFs – only market risks.


Lower Cost: The cost or Total Expense ratios (TERs) of ETFs are much less than the cost (TERs) of actively managed mutual funds. Lower cost can result in significantly higher returns over long investment horizons due to compounding effect.


Underperformers get lower weight: Nifty India Consumption Index is a market capitalization weighted index with a 10% cap for each index constituent. In market cap weighted indexes, underperformers get lower weights and outperformers get higher weights.
Who should invest in this ETF?
Investors with high to very high risk appetites.


Investors with investment horizon of at least 5 years or longer.


Investors who have demat and trading accounts with stock brokers.


You can sell the units of this ETF at current market prices on the stock exchange. If you are redeeming in lot sizes (as specified by the Asset Management Company), you can do it directly with the AMC.


Investors should consult with their financial advisors if SBI ETF Consumption is suitable for their investment needs.
To know more about this NFO, see the Scheme Information Document or contact your financial advisor.
Mutual Fund Investments are subject to market risk, read all scheme related documents carefully.