After a few days of weakness the market has resumed its upward journey. As on February 12 end of day, Nifty has reclaimed the psychologically important 8,700 level and is now marching towards the 8,800 level. Whether this marks the beginning of the pre-budget rally, only the next few trading sessions will tell. However, the budget will be an important event for the market, as it always is, but more so this year and it will certainly trigger a major move. The chart below shows the year to date daily price chart of Nifty.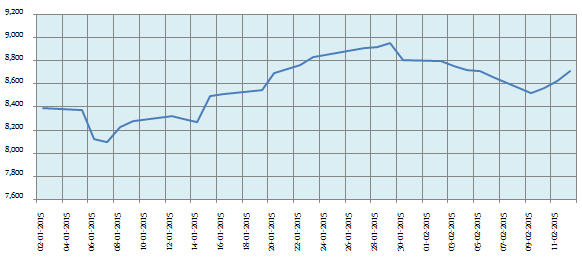 The above chart shows that Nifty made its all time high on January 29 close to 9,000 points. After a period of consolidation, Nifty has resumed its upward journey towards its all time high. Experts believe the rally is likely to continue till the Union Budget, unless we get adverse global cues.
In this blog, we will discuss some stock recommendations in the current market scenario made by the top brokerage houses in the country. We have selected recommendations where there are at least a 15% upside potential, based on the current market price of the stocks. A word of caution, you should not expect the target prices to be achieved in the next few days or weeks. You need to have an investment horizon of a few months. Investors should consult with their broker or investment adviser, if these stocks are suitable for their equity portfolio, before investing in these stocks.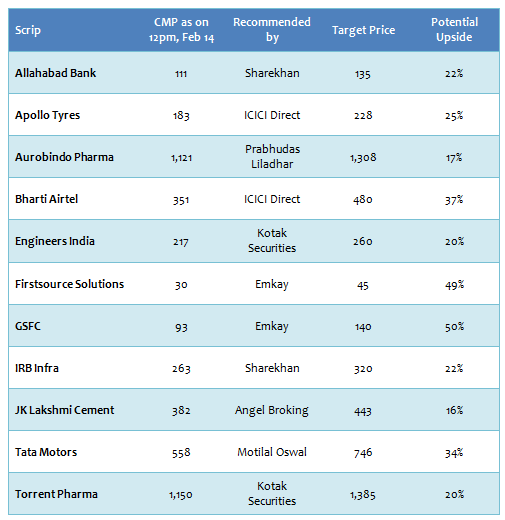 Conclusion
In this blog we have discussed some brokerage recommendation, where there is considerable upside potential, in the current market scenario, if the budget turns out to be favourable for equity markets. Investors should note that there are risks associated with investing in equities and should ensure that the associated risks are aligned with their individual risk tolerance levels. Investors should consult with their financial advisers, before taking a position in any of the stocks mentioned in this article. If the price targets are achieved, investors should discuss with their financial advisers, if they should remain invested or book profits.