Equity markets never move in one direction only. Market advances or declines based on a variety of factors on a day to day basis. Sometimes the movement against the market trend can sustain for days and weeks. A downward trend for a few days or weeks in a bull market is called a bull market correction. Similarly an upward trend for a few days or weeks in a bear market is called a bear market rally. The Indian equity market has been volatile for the last couple of weeks. Equity market experts are saying that we are in a bull market correction phase. Please see the daily price chart of Nifty over the past one month.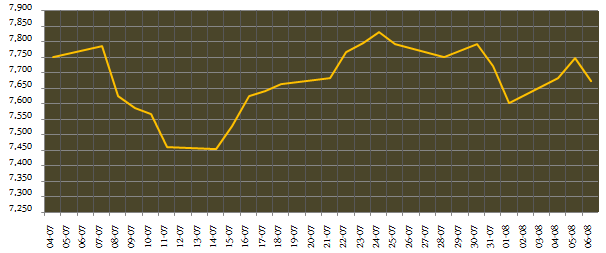 Nifty has declined from its all time high of 7,840 to below 7,700 as on close of trade Wednesday (August 6). Technical experts have 7,600 as an important support level, but it is possible that the Nifty may even breach 7,600 on the lower side. What should investors do in such a situation? Investors should never panic in such a situation. If you believe in the fundamental value of the stock that you have purchased, temporary declines in bull market corrections, should not bother you. In fact, intelligent investors capitalize on situations like these to get superior returns on their investments, by taking advantage of the price declines and adding to their holdings or booking profits in over-valued stocks and reinvesting in stocks where they believe there is considerable valuation upside. In this blog, we will discuss some stock recommendations in the current bull market correction made by the top brokerage houses in the country.
We have selected recommendations where there are at least a 20% upside potential, based on the current market price of the stocks (as on August 6). The list includes both midcap and large cap stocks. As per the recommendations made by the brokerage houses, discussed below, investors may utilize the declines in the market to accumulate these stocks, since there are considerable upside potential in the stocks to be discussed. A word of caution, you should not expect the target prices to be achieved in the next few days or weeks. You need to have a horizon of at least 12 months. Investors should consult with their broker or investment adviser, if these stocks are suitable for their equity portfolio, before investing in these stocks. Please see below the list of stocks, where there is considerable upside potential (20% or above) based on brokerage target prices.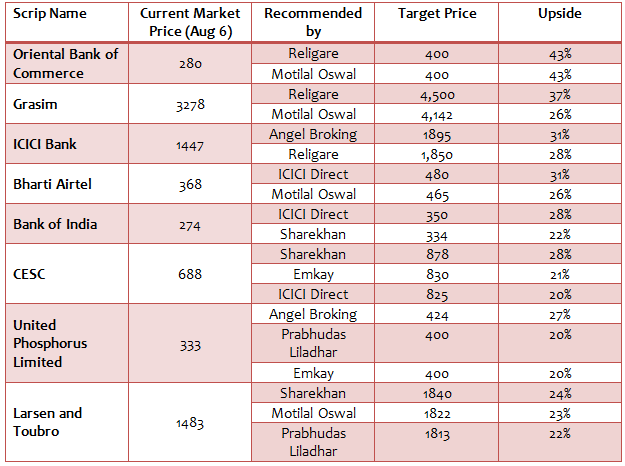 Conclusion
In this blog we have discussed top brokerage recommendations regarding stocks, where there is considerable upside potential, if investors can take advantage of the bull market correction. Investors should note that there are risks associated with investing in equities and should ensure that the associated risks are aligned with their individual risk profiles. Investors should consult with their brokers or financial advisers, before taking a position in any of the stocks mentioned in this article. If the investment targets are achieved, investors should discuss with their financial advisers, if they should remain invested or book profits.