Travelling is liked by everyone, whether it is a child for whom travelling means a break from studies or adults who seek sun, the joy of travelling is universal. Undertaking a vacation entails relaxation, a break from the monotony of daily life, a break from the everyday work stress, exploring something new and above all seeking peace of mind. As such, we plan every detail of our trip beforehand and with the rising dependency on online medium, we pre-book our flights, hotel accommodations and even rental cars for sightseeing. We leave nothing to chance and still, when it comes to travel insurance, it either escapes our consideration or ignored altogether. Is it prudent?
Most individuals defend their ignorance or disinterest in buying a travel insurance plan to some commonly held beliefs. They find a thousand and one excuses to discredit the importance of a travel insurance policy and it does not come as a surprise. Insurance, in whatever form, is always open to myths and misconceptions and travel insurance is no exception. While a lot of detailing is carried out in booking a travel plan, travel insurance is usually given a cold shoulder. Here are some common travel insurance myths which explain the cold-shoulder treatment travel insurance is subjected to.
Myth – I do not require travel insurance
Don't you? Most people feel that travel insurance is unnecessary and so refrain from buying a policy. Though buying a travel insurance plan is mostly voluntary when you are travelling within India or other destinations abroad, some countries, especially the USA and UK mandate a valid travel insurance coverage before you are allowed a Schengen Visa. Though we are left with no choice when the coverage is mandated, what about availing of a cover voluntarily? Don't we need it?
ICICI Lombard General Insurance conducted a survey in five Indian cities to know about the buying behavior of individuals in the context of travel insurance when travelling abroad. Here are the findings of the survey: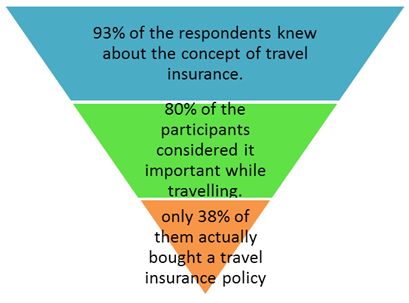 Though being aware of the concept and its importance, travel insurance was endorsed by a very few.
Travel insurance is a necessary part of your travel plans because it provides for a comprehensive coverage against all possible contingencies faced while travelling. Whether you talk about loss of baggage, loss of passport, trip delay or curtailment or even any medical emergency, your travel insurance policy would cover all and should be bought.
Myth – travel insurance increases expenditure
Nothing comes free, especially not travel insurance. Premiums have to be paid for buying the policy. But do the premiums really burn a hole in your pocket? Citing the expenses involved is the very common excuse of avoiding a travel insurance policy but when you look at the premiums, this myth would be busted.
Here are some sample premiums for a 10 day Europe Trip undertaken by a couple aged 35 years and 30 years.

When you are already spending lakhs on a trip, is a couple of thousands extra in premiums expensive? What about the benefits provided?
If you were also considering travel insurance to be expensive, think again. The premium outgo is much smaller than the benefits which accrue through a travel insurance policy and expenditure should not be your excuse for avoiding a travel insurance plan
Myth – I already have a life and a health insurance plan and so travel insurance is not required
Firstly, congratulations to you for insuring yourself under a life and a health insurance plan. They are essential, but so is travel insurance. While it is true that your life insurance policy and health insurance policy would provide coverage for death or any medical contingency suffered while travelling, will they be sufficient? While your life insurance policy would provide for death, what about the repatriation costs incurred in bringing the mortal remains back to your home? Wouldn't it incur expenditure?
Similarly, your health plan might provide for the hospitalization expenses if you fall ill during your trip, but would the coverage be sufficient to meet the actual claim incurred? As per the report of International Federation of Health Plans, 2012, the average cost of a 24 - hour hospital stay in some of the popular tourist destinations are:

Such high costs! And that too about 4 years ago! Think of the corresponding increase in the cost at today's rate of inflation. Moreover, this is just the cost of hospital stay. What if you incur treatments? The costs would sky-rocket out of proportions. Would your health plan be sufficient?
A travel insurance policy makes sense in this despairing scenario and can prove to be a supplemental cover along with your life and health insurance policies
Myth – I usually travel safe. My trip would therefore have no contingencies
First of all, kudos for your safety! Yes, the above medical contingency might seem a distant reality if you travel safe. But is your trip's entire safety in your hand? What if you contract a virus when abroad, or meet with an accident? Would the medical angle still seem unrealistic? Other than the health part, what if the airline loses your baggage or misplaces it? Or you get robbed of your belongings which also include the all-too-important passport? Would you be self-prepared to face these challenges?
We always plan our trips to last possible detail. The return tickets, hotel bookings, days to spend, the itinerary, et al. As such, any unforeseen contingency, medical or otherwise, has the potential to prolong our stay. This affects our carefully planned itinerary and requires extended stay for which we have to do spot booking. One of the reasons for planning a trip in advance is getting the best possible deals on hotel stays and airline tickets which cost a bomb when booked at a short notice. A travel insurance policy, by virtue of its coverage, covers all these emergency costs and really proves to be a blessing on our pocket.
Myth – I am too old to get travel insurance
Since both life and health insurance policies have a maximum entry age criteria, when it comes to travel insurance, most of us are under the pre-conceived notion that after a certain age we are ineligible for a travel insurance policy as well. However, it is not true. Most insurers offer a travel insurance coverage till 70 years of age while some extend the coverage till 80 years too. Some insurers have even removed the maximum age limit and allow individuals of all ages to buy the plan. Moreover, there are specially designed senior citizen travel insurance policies which are specially meant for senior citizens. Here are some of the insurers and their entry age limit of travel insurance policies:

Myth – I can always buy travel insurance later
Yes, you can. There is no hard or fast rule when it comes to booking your travel insurance plan. The only requirement is that it should be booked before embarking on your journey. Due to this, many of us tend to delay adding travel insurance to our travel plans until the last possible minute. But what happens when your trip gets cancelled meanwhile? Would you be able to bear the cancellation costs, especially those costs which are non-refundable?
Travel insurance covers trip curtailment or cancellation if the cancellation was due to some unavoidable and genuine circumstance. Thus, if you keep on delaying buying travel insurance after making complete travel bookings, in case of cancellation of your trip, you would lose heavily. Whether you buy it today or 15 days later makes no difference in premium so why take the risk? At least booking in advance would also cover you against trip cancellation, a coverage you would be devoid of if you buy the plan at the latest possible date.
Different individuals have different perceptions and unless those pre-conceived notions are laid to rest, the fate of a travel insurance policy is bound to suffer. And not just travel insurance, you as an individual would also suffer if you face any contingency on your trip. A vacation is not taken too frequently and when it is undertaken, we make fool-proof plans to enjoy our trip. A simple travel insurance policy is a great add-on if you want to return from your trip as happy as you left. So, bust those myths and book your travel insurance plan with every vacation you take.
Insurance is the subject matter of the solicitation.