Mint the leading financial daily rates Health insurance plans based on a variety of parameters. In this two part series, we will look at the best Health Insurance or Mediclaim plans based on Mint's rating. Mint rates Mediclaim plans on a number of factors:-
Pricing or premiums


Co-pay requirements


No claim bonus


Waiting period for pre-existing medical conditions


Waiting period for specific diseases


Disease wise capping


Disease wise capping


Claims settlement statistics
In the first part of this series, we will look at the best individual Mediclaim plans based in the most recent Mint ratings. For our selection, we have looked at the overall score assigned to each Mediclaim plan by Mint based on the above factors and selected the plans in the top quartile in terms of overall score. The table below shows the individual Mediclaim plans in the top quartile of Mint's ratings, along with the premiums and the incurred claims ratio. Please note that the premiums are applicable to a 35 year old insured for a sum insured of र 5 lacs, except where mentioned otherwise. Further, please note that the incurred claims ratio is the ratio of the claims incurred by the insurer to the premiums earned by the insurer.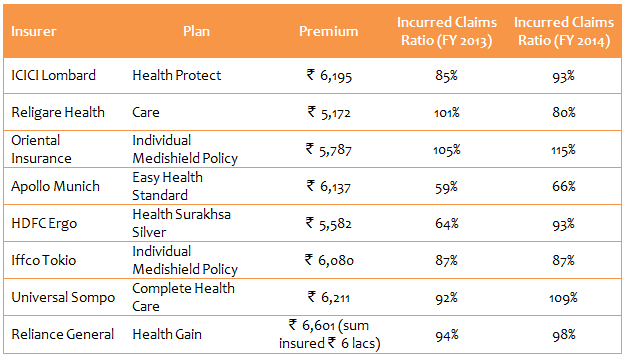 It should be noted that, the premiums of some of the top quartile Mediclaim plans is higher than premiums of some of the lower quartile Mediclaim plans. Premiums should not be the only consideration while buying health insurance. In fact, Mint gives a weightage of only 30% to premiums in their rating methodology. The other factors like Co-pay requirements, No claim bonus, waiting period of pre-existing medical conditions, disease capping and claim settlement track record are also very important considerations in choosing Mediclaim plans.
Conclusion
With the rising cost of healthcare, health insurance or Mediclaim is essential in ensuring our critical healthcare needs. In this article, we have discussed the best individual Mediclaim plans based on the most recent Mint Mediclaim ratings. In the next part of this series, we will discuss the best family floater plans.