Parents hold a special place in almost all of our hearts. They gave birth to us, cared for us, raised us and provided with all the suitable, sometimes best, necessities and often sacrificed their dreams for our future. We respect our parents and try to take care of them in their old age. Whether it is their medical needs, lifestyle needs or entertainment needs, we see to it that all their needs are met and they live a comfortable life. Providing for the other needs is not financially distressing, but when it comes to our parent's medical needs, our pockets face the brunt.
Old age is associated with high incidences of medical contingencies and given today's medical costs, it becomes difficult for a middle-class man to provide for the huge expenses incurred in case of any medical contingency faced by his parents. In this case, a health insurance plan comes in handy to deal with the associated medical expenses.
As per recent statistics, the elderly population in India has seen a steady growth. The United Nations Population Division has furnished the following trend in the growth of elderly population in India: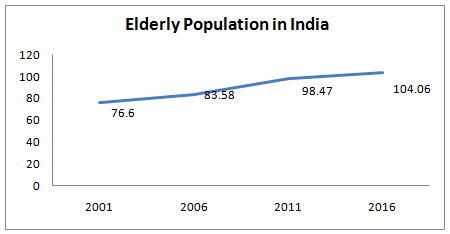 The reason for a steady increase in the elderly population is the corresponding increase in life expectancy due to the miracles of modern science. Almost all diseases have their cures, no matter the cost, and medical treatments and procedures have been revolutionized. A health insurance plan, therefore, becomes a necessary requirement to shield against such huge costs. While you are aware enough to cover for your family under a health insurance plan, what about your parents? Have you formulated a plan for their coverage as well?
Most of you would come up with the obvious answer of a family floater policy which also has the provision of covering your parents, but is it the best alternative? No it is not and the reasons mentioned below explain why not:
Higher premiums

– though family floater plans allow the coverage of dependent parents, the premium calculated depends on the age of the senior-most member. If you are including your parents who are aged above 50 years of age, the premium would definitely come out to be high. Thus, buying a separate plan for the parents makes better sense



Frequent Claims

– since parents would be requiring frequent medical assistance, you would be facing frequent claims in your family floater plan. The effect is dually egregious. One, meeting the higher claims of your parents would eat away the floater Sum Assured leaving a little coverage for other members. Secondly, frequent claims would make you lose on your No Claim Bonus which you could have otherwise enjoyed.



Limited coverage

– family floater plans are designed for every individual and has a waiting period clause for pre-existing diseases, which ranges from 2 to 4 years. Moreover the coverage might also be limited and the ailments faced by your parents might be excluded from the scope of coverage. Individual plans designed especially for senior citizens are better alternatives.
Considering these shortcomings, insurers have designed senior citizen health insurance plans which deal specifically with the health insurance requirements of senior citizens aged 60 years and above. These plans have age-specific features suitable for the elderly and offer benefits otherwise excluded from normal health insurance plans. Here are some of the common features of senior citizen health insurance plans available in the market today:
The coverage

– the plans developed especially for senior citizens, called senior citizen health plans, have a limited coverage option. High levels of Sum Assured are not available under these plans as they cover individuals with the riskiest health profiles. The average amount of Sum Assured offered is up to र 5 lakhs in most of the available plans. Some plans do extend coverage even till र 1 Crore and rightly so because of the high Medical Inflation in India close to about 20%!



The premium

– needless to say, premiums are a bit on the higher side. This should not be a bone of contention considering the risk undertaken by the insurer and the age of the individuals covered under the plan.



Co-pay clause

– this is a concept applicable in senior citizen plans or plans which cover individuals in higher age brackets. The co-pay clause states that in the event of any claim incurred and raise, a pre-specified proportion of the claim would have to be borne by the policyholder and the insurer would settle the remaining amount. The co-pay limit, i.e. the proportion of claim payable by policyholders, generally range from 10% to 20% on a per case basis.



Waiting period

– as is with all health insurance plans, senior citizen plans, too, have a waiting period clause during which pre-existing illnesses are not covered. However, senior citizen plans score in this context as very low waiting period, generally of 1 or 2 years, is only applicable where normal health plans keep a longer tenure.



Renewability

– just like other health plans, senior citizen plans are also renewable for lifetime. However, if they lapse, then it cannot be renewed if they are over the maximum entry limit. So, continuing the plan is of utmost importance!



Pre-screening Medical check-ups

– as the individuals covered are of higher age, they are required to undergo a pre-screening medical examination before a policy is issued to them.
Some Popular Senior Citizen Health Insurance Plans
Here are some popular plans in the senior citizen category offered by insurers:
Apollo Munich Optima Senior

The plan is available to individuals above the age of 61 years and renewable for their entire lifetime. The plan promises regular benefits which are provided in normal health insurance plans like pre and post hospitalization, in-patient hospitalization, domiciliary treatments, organ donor expenses, day care treatments and emergency ambulance cover to name a few. The waiting period in the plan is for 3 years after which pre-existing illnesses are covered. No Claim Bonus is also paid for every claim free year in the form of premium discounts.

Bajaj Allianz Silver Health Plan

This is a plan from Bajaj Allianz where individuals up to the age of 70 years can enroll for the plan and renew it lifelong. The Sum Assured available under the plan ranges from र 50,000 to र 5 Lakhs. All the basic coverages extended under a normal health plan are available. However, the pre and post hospitalization expenses and the ambulance cover are limited to 3% and र 1000 respectively. The plan has a very low waiting period of 1 year only after which the pre-existing illnesses are covered. The co-pay ratio in the plan is fixed at 20% of the claim raised.

New India Senior Citizen Mediclaim Policy

A senior citizen policy from a public sector insurance company, this policy also has great features. Individuals aged 60 and above till 80 years can take the policy but the maximum renewal age is limited to 90 years. Pre-entrance health check-ups are required for buying the plan and the plan also covers hospitalization in Government hospitals or registered Ayurvedic, Homeopathic or Unani Hospitals. Pre-existing illnesses are covered after a 1.5 years waiting period while diabetes and hypertension would be covered only after the payment of an additional premium. The plan has a voluntary excess requirement of र 10,000 which is similar to co-pay and depicts the out-of-pocket claim paid by the policyholder.

Star Health's Senior Citizen Red Carpet Plan

Star Health is one of the leading health insurance providers and they provide innovative product features. The Senior Citizen Red Carpet Plan is one such plan developed for senior citizens aged 60 years to 75 years. Besides providing the vanilla coverage options, the plan also provides expenses of medical consultations as OPD expenses in network hospitals. Lifetime renewability, higher Sum Assured limits, higher Cataract coverage limit, days care procedure coverage, etc. make the plan an attractive option for senior citizens.
The table below shows the above-discussed plans in a comparative standing for a quick look-over: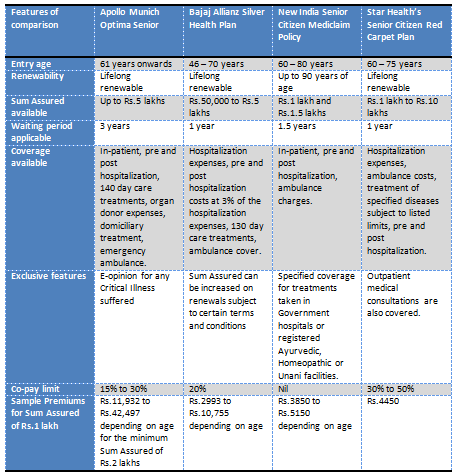 Last, but not the least, you can consider Max Bupa Heartbeat Plans wherein you can cover each and every family member of yours under the same plan from birth till death till र 1 Crore and treatment coverage can extend to foreign treatment as well, including US and Canada. However, it is a premium policy and hence the premium is a little higher.
For example, a 60 year and a 75 year old man living in Mumbai will have to pay a premium of र 1,33,212 and र 2,96,148 for a coverage of र 1 Crore respectively and if he wishes to include US and Canada under his area of treatment as well, the premium till be र 1,43,871 and र 3,19,840 respectively. So, if your parent is fit and fine, then coverage is not a concern.
Conclusion
We have discussed in detail why your parents should have a separate Health insurance policy. We have also discussed some of the best Health insurance policy options. So, if you were wondering about covering your parents in a health plan, you know where to look.