Introduction
About less than a decade ago, buying and selling a product online was quite unthinkable. However, in today's era where e-Tailing is more popular with the youth than retailing, CDs shops and bookstores are shutting down by the dozens, screen time is more common than family time and the whole world has gone berserk with the internet frenzy, why would the India be left behind? In 2015 there were about 260 million internet users in India which is predicted to be at 650 million by 2020. It's not just an urban thing but even rural internet users are growing at an equal pace, if not more. (Source: Boston Consulting Group report, India @Digital Bharat)
So, the internet users are growing much faster than the global population and India is fast catching up. With the digitalized Government and internet savvy ministry probing a smart village and wifi connections everywhere, we are fast moving towards a global connect in the e-space. A look into the newer generation will actually prove the same as the teens and the children and way ahead than our generation who were mostly born even before every household had a telephone, let alone mobile phones. Gone are the days of giving missed call to friends. Thanks to web chatting and Skype calls and Face time, even seeing people across the globe is an everyday thing now! That is the power of the internet!
Digital Bharat
The internet economy of India is expected to become $200 billion and the personal finance space is fast catching up with the e-Tailing story.
With this revolutionary change in the mindset of an average middle class Indian, the effect of digitalization is no longer confined to the affluent pockets of the major cities only! The Smartphone explosion has created a total havoc and almost every company has an application to ease out the transactions for the end user!
India is not lagging behind the rest of the world, of course it is now in terms of percentage but that is because of the huge population, but in pure numbers we have almost caught up with the giants of the world!
Digitalization
The digital world is growing by the day and mobile phone subscribers are ruling the digital growth of this country. Mobile Traffic is set to grow 11 times by 2018. Even Social Media popularity in India is gaining fast, right after China and the US.
When did you last visit your bank other than to operate your locker physically? Our parents used to visit their banks about 3-4 times in a month on an average whilst we do it almost daily; the difference is we visit our banks only electronically. Be it checking balances, to paying bills, to order cheque books, to book Fixed Deposits, to submit 15G form, to stop payment of cheques, to download interest certificate and bank statements, to almost everything can be done online or even from the smartphone application or Bank's Mobile App!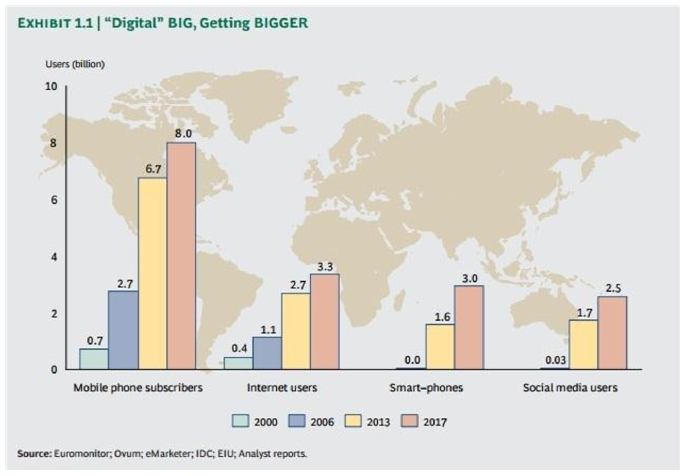 Digital Insurance
The BCG Report on Digital @Insurance-20X by 2020 states that Digital Influence is 6 times the digital sales in India. Even though the digital sales is 2%, the underlying influence of the digital space is about 12% wherein 19% is contributed by Travel Insurance, 14% in Health Insurance, 10% in Motor and even Life Insurance is fast catching up with 12%. There has been manifold increase in the search queries even if the product is bought offline.
For example – More than 11.00 Lakhs monthly searches on various long and short keywords on Life Insurance is done every month on Google. Source: Google Keyword Planner
The digital influence is 2.5 times the digital sales. 15% of all buyers engage in at least one of the ten activities amongst pre-purchase, purchase or post purchase activities online like search for prices or products, search for office location or discounts, claim ratios, Name of Insurance Companies, Cheap or best policies, after sales service, premium paying terms, checking value, e-claim, etc.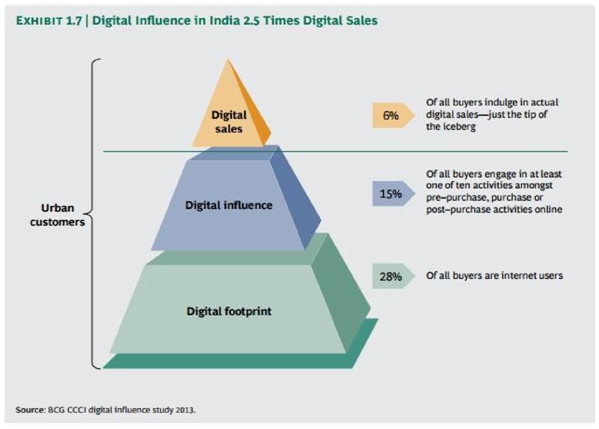 Digital Insurance Market
The Insurance market ruled by the online space in India is a little more than र 700 crores wherein Life contributes 42.8% of total sales. With the revolutionized Online Term Plan, started in 2008 by Aegon Religare Life Insurance Company Limited, with their pioneer iTerm Plan and fast followed by other leading players in the industry has changed the face of online insurance buying. More Insurance contributes to र 250 crores, right after Life at र 300 crores and fast followed by health and travel total contributing to र 150 crores of Online Insurance sales in India now.
BCG has extrapolated the data and projects the Indian Life Insurance Annualized New Business
Premium to reach र 125-150 thousand crores, which is 2-2.5 times by the year 2020 and the Non-Life Insurance Industry to grow even faster by 3-3.5 times to र 200-230 thousand crores. Based on today's report that digital insurance sales have much higher persistency than physical channels, even the renewal insurance business is expected to shoot up to र 550-700 thousand crores by 2020.
Even the Digital Bharat initiative taken by the central government to improve internet connectivity and make smart villages will help this boom and India in many ways than one to get into an era of sustained digital growth. However, this will not happen in a hurry. The industry, the people and the companies need to mature into the era of sustained growth and then the digital boom will effectively help in the growth!
Online Insurance in India
After the e-Tailing and the e-Travel industry, Insurance has also started its own digital growth path in India. The online insurance industry has been revolutionized by the web aggregators under the license of Insurance Regulatory and Development Authority of India (IRDA) https://www.irdai.gov.in. There are about 16 licensed web aggregators in India now and some of them have taken a step forward to even do online sales with their requisite licenses. These start-ups have had a phenomenal YOY growth in the last few years.
Even insurance companies have started to sell online through their direct platform but not all policies are up for online sales. LIC and their agents have been the biggest resilient to online insurance because of the redundancy of insurance agents. Since LIC agents contribute to about 85% of the field force and they are guided by the unions, their views are considered quite seriously.
However, in the years to come, the renewal business is slowly moving online with simple ECS and auto debit mandates even for offline policies. The BCG report has predicted a severe growth in the renewals as well, wherein the company profit is higher because the agent payout goes down significantly and operational costs involved in writing and issuing the policy is not there!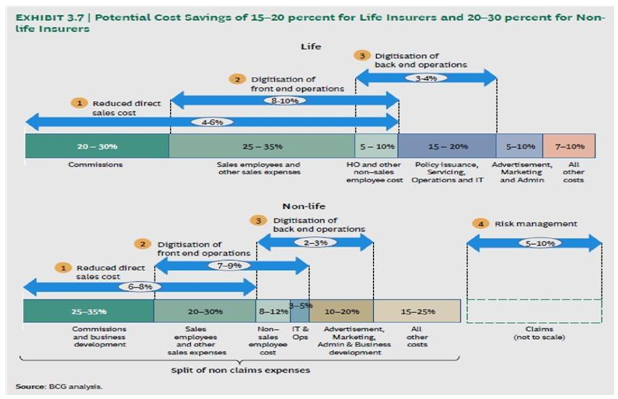 The online insurance industry is a fast growing space and more than 50-60% of the business is contributed by the web aggregators. Only 30% of the Insurance buyers in India are completely non-digitalized and it is fast decreasing, according to the BCG analysis. Digitalization of the Insurance Industry not only accelerates growth but also lowers cost.
The cost of sales and distribution of Insurance Products in India through purely digital channels only is almost one-sixth of that of physical channels and 3 times more effective. Thus, Online Insurance space is still quite virgin but the same has started to pick pace. The digital influence on Insurance Sales is picking up and so pre-sales and post-sales digital influence is playing a big role. Just like e-Wallets and online banking is an accepted trend now, the e-Insurance is fast catching up with the same pace.
e-Insurance account
If you still do not have your e-Insurance accounts yet, it is time you get one quickly because Insurance companies including the Life Insurance giant LIC is soon going to stop issuing bonds for fresh Life Insurance Policies, First Premium receipts, renewal premium receipts, etc. and will issue the same online and allot the policy in your e-Insurance Account. Just like your PAN Number is unique, even your e-Insurance Account number is unique and will be linked to your Aadhar Card Number and all your Life as well as Non-Life Insurance policies will be rematerialized into the same account.
To start with, you need to submit your KYC documents and covert all your existing insurance policies in the electronic format by opening your free e-insurance accounts from any of the providers. You can even update all your insurance account related information across policies in a simple manner electronically without having to update the same for each individual policy across insurers. Even claim can be done online and other documents can be stored electronically without having the trouble of storing them physically. Thus, safety of all policies is ensured by removing the chance of losing the physical papers and documents and providing them at the time of claim. Also, the repositories are responsible in maintaining your account and providing your electronic service!
Conclusion
Thus, Online Insurance has taken off but still has quite a long way to go in India and with the pro-active Government alongside, will make the journey an easier one for you. You need to be aware of the benefits of online Insurance or e-insurance and as this may ease your life as far as taking and managing your Insurance policies are concerned!
Insurance is the subject matter of the solicitation.