The true meaning of the word Life Insurance made sense to me when my neighbour Raghu suddenly expired one morning. Raghu met with a sudden heart attack and declared dead on arrival at hospital. His family had no clues as to what to do in a situation like this. Once his last rites were over, the family set and had a look at his investment file. Even though Raghu was earning Rs 1 Lakh a month, it was found that Raghu had only one life Insurance policy with a life cover of Rs 5 Lakhs only along with some other small savings.
Was a life cover of Rs 5 Lakhs sufficient for the financial need of the family? Certainly not! And that is what made me sit back and analyse my own situation. I started thinking about my own financial position and tried understanding what would be the implications if something were to happen to me? I started googling and visiting various websites and found some facts which were hitherto not known to me. For the benefit of the readers, I will explain them one by one.
The concept of life insurance is about a century old or more, but its importance is still not felt universally. We shy away from a life insurance plan simply because we feel that nothing will happen to us and life will continue very easily and comfortably. That is why if you look at the chart below you will find that only 3.30% of India's population is covered under a life insurance plan.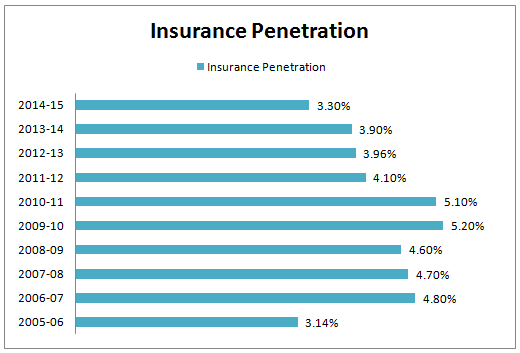 Source: Swiss Re SIGMA study
What is life Insurance?
Life insurance is a unique contract between the life insurance company (Insurer) and the proposer (life assured) in which the insurer promises to pay the life assured a pre-defined benefit if the event against which the policy is taken happens, i.e. the death of the life assured or the maturity of the policy, whichever happens earlier. The proposer promises to pay the annual premium during the entire policy period or till such time he is alive, which forms the contract consideration.
In simple terms, if you buy a life insurance policy, the insurer promises to pay you an amount at least equivalent to your life risk cover or more on the events against which the policy is taken happen, i.e. your unfortunate death. The company would be liable to pay your nominee the above claim amount. In return for this promise, you are required to pay a fixed annual premium to the insurer during the policy term or till the date of your death during the policy period.
Why life insurance is needed
Raghu's incidence must have made you realise why life insurance is needed, but I have come to know few more reasons which I am sharing below.
Provides financial security
A life insurance policy promises to pay a lump sum benefit in case the life assured falls prey to pre-mature death. This promise is very important in case of individuals who are bread-winners for their families. In the unforeseen demise of the bread-winner, the family can overcome the financial crisis by getting the claim proceeds. Though emotional loss is irreplaceable, the life insurance provides the much needed financial loss. Thus, a life insurance policy provides for financial security to the individual buying insurance.
Helps meeting financial goals
The life insurance industry offers a whole gamut of Life Insurance plans designed to cater to the myriad life goals. So, whether you are planning for building a child education fund, a retirement corpus, or want to protect your home loan or personal loans in case of your untimely demise or simply want to create wealth, there is always a life insurance plan tailor-made to suit these requirements.
While we start working, we must plan for our different financial goals and start saving for it. Life insurance plays a big role in financial planning as it ensures the future goals are met even if the sole bread earner is not around due to his sudden demise
Life insurance inculcates the habit of savings
When you plan for your financial goals, you need to save for it in order to achieve it. Life insurance inculcates the habit of saving as you need to pay annual premium for the various life insurance plans that you have bought for a long period of time. Life insurance companies even provide you the facility of paying the premiums monthly. Therefore, you can link the premium payments easily with receipt of your monthly salary.
It saves taxes
The unique benefit of having a life insurance plan is that you can avail tax benefits of uptoRs 150,000 per year under section 80C of the Income Tax Act 1961.
Future incomes and claims are also tax free– The maturity proceeds received by the policy holder or the claim received by the nominee is tax free under Section 10 (10D) of The Income Tax Act. Therefore, it is one of the few saving products which provide you tax benefits on your investments and also on receipt of the maturity proceeds.
Now that I know what the key benefits of taking life insurance are, I wanted to know how much life cover is adequate as it was haunting me that Raghu had a life cover of only Rs5 Lakhs while his monthly income was Rs 1 Lakh? Was the life cover sufficient? Let us now understand that.
How much life cover is required?
Though Life Insurance provides invaluable financial security to your loved ones, the sum payable is dependent on how much life risk cover you have taken. I find that there is no clear cut answer to this simply because the life risk cover depends on your financial planning and if you have considered all aspects of your asset and liabilities.
How you have arrived at the life risk cover amount is very important. For example – While deciding your life risk cover, you must take into account your annual household expenses, your home and personal loan (if any), future goals like, child education and retirement etc.
Various techniques have been developed which enable one to find out the life risk coverage required. Some experts stress the relevance of the Human Life Value technique to identify the life insurance requirement while others devise a simple income based approach to this question.
Some financial planners recommend that the life cover should be equal to an amount which, if invested in a safe instrument, can fetch a regular income for the dependants so that they are able to maintain the same lifestyle which they were used to when the life assured was alive. That essentially means that in case there are any liabilities, like home loan, personal loan etc. such amounts should be added to the amount of insurance required.
A very basic method also suggests that it should be 10 to 12 times your annual earnings.
Then what should have been the life risk cover In case of Raghu? First, let us see a brief of his financial requirement - His household expenses areRs 60,000 per month including sumo, his son's school education. For Somu's higher education,it will cost the familyRs25 Lakhs after 15 years and Raghu had a home loan of Rs50 Lakhs.
Assuming Raghu should have taken a life cover of 12 times his annual salary of Rs 12 Lakhs. It comes to Rs 1.44 Crores. Now, we need to account Somu's higher education cost of Rs 25 Lakhs and the home loan of Rs 50 Lakhs. Therefore, Raghu's life risk cover should have been Rs 2.19 Crores (Rs 1.44 Crores +Rs 15 Lakhs + Rs 50 Lakhs)
If Raghu had this much life risk coverage his family would have earned around Rs. 1 Lakhs by investing the life insurance amount of Rs 1.44 Crores in a safe instrument earning 8-8.25% interest per annum. They would not have had any worries as they would have paid out the entre loan amount from the balance amount and also kept the left balance for Somu's higher education.
Therefore, irrespective of the technique applied to arrive at the life risk coverage amount, one thing remains universal and that is, a fact-finding exercise is required which highlights the existing financial position of the proposer, identifies his future and current life goals while analyzing the asset and liabilities and then arrive at the optimum amount of life risk coverage.
Life Insurance plans
Now that we have understood how much life cover Raghu should have had, let us now see what are the types of insurance plans that one can have in meeting these diverse needs. The common life insurance plans are:
Term Insurance
– Term Life Insurance plans are the most basic, effective and the important Insurance Plan for an individual. Term Insurance Plans are protection plans only and designed to protect your family against unforeseen circumstances by providing them adequate financial security. Term plans are the cheapest in terms of premium amount paid vis-à-vis life cover.
Whole life insurance plans
– Whole life insurance plan are the one which continues till such time you are alive. The maturity proceeds are paid to the nominee on your death and normally there is no term period defined. Some insurers offer plans till 100 years of your age.
Endowment Plans
– An endowment plan provides life insurance benefit along with an assured amount to be returned to the policy holder on maturity. One can invest in this plan and be rest assured of getting a decent lump sum amount for his future needs. These plans can be purchased at an early age as the premium are based on the age of the policy holder.
Money Back Plans
– This a popular plan as its provide periodic liquidity to the policy holder by paying a certain percentage of the sum assured at a fixed frequency. For example, your money back policy sum assured is Rs 2 Lakhs for 20 years. The plan may pay you 20% of the sum assured after every 5 years. That means, you will get Rs 40,000 each at the end of 5th, 10th and 15th year. And, at the end of the 20th year the balance sum assured of Rs 80,000 plus other benefits will be paid out to you.
Child Plans
– Child insurance plans are regular life insurance plans with an added benefit. The added benefit is an inbuilt feature called the 'Waiver of Premium'. This benefit states that if the parent, faces dies prematurely during the plan tenure, the death benefit under the plan would be paid to the nominee immediately. However, unlike other plans, a child insurance plan doesn't stop here and continues till the term of the policy without paying any premium.
When the plan matures, the specified maturity benefit is paid once again over and above the death benefit already paid. Thus, the child plan assures that the parent's financial plan for his child's future remains intact even if he or she is not around to do the same.
Unit Linked Insurance Plan
– Unit linked insurance plan is a market-linked Insurance plan that offers the very best of investment and insurance together. It is a plan which is linked to the capital markets and offers flexibility to invest in equity, debt of balanced fund portfolios suitable to your risk profile.
This exciting feature of investments and insurance makes the ULIP a preferred choice of the policy holders in modern times.
Retirement Plans
– Retirement plan or simply put, pension plans helps you build up a corpus to take care of your financial needs post your retirement. On maturity, this corpus is used by the insurance company to generate a regular income called annuity or pension and paid out to you monthly, quarterly or annually.
Conclusion
Life Insurance is the most essential requirement of your financial life and thus should form a quintessential part of your investment portfolio. In this article we have discussed why investment in Life Insurance should be the core of your portfolio following example of Raghu's life. We have also discussed how to arrive at the amount of life coverage required and the various types of life Insurance policies available in India.
Remember, life insurance should be purchased depending on your need and not on the basis of any trend. You must plan your Insurance needs based on the amount you need in future including your short and long term goals while accounting inflation.
If you want to enjoy life now reap the various benefits which life insurance has to offer and protect your family from the financial uncertainties of life so that they can maintain the same lifestyle in case something happens to you. Get yourself adequately insured today, if you are not already. Believe me, you and your family would thank me later.
Insurance is the subject matter of the solicitation.