You have been investing for a while in large cap funds and have been getting steady returns. While the steady returns keeps your investment from becoming stagnant, your portfolio is still lacking that aggressive edge where you can give it a push and generate higher returns. Large cap funds have lived up to your expectations of being safe and generating steady returns. However, now you wish to venture in to mid and small cap funds. You may have already heard that Mid and Small Cap Funds are risky and not ideal for investors having a moderate risk taking appetite. Let us analyze the pros and cons of mid and small cap funds.
What are Mid and Small Cap Funds
Mid caps are the stocks that fall between the large cap stocks and small cap stocks. These represent mid-sized companies that are relatively more risky than large cap as investment options yet, they are not considered as risky as small cap companies. Mid cap stocks as an investment tend to reap higher returns in 3 to 5 years when compared to large cap stocks that usually provide moderate returns with exposing investments to low risk during the investment timeframe.
Small Cap stocks lie at the bottom rung of market valuations and suffer from the misconception of being dangerous and risky or 'quick rich' stocks. However, both these labels are often said to be myths. Investment in these stocks consists of smaller revenue and client bases, and usually includes the start-ups or companies in the early stage of development. Small cap stocks are potentially big gainers; however, as these enterprises are small ventures, these investments tend to be risky. Small caps can prove to be a very wise 'long term' investments especially if the chosen companies are good businesses and are well-managed.
Mutual Fund schemes that invest in mid and small cap stocks are known as Mid and Small Cap Funds. These funds have been called exciting because even though they have the capability to create wealth in a short period of time but can be risky as well. It is probably about time to weigh the pros and cons of such an investment avenue.
Tomorrow's Large Cap Funds
The stocks that are being labelled as mid and small cap stocks presently are potential large cap stocks of tomorrow. Experts are of the opinion that if an investor wants to be a part of India's growth story, a portion of investments should be done in Mid and Small Cap Funds. The major investments of small and mid cap funds in the 1990s in stocks of telecom, technology, private banks and so on are large cap stocks presently. The same prediction applies for the present small and mid cap funds.
Mid and Small Cap funds perform significantly better than the large cap funds in a rising market as has been seen in the rising markets of 2007, 2009, 2010 and 2012. One of the major reasons for outperformance of large cap funds is because the market capitalization of stocks is lower a small change makes a significant difference. Hence, a small fall in the market could potentially reduce the returns and a quick rise could change fortunes.
A Rising Trend
In financial year 2015 the Asset Under Management (AUM) for Mid and Small Cap Funds rose to significant levels. This sudden rise in investment has drawn attention of industry experts because of the limited attention this category has historically received from investors. While the Bombay Stock Exchange rosy by 25% in FY 2015 the mid cap and small cap indices rose by 49% and 53% respectively, making these stocks a favourite for investors with a high risk taking appetite.
Allocating the Equity Funds
Due to rising markets the Mid and Small cap funds have seen a surge of investments. While this is a welcome deviation from the usual norm of investment, it is cautionary as well. The rise in such stocks is now quite high and appreciation from here could not be as great as compared to the last year. These stocks at all times are high risk oriented. Hence, advisors and experts are of the opinion that asset allocation must be done within the asset class of equities. Generally speaking, Investors should avoid investing more than 25 - 30% of their investments in Mid and Small Cap Funds. This is to ensure that investors who earned the most in favourable market conditions should not loose the most when market performance reverses.
Historically, if you compare, the Mid and Small Cap category has given superior returns than Large Cap and Large and Midcap Category of Funds. Please have a look at the chart below –

Source: Valueresearchonline.com
Choosing the Right Fund
Choosing the right fund is often the key to gaining most in these kinds of funds as the fund manager has a huge universe of stocks to choose from this category. So what should be the parameters to keep in mind while selecting a fund?
Fund managers:

They are often instrumental to the returns that are generated. While selecting a fund it is advisable to ensure that the fund manager responsible for steady performance of a fund has a good and consistent track record of selecting stocks for these categories.



Performance:

It is important to take note that the steadiness with which a fund has performed. In case of Mid and Small Cap Funds the acid test is falling markets. If a stock has been able to hold up and weather the fall with minor fluctuations and not crash because of the fall in the market then that stock could make a potential good investment.



The Mode of Investment:

If you are not too sure about the performance or afraid of the volatility the scheme presents then lump sums may not be a good idea. To begin testing waters Systematic Investment Plan or SIPs could be a way to tackle volatility where you can invest an amount as small as Rs. 500 per month thus reducing risk on investment.
Given below is a list of funds that have been performing steadily for the last five to ten years and often been generating returns that are much above the category returns. It is seen that in the five years the funds have shown a reduced returns projecting a lacklustre performance of the stock markets during this period excepting 2013 and 2014. However, a steady rise is seen in the returns for the last one year and three years due to the rise in stock prices of mid and small cap companies.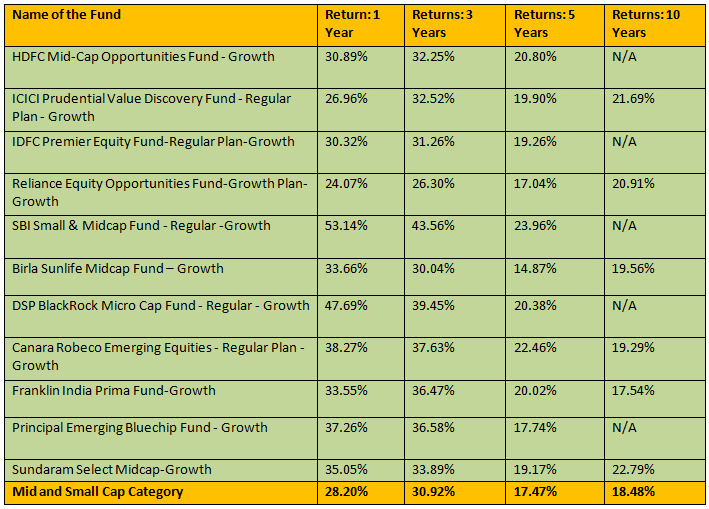 Source: https://www.advisorkhoj.com/mutual-funds-research
(Returns are annualized) – Data as on 21/07/2015
Conclusion
'May you live in exciting times', this is a quote that has captured imagination for generations. We can indeed say we live in exciting times and investing in Mid and Small Cap Funds is nothing short of excitement. There is a certain thrill to invest in such funds. It can take your total portfolio returns to a very high level albeit with a fair amount of risk. While the funds are definitely risky they are huge return churners. The riskiest among equity stocks, it is not for the weak hearted, moderate risk takers or first time investors. Once your investment in more safer and steady options gives you stability, you may be ready to make a leap into and Mid and Small Cap Funds. Let the exciting investments begin!