A few days back we had reviewed the top large cap funds based on CRISIL's most recent ranking. In this blog, we will review the top small and midcap funds While, in the last one year the large cap equity mutual funds gave on average over 61% trailing annualized returns, the returns of small and midcap equity funds were even higher over the last one year. The chart below shows the comparison of average annualized returns of large cap funds versus small and midcap fund categories over 1 year, 3 years and 5 years investment horizon.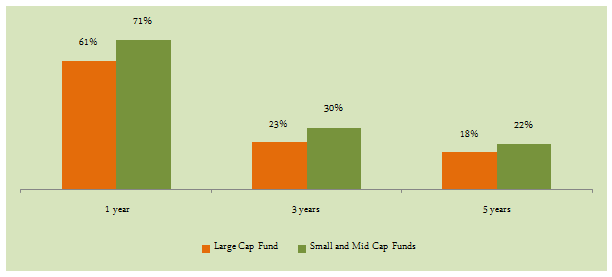 In fact, on a trailing annualized basis small and midcap funds gave the highest returns among all mutual fund categories over the last 3 year period. While small and midcap funds have the potential to give higher returns than large cap funds, the intrinsic risk of small and midcap funds is higher than large cap funds. However, small and midcap funds appropriately weighted in the investment portfolio based on the investor's risk tolerance level, can significantly enhance the overall portfolio total returns.
In this blog, we will review top 10 small and midcap equity funds based on CRISIL's mutual fund rankings for the last quarter. CRISIL ranks equity funds based on several parameters like average 3 year annualized returns, volatility, portfolio concentration risk (both industry and company) and portfolio liquidity risk. In addition to selecting funds based on their relative ranking within the small and midcap categories, we have also selected consistent performers among small and midcap funds. Each of the small and midcap equity funds in our selection has been assigned either Rank 1 or 2 by CRISIL. Further, in addition to CRISIL ranking, we have applied MORNINGSTAR rating as a secondary filter for our fund selection. The table below lists the top 10 small and midcap funds, in order of the highest 1 year annualized returns. Returns in the table are for growth options in regular plans, based on NAVs on Feb 25, 2014.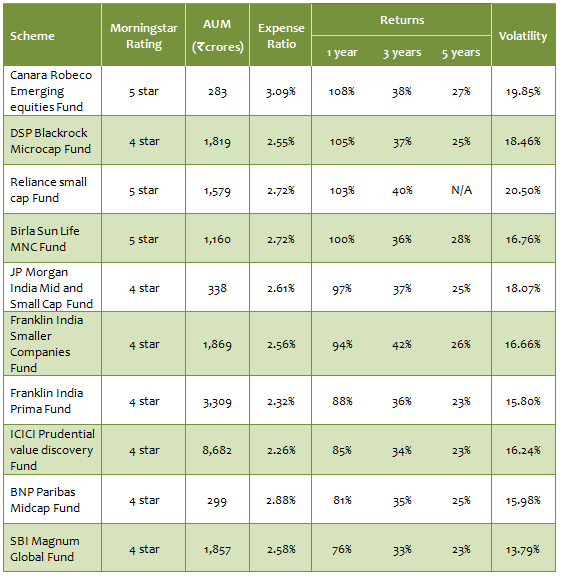 Let us now look at SIP returns of each of these funds over the last 5 years, assuming a monthly SIP of र 5,000 made in the growth option of these schemes on the first working day of every month. Please note that since the Reliance Small Cap Fund has not yet completed 5 years, the SIP return of this fund is since inception (NAVs as on February 25, 2015).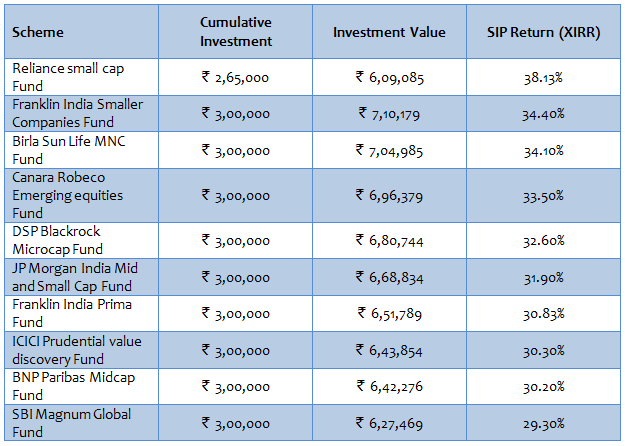 For each of these schemes, the investment value as on February 25 2015 is more than double of what the total investment made by the investor. Further, for each of these schemes the SIP return is more than the lump sum return. This is a testimony of the power of SIPs in wealth creation. SIPs turn volatility into a virtue and therefore are ideal investment options for long term investors.
Conclusion
In this article, we have reviewed the top picks among small and mid cap equity funds based on the most recent CRISIL rankings and Morningstar ratings. While all these funds have demonstrated a strong track record of performance, the suitability of each of these funds would depend on your risk profile and time horizon. You should consult with your financial adviser if these small and midcap funds are suitable for your portfolio.