In volatile market conditions, blue chip funds are always a wise bet because their portfolio mix limits downside risks in such conditions. ICICI Prudential Focused Bluechip Equity fund is a clear chart topper in its category across several time periods since its inception. Coming from the one of the best asset management companies in the country, this large cap equity fund has outperformed its peers and delivered excellent returns, in what has been a very difficult phase for equity markets. Though the fund's CRISIL ranking fell by one place in December 2013 (compared to September ranking), CRISIL continues to rank this fund as a good performer. Morningstar maintains a 5 star rating for this fund.
See the chart below, for the comparison of annualized returns over one, three, and five year periods, between ICICI Prudential Focused Bluechip Equity Fund (Growth Plan) and the Large Cap Funds category (based on Morningstar category definitions). Returns are based on Feb 25 NAVs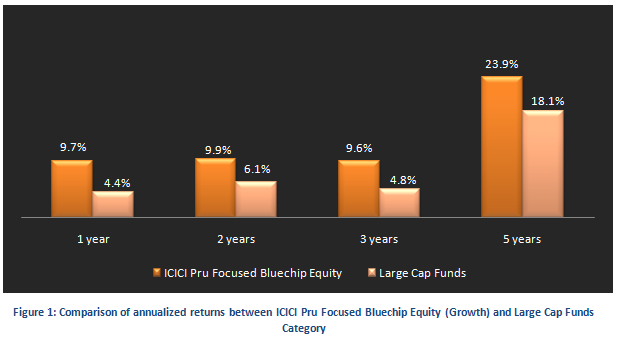 ICICI Prudential Focused Bluechip Equity – Fund Overview
This fund is suitable for investors looking for high capital appreciation over a long term, with limited downside potential in volatile markets. As such the fund is suitable for long term investment objectives like retirement planning, children's education etc. Even though the scheme was launched only in May 2008, this fund has managed to reach an asset size of nearly Rs 4600 crores. With such a large asset base, the expense ratio of the fund is amongst the lowest at only 1.84%. As an asset management company ICICI Prudential is recognized as amongst the best performers across several mutual fund categories. The fund manager of this scheme is Manish Gunwani since 2012. The scheme is open both for growth and dividend plans. The current NAV (as on Feb 25 2014) is 20.1 for the growth plan and 16.6 for the dividend plan.
Portfolio Construction
The fund has a focused approach to portfolio construction and restricts its portfolio to about 30 very large cap stocks, primarily from the Nifty basket. The portfolio has a long term high growth focus. From a sector perspective, the fund managers are overweight on the BFSI sector, with substantial exposure also to IT, energy, automobile and FMCG. In terms of company concentration, the portfolio is very well diversified with its top 5 holdings, HDFC Bank, Infosys, ITC, ICICI Bank and Motherson Sumi accounting for less than 35% of the total portfolio value.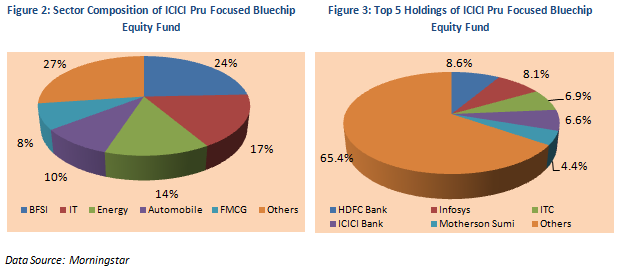 Risk & Return
In terms of risk or volatility measures, the annualized standard deviations of monthly returns of ICICI Prudential Focused Bluechip Equity Fund for three and five year periods are 16% and 20% respectively. The volatility of this fund is lower than the volatility of large cap funds as a category. While the volatility of the fund is lower than the category average, the annualized returns over the same periods are better than the category, indicative of strong risk adjusted returns performance from this fund. See the charts below for comparison of risk versus return performance of the fund versus the small and mid-cap funds category.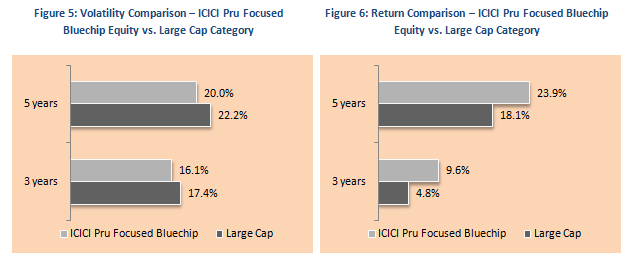 On a risk adjusted basis, this is certainly one of the best long term investment opportunities with limited downside potential. An investment of Rs 100,000 in the growth plan of ICICI Prudential Focused Bluechip Equity Fund during its NFO would have more than doubled in little over five years.
Comparison with Peer Set
A comparison of annualized returns of ICICI Prudential Focused Bluechip Equity fund versus its peer set over various time periods shows this fund is considered a chart topper amongst its peers. See chart below for comparison of annualized returns over one, three and five year periods. NAVs as on Feb 25 2014.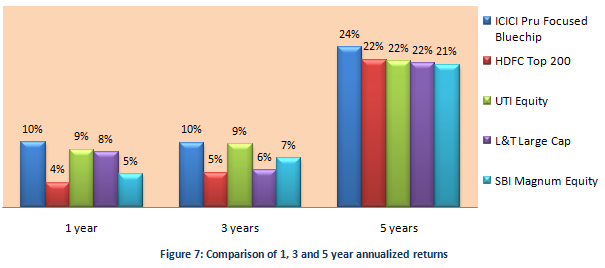 SIP Returns
The chart below shows returns as on Feb 25 2014 (NAVof 20.1) of Rs 5000 monthly SIP in the ICICI Prudential Focused Bluechip Equity Fund Growth Plan, for respective years since inception. The SIP date has been assumed to first working day of the month. The amounts are shown in Rs lakhs.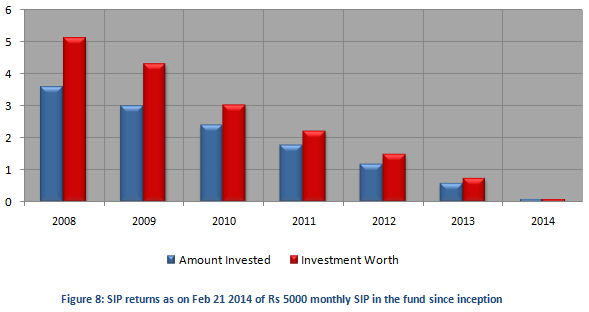 The chart above shows that a monthly SIP of Rs 5000 started on June, 2008 in the fund would have grown to over Rs 5 lakhs, while the investor would have invested in a little over Rs 3.5 lakhs.
The ICICI Prudential Focused Bluechip Equity Fund has delivered 5 years of strong performance and is a favourite in many investor portfolios. The fund from one of India's largest Asset Management Companies, has established itself as a top performer with great track record. Investors who are looking for long term capital appreciation, with limited downside risks, can consider investing in the scheme through the systematic investment plan (SIP) or lump sum route with a long time horizon. Investors should consult with their financial advisors, if this scheme is suitable for their financial planning objectives