When picking a mutual fund for your investment, consistent performance should be one of the most important selection criteria.
Why is consistency important?
While investors should invest in mutual funds with a long time horizon to create wealth, investors also look for the flexibility of earning good returns in the short to medium term, in case they need the liquidity in that timeframe


Investors may want to invest for specific medium term (five to seven years) objectives, like buying a house, starting a small business etc, for which the returns from debt investments may not be sufficient. A consistent performer equity mutual fund is the best option for such investors


Short term performance is not a good indicator of long term potential. Some funds may take advantage of volatility or momentum to generate high returns, but these strategies cannot be sustained in the long term


Historical long term performance, while a good indicator of fund's potential, does not guarantee future performance. In the mid-cap funds category Sundaram Select Midcap is one of the top three performers based on ten year annualized returns. However, in terms of past one year performance, it is not even in the top 50 in its category


Some investors have the tendency to re-balance their portfolio based on short term performance. Frequent churn has direct and indirect costs associated with it. Picking consistent performers saves investors the cost of portfolio churning and the need of constant monitoring
Consistent performers aim to outperform the market and generate good returns across all time scales from short to long term. In bear markets, while the returns of the consistent performers may be negative, the NAV does not fall in line with the market. Similarly when bull market returns, it outperforms the market by generating better returns. It achieves this through superior fund management capabilities. CRISIL has separate classifications for consistent performers across all mutual fund categories. CRISIL ranks consistent performers based on consistency of quarterly performance over a five years period across several parameters like returns, volatility, concentration risk, asset quality etc. Investment experts are of the opinion that consistent performers should form a large part of investor portfolios
IDFC Premier Equity Fund
CRISIL ranks the IDFC Premier Equity fund as one of the top consistent performers (Rank 1) amongst mutual funds across all equity categories. The IDFC Premier Equity Fund aims to outperform the market and generate superior returns by investing in a diversified portfolio of small and mid-cap companies with high growth potential.
While, inherently small and mid-cap funds are more risky than large cap funds, they have the potential to generate superior returns, since midcap companies generally have higher growth potential compared to large cap companies, both in terms of earnings and valuations. See the chart below, for the comparison of annualized returns over one, three, five and ten year periods, between small and mid-cap Funds and the large cap funds categories (NAVs as on Mar 2)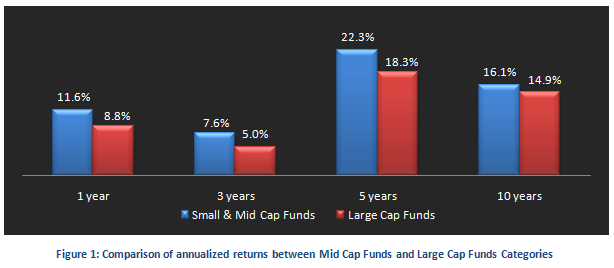 Within the mid-cap funds category, IDFC Premier Equity fund has not only been a strong performer, but one of the most consistent ones across several time periods. It has consistently outperformed many of its peers in the mid-cap mutual fund category, as well as the CNX Midcap index. See the chart below, for the comparison of annualized returns over one, two, three, four and five year periods, between IDFC Premier Equity fund, mid-cap funds Category and the CNX Mid Cap Index (NAVs as on Mar 2)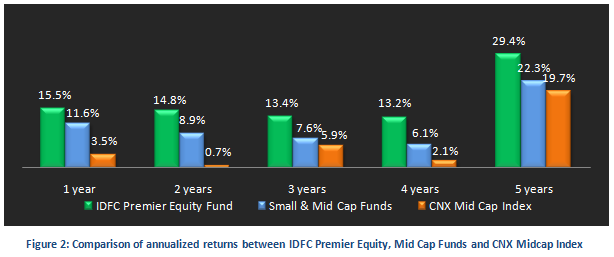 The chart above tells us why this fund is considered to be a top pick across all equity fund categories. Not only has the fund delivered excellent 5 year annualized return of nearly 30%, but across all time periods (over a year) its annualized returns have never fallen below 13%, which is higher than returns from most debt investments. That is why the fund is an excellent investment option both for medium and long time horizons.
IDFC Premier Equity Fund – Fund Overview
This fund is suitable for investors looking for high capital appreciation over a long term, with limited downside potential in volatile markets. As such the fund is suitable for investors planning for retirement, children's education, wealth creation or other long term financial objectives. The fund was launched in September 2005. It has a large AUM base of nearly Rs 3600 crores, and has therefore managed to keep its expense ratio quite low at only 1.88%. The fund manager of this scheme is Kenneth Andrade. Kenneth has been managing the fund since 2006 and has established himself as one of the best fund managers in the mid cap category. He focuses on high quality mid cap stocks with high growth potential. His disciplined investment approach has led to excellent risk adjusted returns in different market conditions over the years. The scheme is open both for growth and dividend plans. The current NAV (as on Mar 2 2014) is 42.9 for the growth plan and 25.3 for the dividend plan.
Portfolio Construction
The fund selects well established good quality mid-cap companies stocks with strong long term earnings potential for the portfolio. Typically the companies in the portfolio are leaders within their segments. From a sector perspective, the fund has substantial exposure to services, FMCG, textiles and engineering. The portfolio is very well diversified, in terms of company concentration, with its top 5 holdings, Page Industries, Kaveri Seeds, Blue Dart, Bata and MRF accounting for less than 26% of the total portfolio value. The fund also holds around 9% of its portfolio in cash equivalents as a cushion to downside risks in volatile market conditions.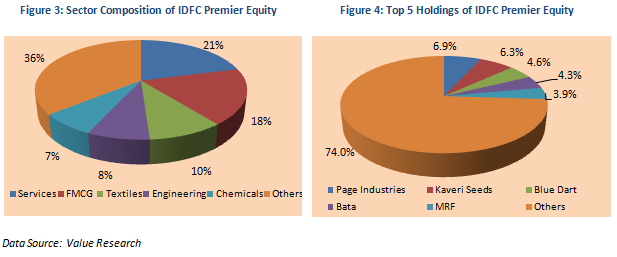 Risk & Return
It is in terms of risk adjusted returns that the fund scores very highly. The annualized standard deviations of monthly returns for three to five year periods are in the range of 15 to 21%, which is significantly lower than the volatility of mid cap funds as a category. See the charts below for comparison of risk versus return performance of the fund versus the small and mid-cap funds category over three and five year periods.

Dividend Payout Track Record
IDFC Premier Equity Fund Dividend Plan has regularly paid every year for the last five years.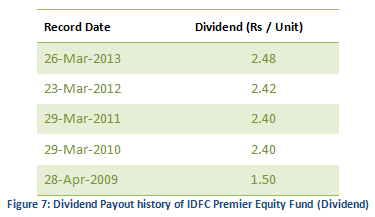 SIP and Lump Sum Returns
The chart below shows returns as on Mar 2, 2014 (NAV of 42.9) of Rs 5000 monthly SIP in the IDFC Premier Equity Fund Growth Plan, for respective years since inception (in Sep 2005). The SIP date has been assumed to first working day of the month. The amounts are shown in Rs. lakhs.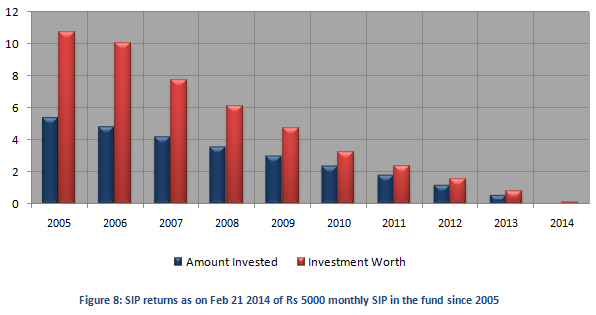 The chart above shows that a monthly SIP of Rs 5000 started on October 2005 in the fund would have grown to over Rs 10.7 lakhs, while the investor would have invested in total only half of that amount.
If the investor had invested a lump sum amount of Rs 1 lakh in the NFO in Sep 2005, his or her investment would have grown more than four times to nearly Rs 4.3 lakhs. This implies a compounded annual return of 18.7%.
The IDFC Premier Equity Fund has a strong record of delivering excellent performance across different market cycles. The fund navigated through the market downturns and volatile conditions much better than its peer. As discussed earlier, consistency of performance is an important criterion in selecting a mutual fund. The IDFC Premier Equity fund has been a top pick for many investment portfolios. Investors can consider investing in the fund only through the systematic investment plan (SIP) route or Systematic Transfer Plan (STP) route for their long term financial planning objectives as the fund is not accepting any lump sum investment as of now. The fund also has a good dividend payout track record and as such is suitable for investors who prefer dividend distribution plan. Investors should consult with their financial advisors if the IDFC Premier Equity Fund is suitable for their investment portfolio, in line with their risk profiles.