It is tax planning season now and Equity Linked Saving Schemes (ELSS) should be one of the top investment choices for investors. Some investors have a notion, that while ELSS is a good tax saving investment option, they are sacrificing absolute returns in comparison to, say a diversified equity fund. As the old saying goes, you can never have too much of a good thing. Instead of relying on notions and idioms, let us take a look at actual investment returns of these two investment categories (NAVs as on 12/02/2014)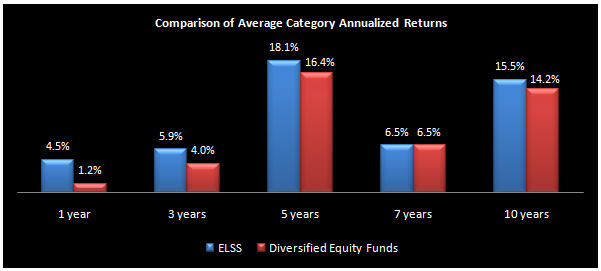 It suffices to say, that ELSS has, at the very least matched the performance, and over most time periods has marginally outperformed diversified equity funds. The reason is fairly simple. ELSS, by nature of portfolio construction, is very similar to diversified equity funds. One can argue that, there are a large number of schemes in the diversified equity category and the poor performers are pulling the category down. The argument is a valid one, and therefore we should also look at top performers in the respective categories.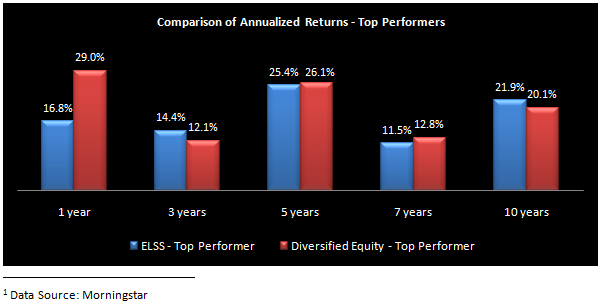 The chart above tells us that both ELSS and Diversified Equity Fund top performers have outperformed their respective categories by a big margin. But if we compare the top performers in ELSS categories with their diversified equity counterparts, there is no significant difference in performance of investment returns. Over some time periods ELSS top performers have marginally outperformed the top performers in diversified equity category, and over other time periods diversified equity top performers have marginally outperformed their ELSS counterparts. It is important to note that the one year period, in which diversified equity top performers have outperformed ELSS by a wide margin, is of no relevance to ELSS investors, since ELSS funds have a lock-in period of three years. In fact, the lock-in period of three years is advantageous from a fund management perspective, since the fund managers are free from redemption pressures and therefore are able to hold the stocks in their portfolio for a longer period of time, to generate superior returns.
Here is a comparison of Top 5 ELSS and Diversified Equity schemes, on the basis of 5 years annualized returns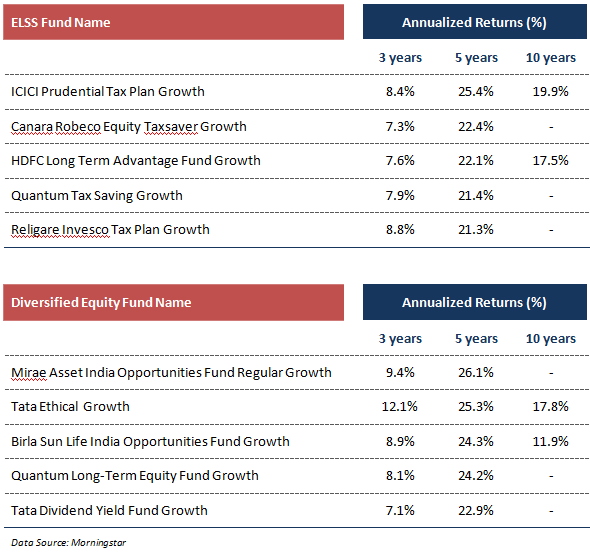 In summary, as far as investment performance is concerned, ELSS funds have matched the performance of diversified equity schemes over a 5 to 10 year horizon. In addition, ELSS provides the benefit of tax saving, since an investment of upto Rs 1 lakh in ELSS funds qualifies as deduction from your taxable income, under Section 80C. If you choose the dividend option for investing in either ELSS or diversified equity funds, dividends in either case are tax free in the hands of the investors. Long term capital gains from both ELSS and diversified equity funds are also tax free.
Within both categories, there are a large number of schemes that the investors can choose from. Investors should look at long term track record of the fund manager and should consult with their financial advisors in selecting a scheme that is suitable for them.