What are infrastructure funds?
The infrastructure sector in India comprises of power, telecommunications, roads, railways, ports, airports, irrigation etc. Infrastructure funds are thematic equity mutual fund schemes which invest in stocks that are associated with the infrastructure sector. Infra funds usually invest in power, cement and construction, oil and gas, port, telecom, metal and capital goods stocks. These funds can give high returns in certain market / economic conditions, but they may require timing of entry and exit. In the last one year Nifty Infrastructure TRI has outperformed both Nifty 50 TRI and the broader market index, Nifty 500 TRI.
In this post, we will review Nippon India Power and Infra Fund. In the last one year (ending 6th January 2022), the scheme has given over 45% returns.
About Nippon India Power and InfraFund
The scheme was launched in May 2004 and has Rs 1,664 Crores of assets under management (AUM). The expense ratio of the scheme is 2.3%. Sanjay Doshi is the fund manager of this scheme. Nifty Infrastructure TRI is the scheme benchmark. The scheme's CAGR return since inception is 16.9%. The chart below shows the growth of Rs 10,000 investment in the scheme over the last one year.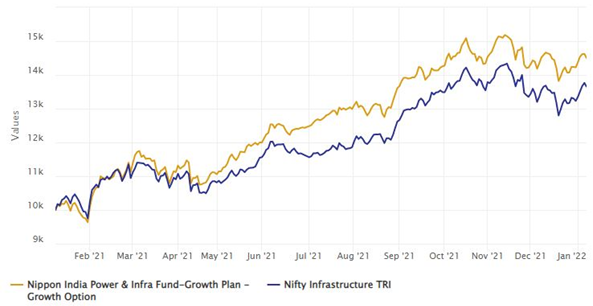 Source: Advisorkhoj Research
Investment Strategy
The scheme aims to participate in India's capex growth by investing in securities of companies in power and infra sectors.


The portfolio has an adequate diversification within the power and infra sectors by spreading investment over a large range of companies.


The fund provides opportunity within these sectors, with focused approach and flexibility to invest in Transportation, Energy, Resources, Communication and other power and infrastructure allied companies.


The market capitalization of the scheme portfolio is a combination of large cap and midcap companies.


The fund manager invests in companies which can deliver superior earnings growth in the medium to long term.


The portfolio is focused on creating long term risk adjusted return.
Rolling Returns
The chart below shows the 3 year rolling returns of the scheme since the scheme's inception versus its benchmark index. We are showing 3 year rolling returns because you need to have minimum 3 years investment horizon for this fund. You can see in the chart below that the scheme was able to outperform its benchmark index for most of the time since its inception. Clearly, the fund manager of the scheme was able to create alphas for investors over sufficiently long investment horizons.

Source: Advisorkhoj Research
Wealth creation
Though financial advisors usually recommend timing entry and exit in infrastructure funds, we in Advisorkhoj think that infrastructure funds can also be excellent long term investment options in a market like India where there is still a considerable gap in capex spending on infrastructure relative to developed markets. Since there will always be demand for infrastructure spending at least in the foreseeable future, this theme will perform well in cyclical conditions.
The chart below shows the return of Rs 10,000 SIP in Nippon India Power and Infra Fund since inception. With a cumulative investment of Rs 21.20 lakhs, you could have accumulated a corpus of more than Rs 71 lakhs through SIP in the scheme. The annualized SIP returns (XIRR) since inception is 12.5%.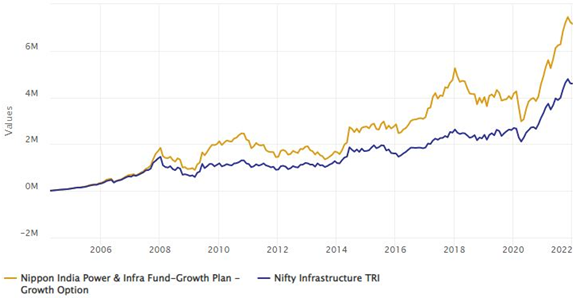 Source: Advisorkhoj Research
Why is this a good time to invest in infra funds?
The COVID-19 pandemic caused a deep economic shock all over the world due to the lockdown imposed by Governments. India also suffered a big economic contraction in the first quarter of FY 2020-21.


Governments in developed markets as well as India are aiming for a big push in infrastructure spending to kick-start economic growth recovery. The Union Budget of 2021 also made a big push for infrastructure spending in India.


The Indian Government has not only increased the budgetary outlay on infrastructure significantly, it has also implemented policy reforms to increase public sector and private sector partnership in infrastructure projects.


The 2021 Budget has announced setting up of a new Development Finance Institution to augment financing avenues for infrastructure projects. This will provide a boost to public private partnerships in infrastructure.


The market expects the 2022 Union Budget to be also reform oriented with a focus on infrastructure spending. As mentioned before, infrastructure sector outperformed the Nifty and broader market in the last one year. We expect the 2022 Union Budget to provide a further boost to this sector.
Who should invest in Nippon India Power and Infra Fund?
Though your core equity portfolio should be made up of diversified funds, you can add infrastructure funds to your portfolio to boost returns.


You should have minimum 3-5 years of investment tenure for this scheme.


You should have high to very high risk appetite for this scheme.


Infrastructure funds can underperform for long periods of time, depending on the economic cycle. You should be prepared to remain invested for long tenures if required.
Investors should consult with their financial advisors if Nippon India Power and Infra Fund is suitable for their investment needs.
Mutual Fund Investments are subject to market risk, read all scheme related documents carefully.