ICICI Prudential Mutual Fund has launched ICICI Prudential India Opportunities Fund, a New Fund Offer (NFO), which will invest in opportunities presented by special situations such as corporate restructuring, Government policy and/or regulatory changes, companies going through temporary unique challenges and other similar instances.
The NFO will close on January 9, 2019. Special situations are unique situations that companies may face from time to time, which present investment opportunities to fund managers who can foresee and interpret the implications of that opportunity to generate alphas for investors.
Investment Strategy for ICICI Prudential India Opportunities Fund
The scheme will try to identify situations which seem challenging at the current time but can be turned into investment opportunities. These situations can be:-
Special Situation due to temporary crisis in companies, industry sectors or the economy


Government Action/ Regulatory Changes


Global Events/Uncertainties
Examples of special situations for companies with potential to be exploited for higher returns
Companies can be put into situations by a variety of factors:-
Regulatory Issues


Consolidation in Industry


Management Change


Unfavorable Business Cycle / Macros
We will now discuss where these situations could have resulted in great investment opportunities. Please note the specific examples discussed in this post are not investment ideas or recommendations. We are discussing these examples simply to illustrate how special situations can lead to opportunities.
Diageo acquisition of United Spirit:

Change in ownership or management can lead to a change in investor sentiments towards a particular stock. In this however, the change was well accepted by investment community and stock had moved from Rs. 272 to around Rs. 772 from November 2012 to March 2015



Source: ICICI Prudential




Management Change in Infosys:

Changes in management led to a fall in the share price of Infosys. The fundamentals of the company were still strong and the fall in share price from levels of Rs 510 to Rs 438 was a well-timed opportunity for investing. Since Aug 2017 to Sep 2018, the company had provided ~70% returns.



Source: ICICI Prudential




Strike in Maruti Plant:

In July 2012, Maruti Suzuki share price fell by 10% due to the strike at their Manesar Plant and shut down of assembly lines. Though investor sentiment was affected at that time, the crisis in Maruti was temporary and the fall in price presented an attractive investment opportunity. Within 3 years, the company has provided returns of ~286%



Source: ICICI Prudential
Examples of special situations for industry sector with potential to be exploited for higher returns
Sectors may undergo temporary stress due to various reasons such as increasing competition, macro changes in economy, Government reforms & regulatory changes, Global Pressures etc. For example the depreciation of the Rupee was negative for the broader market, but falling rupee has been a tailwind for IT and Export oriented companies.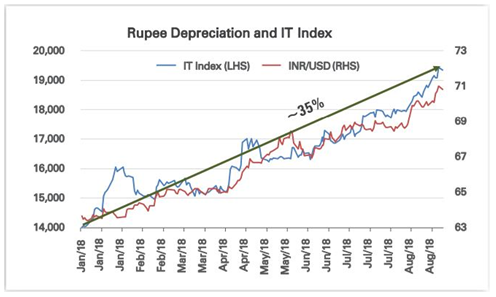 Source: ICICI Prudential
Examples of special situations arising out of Government reforms and regulatory changes
It has been witnessed that changes in Government Regulation or introduction of reforms may lead to special situations in sectors or companies. Some of them are amendment in regulations, change in taxation, fiscal reforms and introduction of Government Policies. The most recent example of a Government reform creating special situation and benefiting certain sectors is Demonetization. Demonetization had a negative impact on the broader market and several sectors like Consumer Durables, Retails, Automobiles, Manufacturing, Aviation, etc. on account of limited liquidity made available in the hands on customers. However, it benefited the financial sectors like banks, insurance companies, NBFC's, mutual funds etc.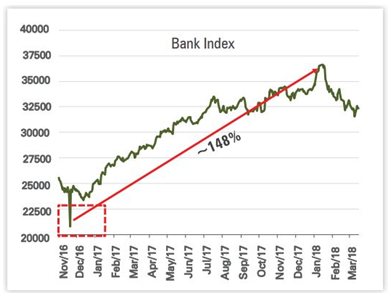 Source: ICICI Prudential
Examples of special situations arising out of Global Events
With greater integration of our economy and markets with the global economy, global events and uncertainties affect our industries and markets. China Slowdown 2015-2016 affected the metals / commodities industries including India. Commodity companies were dragged down due to worries over global macroeconomic growth environment. Thus, companies like Vedanta Ltd, Hindalco Industries Ltd, Tata Steel Ltd, Jindal Steel and Power Ltd, SAIL fell to multi-year lows. Investing in financially sound companies in the commodity space during this period could have resulted in wealth generation.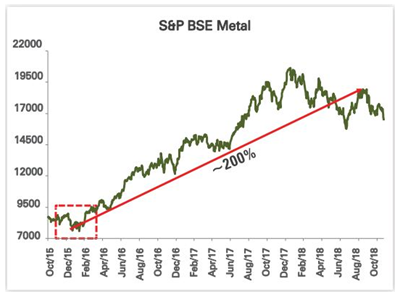 Source: ICICI Prudential
Why ICICI Prudential India Opportunities Fund NFO?
We have illustrated with numerous examples in this blog post, how special situations can lead to great investment opportunities by fund managers a fund manager who can foresee and interpret the implications of that opportunity.


This style of investing involves bottom up stock picking style because the core of its investment strategy is identifying companies in special situations. This requires rigorous 360 degree stock research. The scheme will be managed by industry veterans SankaranNaren and RoshanChutkey, who have proven long term track record of alpha generation.


The scheme will invest only in companies which have established businesses, proven track record of management and brands which are household names. ICICI Prudential mutual fund is renowned in the mutual fund industry for its strong research capabilities.


The macros of Indian economy are strong and improving. Investing in special situation as and when it arises can generate good returns on investments.
Key features of the NFO
Period:
December 26, 2018 to January 09, 2019
Switches:
Switches from equity schemes and other schemes – January 09, 2019, till cut off time (specified for switch outs in the source scheme)
Plans/Option:
ICICI Prudential India Opportunities Fund (Growth)&ICICI Prudential India Opportunities Fund (Dividend).
ICICI Prudential India Opportunities Fund – Direct Plan: Growth & Dividend
Minimum Application Amount:
Rs.5,000/- (plus in multiple of Re.1 thereafter)
Benchmark:
Nifty 500 Index
Fund Managers:
SankaranNaren and RoshanChutkey
SIP:
Available during NFO & Ongoing offer period
SWP/STP:
Available during ongoing offer period
Investors should read scheme information document and consult with their financial advisors if required before investing.
Mutual Fund Investments are subject to market risk, read all scheme related documents carefully.