The increasing cost of living is shrinking our wallets. Cost of many items of regular use has increased 5 to 7 times in the last 20 years; our income has not increased in the same proportion. As a result we are saving less and less on proportional and inflation adjusted basis. In the long term this can result in us falling short of our goals. Historically, we saved / invested what was left after spending on day to day needs, but it is time you change the paradigm. Do not save what is left after spending, but spend what is left after investing.
Multiple financial priorities in different stages of life
While most of us are all consumed in meeting our day to day needs, financial liabilities (home loan EMIs) and our lifestyle aspirations, you also have to plan for multiple priorities in different stages of life. In the first 25 years of our lives, the most important priorities are education, including professional qualification. For the duration of our working years, spanning 30 to 35 years, our focus is employment, our family, home and children's education. When you are at the peak of your career, around say 55 years of age, your focus is on your children's higher education, children's marriage and your impending retirement. These goals will not be met magically, do not wait for windfall gains because it is quite rare – you need to save and invest for each of these goals from your regular monthly savings.
You may like to read: Simple asset allocation strategies for different risk profiles
Factoring in inflation, it may seem a tall order but if you commit early, have a plan, be disciplined and intelligent about financial / investment decisions, then it is possible for you to meet all your goals and secure happiness for your family, at least from a financial perspective. In Advisorkhoj blog, we regularly have SIP related content, almost ad nauseam for maybe some of our dear readers, but given the challenges of financial planning in an inflationary environment, our objective is to instill in our readers a systematic and disciplined approach to savings and investment. The known principles of SIP namely, early start, regular investing and right investing are critical in meeting multiple priorities in different stages of life.
In case you want to know more about SIPs, do read this – SIP in mutual funds and its benefits
The chart below shows the corpus accumulated with a Rs 10,000 monthly SIP over different investment tenures, assuming a 12% per annum rate of return.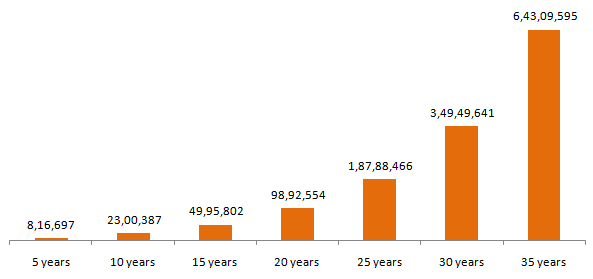 For starters, the above chart shows the power of compounding through SIP – if you have not yet started, you should start now. However, life is not as linear as the chart above. From time to time you will draw money from your investments to meet different goals in different stages of life as well as other exigencies – your investment corpus at different points of time is therefore, likely to be lower than what the chart above suggests. Hence as your income increases, you should save and invest more so that, you are able to cope with inflation as well as multiple goals, faster as well. ICICI Prudential SIP Plus helps you meet multiple goals, cope with inflation and at the same time, it provides you both flexibility and convenience
Feature of ICICI Prudential SIP Plus
Conclusion
Both life insurance and investments are important financial priorities for investors. Since the insurance cover is being provided free of cost to investors in ICICI Prudential's SIP Plus plan, Advisorkhoj's take is that it is win-win (purely from a financial perspective for investors) in any eventuality. However, we must caution investor's not to treat the ICICI Prudential SIP Plus as a complete solution for your family's life insurance needs. You should buy additional term life insurance to get adequate cover for your family. ICICI Prudential SIP Plus should primarily be used for investment purpose; the life insurance component should be used either to provide additional protection for your family or lessen the amount of term life cover you need to buy, allowing you to save cost of premium. To know more about ICICI Prudential SIP Plus, please consult with your ICICI Prudential empanelled financial advisor or visit the ICICI Prudential office nearest to you.
A very interesting related read – Which are the best dates to do your mutual fund SIPs
Mutual Fund Investments are subject to market risk, read all scheme related documents carefully.