There are concerns and there are more concerns about the fund performance, sector performance, open ended fund performance, close ended fund performance of Mutual Funds. In all this, what we tend to miss a big concern, which is investor's performance over a longer period and what it takes to perform better and stick to the objective/goals and invest in disciplined way. Yes, it is very boring to talk about same SIP performance and its CAGR numbers. Let's look at these numbers in different way.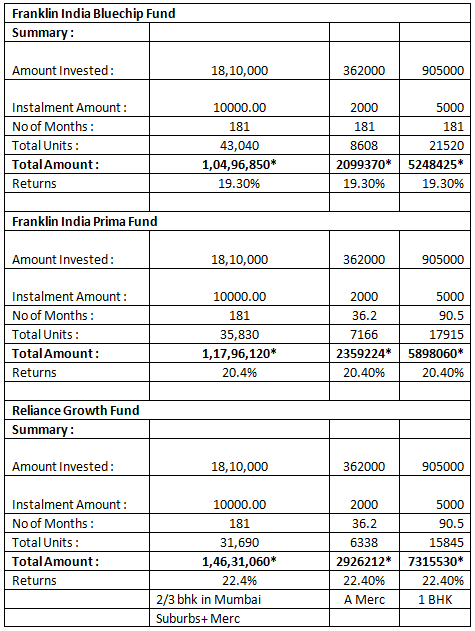 * As on 5/11/2013
It answers the question 'which fund is the best for SIP'? Above are the performance numbers of three funds, which have not been the hot favourites of IFAs for the last 5-6 years.
The above table shows that if one had invested Rs. 10000 p.m. for 15 years in Reliance Growth Fund, The value would have been approx. 1.5 Cr against the investment of 18.1 lacs, if Rs.10000 sound too much to invest in 1998, if one would had invested even Rs.2000 p.m. for same period, the value is approx 30 lacs, which means you still could buy a decent size house in B 15 city or a Mercedes.
Therefore, it's the investor's performance i.e. achieving the goals is of prime importance. All it takes is our own conviction in the solution we are providing. If one can pay premium of endowment plans for 15-20 years, can buy real estate and forget it for 10-15 years, why he/she can't invest for 15 years in SIP.