The services sector is one of the most important sectors of the Indian economy. The services sector accounts for 56% of the India's GDP. Services sector is also the fastest growing sector of the Indian economy from the mid-80s onwards. Rising per capita income, growth in social mobility and increasing urbanization has contributed to growth of services sector in India. India with its demographic advantage, access to higher education and English language skills provides a large labour pool for the global services industry. Outsourcing by foreign companies in the business services, BPO and IT services segment have given our Services sector a significant boost. This trend is likely to continue and even intensify in the future.

Source: Sundaram MF
Why invest in services sector?
Services sector account for 56% of India's GDP but only 35% of total market cap in India. This means that there is a large untapped potential of investment opportunities in this sector.


Services sector has made major contributions towards two most important macro-economic factors of our economy – employment and exports. As a result, this sector has been and will continue to be an important focus area for Government's economic reforms.


Services sector has been a major recipient of Foreign Direct Investments (FDI) in India. In the last 20 years (ending September 2020), Services sector received more than $80 billion of FDI (source: IBEF).


The Services sector has been one of the prime beneficiaries of technological advancements, since services are increasingly being delivered through IT platforms. Advancements in technologies like cloud computing, artificial intelligence, robotics, digital communication etc. will further the growth of Services sector in India.


The Government has taken several initiatives to promote the growth of Services sector e.g. Skill India (many of the skills targeted by the Government are in the realm of Services sector), Digital India (the Government targets digital economy to contribute 20% of the GDP), National Digital Health Mission (providing unique Health ID to every Indian) etc.
India's services sector covers a wide variety of activities such as trade, hotel and restaurants, transport, storage and communication, financing, insurance, real estate, business services, community, social and personal services, and services associated with construction.
About Sundaram Services Fund
Sundaram Services Fund, a thematic equity fund was launched in September 2018. The scheme has Rs 1,244 Crores of Assets under Management (AUM). The expense ratio of the scheme Regular Plan (as on 31st January 2021) was 2.23%. The scheme invests in companies that are part of the Services sector of the economy.
Services sector includes Financial Services – Retail Lenders, Wealth Management and Insurance Providers; Healthcare Services & Fitness – Hospitals and Diagnostics; Trade, Tourism & Hospitality – Retail, Hotels & Restaurant and Tourism; Transportation – Aviation and Logistics; Business Services – BPM Services and Staffing; Other Services – Media, Entertainment & Gaming, Telecom/Data Provider and Online Services.
Mr. Rahul Baijal, S.Krishnakumar and Rohit Seksaria are the fund managers of this scheme.
Returns
The chart below shows the growth of Rs 10,000 in Sundaram Services Fund (Regular Plan) since inception. The fund has given more than 21% CAGR returns since inception (as on 2nd March 2021). As you can see the fund has beaten the Benchmark as well as NIFTY 50 TRI returns during the said period.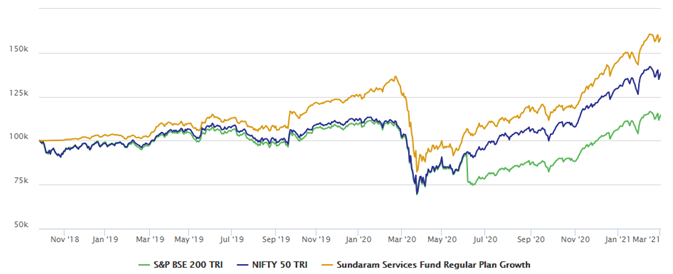 Source: Advisorkhoj Research
Investment Strategy
The Services sector has presence across market cap segments – large cap (29 companies in services sector), midcap (50 companies) and small cap (147+ companies). Accordingly the investment strategy of the Sundaram Services Sector fund is multi-cap. Large cap stocks account for 52% of the scheme portfolio, while mid and small caps account for 16% and 28% respectively. The top 5 sectors are as follows:-
Financials (37.6%): The fund managers have a positive outlook for the medium to long term potential of this sector. The scheme invests in companies which have balance sheet resilience in the short term and are expected to return to healthy earnings growth trajectory in the medium term. The scheme does not invest in PSU and corporate banks.


Digital / Technology / Telecom (21.2%): The telecom sector has seen a tectonic shift in competitive landscape with the entry of Reliance Jio, a key holding in the scheme portfolio. While Jio is rapidly growing its market share, the overall sector has benefited from consolidation and will remain a beneficiary due to new work habits i.e. working from home even in post COVID scenario. In the IT space, the scheme focuses on niche IT players.


Retailing (6.1%): This sector was badly hit by COVID-19. However, the fund managers are bullish about the long term prospects of this sector given the demographics and structural changes in consumption.


Hotels / Restaurants (9.4%): This sector is vastly undervalued in the aftermath of COVID-19. We can see sharp uptick in prices as business and leisure travel comes back to normal in the medium term.


Healthcare services (4.8%): This is a defensive sector and has shown earnings resilience even in adverse economic situations e.g. COVID-19 pandemic. Diagnostics business is not capital intensive and has huge growth potential due to consolidation and greater focus on healthcare brought about by the pandemic.
Both Theme and Scheme are well positioned in post COVID scenario
The Services sector was one of the mostly bad hit by COVID. However, the sector has seen recovery at a gradual pace post September 2020, getting stronger in the festive season and seems to be carrying on the momentum into 2021.


However, different businesses have recovered / are recovering at different speeds. Some businesses actually benefited from the pandemic due to work from home and changes in consumer behaviour brought about the pandemic. These businesses include Telecom, online service providers, home delivery and IT companies who are benefiting from accelerated digital transformation.


The next set of businesses which will benefit / are benefiting in the post COVID recovery are grocery retailers, BFSI etc. Following this set of businesses will be jewellery retailers, hospitals and diagnostic chains, logistics companies etc.


The last set of businesses that will see earnings recovery in the post COVID scenarios are the businesses which were worst hit by this crisis e.g. multiplexes, airlines, hotels, restaurants, garments retailers etc. However, these businesses have also been badly hit in terms of share prices and are available at very cheap valuations. While there is no clear time-lines for recovery of these businesses, one can expect resumption of normal (pre-COVID) life once the vaccination program picks up pace in India. There can be significant valuation upside in these companies in the medium to long term.
Conclusion
In conclusion we think that, Sundaram Services Fund has strong potential to generate good returns for investors over long investment horizons. Since this is a thematic fund you need to have very high risk appetite but in view of the post COVID recovery scenario as well as the growth potential of this sector supported by several Government initiatives, Sundaram Services Fund has the potential to create wealth in the long term. You can invest in this fund either in lump sum or SIP. You should consult with your financial advisor, if Sundaram Services Fund is suitable for your investment needs.
Mutual Fund Investments are subject to market risk, read all scheme related documents carefully.