Multi-Asset funds are hybrid mutual fund schemes which invest in different asset classes like equity, fixed income, gold etc. The fund manager decides the proportional allocation to each asset class based on the market conditions with the objective of balancing risks and returns. Multi-asset funds generally have moderate to moderately high risk profiles. They are less risky than equity funds, but can be more volatile than accrual based short duration or very short duration debt funds.
Good investment option in uncertain times
Equity outperforms other asset classes during periods of economic expansion or growth but tends to underperform during periods of economic slowdown or downturns. Gold returns usually have an inverse relationship with equity returns i.e. gold performs well, when equity underperforms and vice versa. Similarly fixed income outperforms or underperforms equity and gold in different parts of investment and / or interest rate cycles. When the future outlook is uncertain, risk averse or conservative investors usually prefer investing in fixed income or debt, but many investors are unsure where to invest and how to manage their tactical asset allocation. Financial planners recommend multi-asset funds in such situations. These funds help investors get exposure to different asset classes. In different scenarios, some assets may underperform but other assets may outperform. Investors do not have to worry about how much to invest and inwhich assets, because the fund manager actively manages asset allocation according to the prospects of each asset class.
Suggested reading: Knowing investment risk is more important than looking for best mutual funds
ICICI Prudential Multi-Asset Fund
ICICI Prudential Multi-Asset Fund is a multi-asset hybrid mutual fund scheme from the ICICI Prudential mutual fund stable. This scheme was previously named ICICI Prudential Dynamic Plan. It was a pure diversified equity fund. ICICI Prudential changed the scheme and fundamental characteristics of this scheme in 2018, as part of SEBI's mutual fund re-classification and rationalization initiative. The fund managers of the scheme are industry veteran ICICI Prudential CIO, Sankaran Naren and Ihab Dalwai. The indicative asset allocation of this scheme (according to the SID) is as follows:-
Equity: 65 – 80%


Debt: 10 – 25%


Gold: 10 – 35%


Units of REIT (real estate investment trust) / InvIT (infrastructure investment trust): 0 – 10%
The current asset allocation is 73% in equity, 14% in debt and 13% in Gold. The scheme has Rs 11,500 crores of assets under management (AUM). The expense ratio of the scheme is 1.9%.
Why invest in ICICI Prudential Multi-Asset Fund now?
The broader stock market has experienced volatile conditions over the past 2 years, with Midcaps falling 14%. The Nifty has staged a smart recovery over the past month and half, gaining more than 1,000 points; even midcap stocks have made a good recovery gaining 6% in last 1 month. The Nifty is now near its all time high, but there are concerns about the future outlook. There are clear signs of economic slowdown and corporate earnings continue to remain weak. In this situation valuations look stretched and volatility cannot be ruled out in the future. Gold has performed superbly in the last 1 year, with Gold ETFs delivering 20% but with equity staging a recovery Gold has given negative returns. With falling bond yields, debt funds gave good returns in the last 1 year, but yields have risen in the last 1 month due to concerns regarding fiscal deficit and excess supply in debt market. In such uncertain conditions, multi-asset funds including ICICI Prudential Multi-Asset Fund are good investment choices as it will provide stability to your portfolio in different scenarios. Following are the benefits of investing in ICICI Prudential Multi-Asset Fund:
Diversification across different asset classes will reduce asset class risk in different market scenarios

Suggested reading: Importance of Asset Allocation in volatile Markets


Automatic portfolio rebalancing will reduce over-exposure to a particular asset class and provide stability of returns through profit booking at higher levels and re-investing in underperforming assets


It provides a well rounded portfolio wrapped in a single scheme. You do not have to worry about managing asset allocation and leave it to experts


The fund managers of the scheme have strong long term track record of success across different mutual fund categories


You will enjoy equity taxation in this scheme
Historical performance of ICICI Prudential Multi-Asset Fund
ICICI Prudential Multi-Asset Fund has a superlative long term performance track record. The scheme has delivered more than 21% CAGR returns since inception. The scheme has given 27X returns in the last 17 years since inception. The chart shows the growth of Rs 10 lakh investment in the scheme versus Nifty.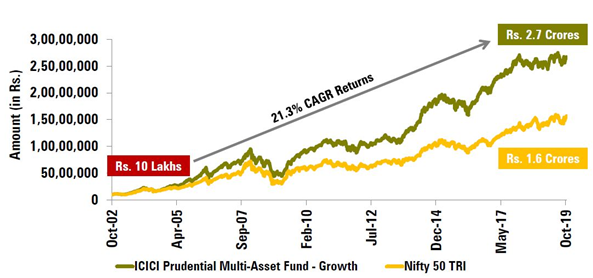 Rs 10,000 monthly SIP done in the scheme since inception, would have grown to more than 1 Crore. The SIP return has been 16.50 XIRR since inception. The scheme has outperformed broader markets in 13 out of 16 calendar years since 2002.
Conclusion
Multi-asset fund category is a relatively new mutual fund product class in India but is an excellent option for investors with relatively moderate risk appetite, especially in uncertain market conditions. Though ICICI Prudential Multi-Asset Fund in its current avatar is just about 15 months old, we feel confident about the prospects of the scheme due to the long term track of its fund managers and the capabilities of the AMC. We in Advisorkhoj feel that reducing downside risks to your capital and at the same time generating commensurate returns across different market conditions is an important part of the investment journey for your different financial goals. You should consult with your financial advisor to discuss if ICICI Prudential Multi-Asset Fund is suitable for your investment needs.
Mutual Fund Investments are subject to market risk, read all scheme related documents carefully.