Quantum Mutual Fund has launched the Quantum Nifty 50 ETF Fund of Fund. The scheme will invest in units of Quantum Nifty 50 ETF. Quantum Nifty 50 ETF has more than 14 years of track record. This fund will provide investors, who do not have Demat accounts, the opportunity to invest in a mutual fund tracking the Nifty 50 index conveniently. Nifty 50 is the leading equity market index in India. The NFO will close on 1st August 2022.
Why do both the Quantum's passively managed funds benchmark the Nifty 50?
Nifty 50 comprises of the 50 largest companies by market capitalization in India. The companies in the Nifty 50 index are leaders in their respective industry sectors.


Nifty 50 stocks have high percentage of institutional investors' (both FIIs and DIIs) ownership. These stocks are the most actively traded stocks in the market.


The Nifty 50 index is based on free float market capitalization methodology. Since stocks with higher market caps get higher weights in market cap weighted indices, outperformers tend to get higher weights.


The Nifty 50 index has a strong track record of wealth creation. Rs 10,000 invested in Nifty 50 TRI would have grown 20 times in the last 20 years (see the chart below). The 20 year CAGR of Nifty 50 TRI is 16%.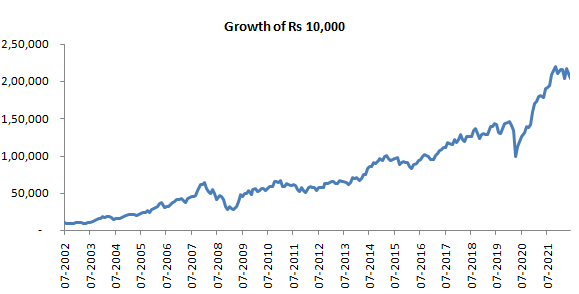 Source: National Stock Exchange, Advisorkhoj Research, as on 30th June 2022. Disclaimer: Past performance may or may not be sustained in future.
An Overview into the underlying fund – The Quantum Nifty 50 ETF?
The underlying fund of Quantum Nifty 50 ETF Fund of Fund is the Quantum Nifty 50 ETF. There are several benefits of investing in ETFs:-
There is no unsystematic risk in ETFs because they track the market index.


Since ETFs are passive funds, the total expense ratio (TER) of these funds are much lower than those of actively managed funds.


The large cap segment of our equity market is much more efficient than the small cap segment because of high institutional investor ownership, high trading volumes in cash and derivatives market, more research coverage, etc.
Quantum Nifty 50 ETF can provide you cost efficient large cap exposure. The chart below shows the performance track record of the ETF since inception. You can see that the tracking error is quite low.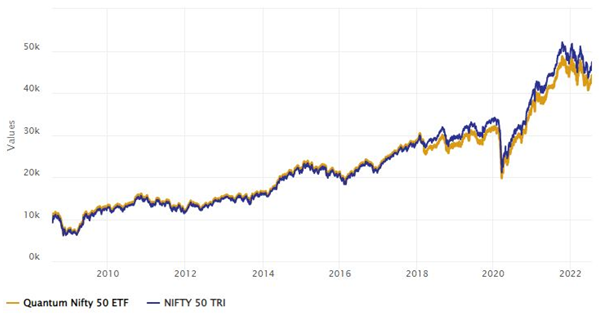 Source: Advisorkhoj Research, as on 30th June 2022. Disclaimer: Past performance may or may not be sustained in future.
Why invest in Quantum Nifty 50 ETF FOF?
You do not need to have a Demat or trading account to invest in Quantum Nifty 50 ETF Fund of Fund. Any KYC compliant investor (both existing mutual fund investors and new investors) can invest in this scheme.


Quantum Nifty 50 ETF Fund of Fund is like any open ended mutual fund scheme. You can redeem units of your Quantum Nifty 50 ETF Fund of Fund, with the AMC either directly or through your financial advisor. This is a big advantage especially from retail investors' perspective because you do not have to worry about liquidity of your investment.


ETFs do not have SIP facilities, even though some stock-brokers may provide SIP like facilities for investing in stocks and ETFs. A major advantage of investing in Quantum Nifty 50 ETF FOF is that you can invest through systematic investment plan (SIP).


Quantum Nifty 50 ETF Fund of Fund may be ideal for new investors or investors looking to build their passive allocation. The SIP facility is ideal for new investors because you will not have to invest a large amount in one go. You can start a SIP in Quantum Nifty 50 ETF Fund of Fund with just Rs 500.
Quantum Nifty 50 ETF Fund of Fund as a building block for the 12:20:80 asset allocation strategy using passively managed funds
Quantum Mutual Fund's 12:20: 80 asset allocation strategy is aimed at building a balanced diversified portfolio which investments across different asset classes. The long term objective of this asset allocation strategy is wealth creation but in the short term, this strategy can reduce downside risks and provide stability. The strategy recommends building a portfolio with savings equal to 12 months of expenses invested in liquid fund, 20% allocation of the remaining portfolio in a Gold ETF or Gold Mutual Fund and 80% of the remaining portfolio in equity funds. Investors can use this asset allocation using actively managed or passively managed funds. For those choosing a passively managed allocation, within the equity component 85% allocation can be made to Quantum Nifty 50 ETF Fund of Fund and 15% to Quantum India ESG Equity Fund.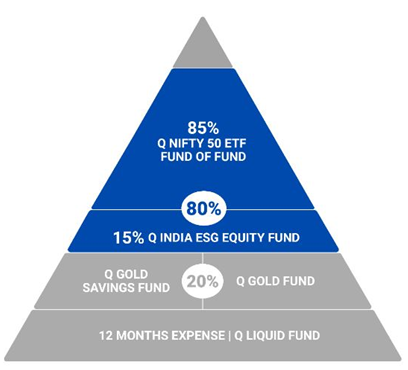 Disclaimer: This is just a suggested asset allocation of a model portfolio. This should be construed as investment recommendation. You should invest according to your investment needs and risk appetite. You should consult with a financial advisor before investing.
Who should invest in Quantum Nifty 50 ETF Fund of Fund?
Investors looking for capital appreciation over long investment horizons


Investors who have high risk appetite for their investments


Investors who have minimum 5 years investment tenure


Investors who do not have a demat account


Investors looking to combine efficiency of ETF with convenience of an index fund
Investors should consult with their financial advisors if Quantum Nifty 50 ETF Fund of Fund is suitable for their investment needs.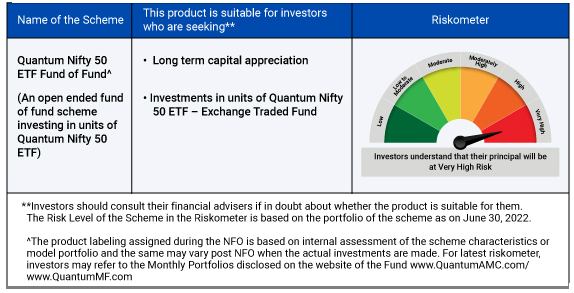 Investors of Quantum Nifty 50 ETF Fund of Fund (Scheme) will bear the recurring expenses of the Scheme in addition to the expenses of Quantum Nifty 50 ETF.
Disclaimer: The views expressed here in this Article / Video are for general information and reading purpose only and do not constitute any guidelines and recommendations on any course of action to be followed by the reader. Quantum AMC / Quantum Mutual Fund is not guaranteeing / offering / communicating any indicative yield on investments made in the scheme(s). The views are not meant to serve as a professional guide / investment advice / intended to be an offer or solicitation for the purchase or sale of any financial product or instrument or mutual fund units for the reader. The Article / Video has been prepared on the basis of publicly available information, internally developed data and other sources believed to be reliable. Whilst no action has been solicited based upon the information provided herein, due care has been taken to ensure that the facts are accurate and views given are fair and reasonable as on date. Readers of the Article / Video should rely on information/data arising out of their own investigations and advised to seek independent professional advice and arrive at an informed decision before making any investments. None of the Quantum Advisors, Quantum AMC, Quantum Trustee or Quantum Mutual Fund, their Affiliates or Representative shall be liable for any direct, indirect, special, incidental, consequential, punitive or exemplary losses or damages including lost profits arising in any way on account of any action taken basis the data / information / views provided in the Article / video.
Mutual Fund Investments are subject to market risk, read all scheme related documents carefully.