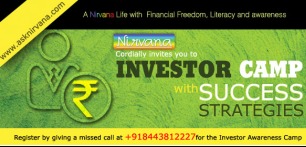 www.asknirvana.com is organizing a INVESTOR CAMP in Kolkata on 12th Jan 2014 at Royal Bengal Room, City Center 1, Sector 1, Kolkata (Between 10.00 am to 5.00 pm).
Kanak Jain, Founder of Nirvana is a CFP (Certified Financial Planner) and leading Financial Advisor. According to him – "Only when the citizens of a nation are financially literate they can attract abundance and prosperity. Most of us have received the basics of education at school and college. One level of education we did not learn at school and college is financial education. This is not just education, but beyond that. It is awareness. In today\'s rapidly growing world one of the best ways to become aware is by sharing and learning the FUN way. Remember, as a child we learned so many things, so easily, by way of play and stories."
"The motto of this Investor Camp in your city is to ensure effective sharing by way of financial games, understanding the fine art of investment and handling most of the queries on an individual basis", said Kanak.
To register give a missed call on: 8443812227 and join the Investor Awareness Camp at Kolkata.
The schedule for the investor camps is as follows:-
| | |
| --- | --- |
| Time | Schedule |
| 10.00 AM | Pranic Healing - Meditation on twin heart |
| 11.00 AM | Movie and Q & A on financial awareness with youth |
| 12.00 Noon | Volatility Game/Group activity to understand the art of activity |
| 2.00 PM | Panel discussion with experts on investment ideas |
| 4.00 PM | Presentation on investment awareness |
| 5.00 PM | Q & A with organizers and volunteers |
Exhibition & Activity Area will be consisting of:
Registration/Help Desk


Financial planning and Risk profiling desk


Tax query desk


Handwriting analysis for financial success


Games desk to understand art of invest


Exhibition of Investment options