Systematic Investment Plans (SIP) has been the favoured investing mechanism of many retail mutual fund investors, since they were introduced in India almost 20 years back by Franklin Templeton. SIPs offer a simple and disciplined way to accumulate wealth over the long term, by investing a fixed sum, regularly, in a mutual fund scheme. Mutual Fund SIPs work pretty much like bank recurring deposits, except that they generate superior risk adjusted returns compared to recurring deposits. We have discussed how SIPs have helped investors to create wealth over the long term in our article How Mutual Fund SIPs have created wealth over the last 15 years: Large Cap and Diversified Equity. In this article, we will look at the best performing SIPs in diversified equity mutual funds in the last five years.
For our analysis, we have assumed a monthly SIP amount of र 3,000 made on the 1st of every month. The start date of the SIPs has been assumed to be October 1, 2009. The SIP returns have been calculated as on October 10, 2014. Please note that, for the purpose of our analysis, we have considered regular plans only. We have excluded funds which have an asset base of less than र 100 crores. Here is the list of top 10 diversified equity systematic investment plan, based on the last 5 year SIP returns.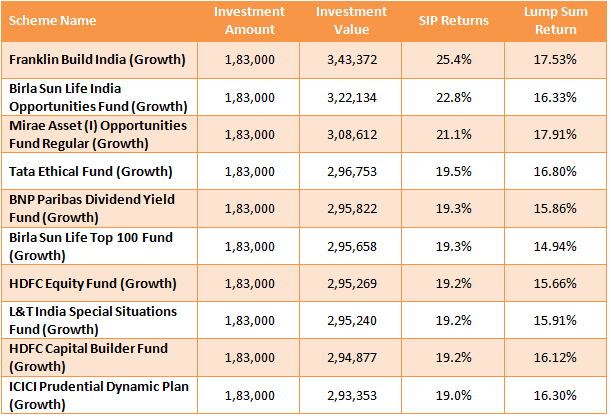 Observations
With just र 3,000 monthly investment (र 1.8 lacs cumulative over the period) in these diversified equity funds, the investors would have accumulated र 2.9 – 3.4 lacs in the last five years.


The SIP returns of these funds are in the range of 19 – 25%


The SIP returns in these funds have beaten the lump sum returns during this period. How could SIP returns beat lump sum returns? SIPs work on the principle of rupee cost averaging. Rupee cost averaging works by taking advantage of volatility. By investing a fixed amount every month, the SIP investor buys less number of units if the market goes up and more units if the market goes down. Over the last 5 years, the movement of the equity market was not unidirectional. It went up in 2010, went down in 2011, went up again in 2012, was largely range-bound but volatile in 2013 and has been going up again in 2014. SIPs are ideally suited to take advantage of such market conditions.
Conclusion
In this article, we have looked at the top 10 diversified equity funds in terms of 5 year SIP returns. These funds gave between 19 – 25% SIP returns during this period. Investors should consult with their financial advisors regarding the suitability of these funds for their SIPs. In our next article, we will discuss the best small and midcap funds for SIPs in the last five years.