Balanced funds have been around in India for nearly two decades and Birla Sunlife 95 is one of the oldest schemes with one of the best track record of performance in this category. Balanced funds are essentially hybrid funds with both debt and equity in its portfolio mix, to balance the portfolio risk. These portfolios typically hold up to 70% of its portfolio assets in equities and the balance in fixed income. They are meant for investors with moderate risk profiles. On a risk adjusted balanced funds have delivered excellent returns compared to diversified equity mutual funds. The chart below shows a comparison of category returns between diversified equity funds and balanced funds over the time periods shown below (based on Feb 16, NAVs)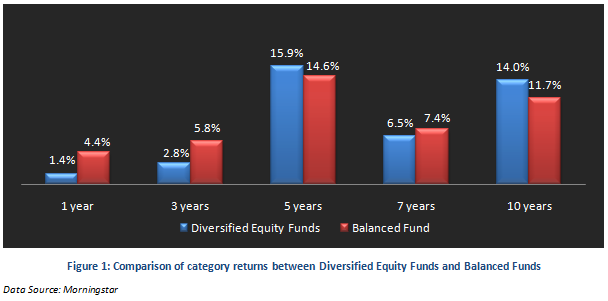 The above chart clearly shows that, while in terms of absolute returns the performance differential between diversified equity funds and balanced funds is not very significant, at the same time balanced funds have much lower risks compared to their diversified equity counterparts.
However if you compare the Birla Sunlife 95 scheme with its peer groups, the scheme has outperformed its category by a significant margin over the longer term (see chart below)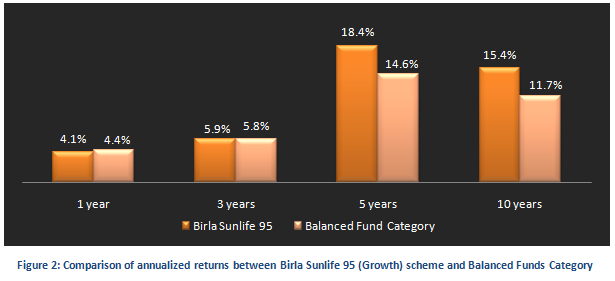 Birla Sunlife 95 – Fund Overview
This fund is suitable for investors looking for long term capital appreciation with moderate levels of risk. As such the fund is suitable for investors in the moderate risk category planning for retirement or other long term financial objectives. As one of the oldest schemes in its category, the fund has Rs. 6.3 Billion assets under management with an expense ratio of only 2.26%. As an asset management company Birla Sunlife is amongst the top performers across several mutual fund categories. The fund management of Birla Sunlife recently went through a number of changes. The fund managers of this scheme are Mahesh Patil and Prasad Dhonde. The scheme is open both for growth and dividend options. The current NAV (as on Feb 17 2014) is 358.44 for growth option and 111.56 for dividend option
Portfolio Construction
In terms of portfolio construction stocks comprises 73% of the portfolio mix, while fixed income securities comprises the rest. The fund has a predominantly large cap bias with a high growth focus. It is fairly well diversified with its top 5 holdings, Infosys, DLF bonds, State Government bonds, LIC Housing Finance bonds, and Rural Electrification Corporation bonds accounting for less 22% of the total portfolio value. The quality of its debt portfolio is also quite high with limited interest rate sensitivity.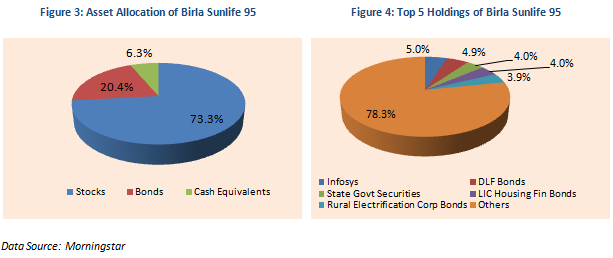 In terms of sectoral composition, financial services and technologies sectors have the highest portfolio weights, combining to over 41% of the portfolio value. Within the fixed income portfolio corporate bonds account for over 53% of the fixed income portfolio, while government securities and cash equivalents account for the balance.
Risk & Return
In terms of risk or volatility measures, the annualized standard deviations of monthly returns for three to ten year periods are in the range of 12 to 19%. The 3, 5 year and 10 years annualized returns for this fund are 5.8%, 18.4% and 15.4% respectively. On a risk adjusted basis, this is certainly one of the best long term investment opportunities for investors with a moderate to aggressive risk profile. An investment of Rs 100,000 in the growth option of this scheme on Feb 14, 1999 (fifteen years back) would have by now grown fourteen times to Rs 1,481,000.
Dividend Payout Track Record
Birla Sunlife 95 Dividend Option has an excellent dividend payout track record. Since inception in 1995 the fund has paid dividends every year except 1997, 2005 and 2007.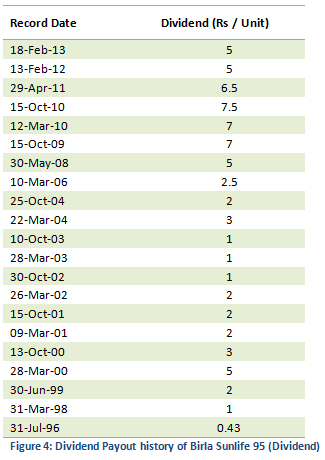 SIP Returns
The chart below shows returns as on Feb 14 2014 (NAVof 358.44) of Rs 5000 monthly SIP in the Birla Sunlife 95 Fund Growth Option, for respective years starting 1999. The amounts are shown in Rs lakhs.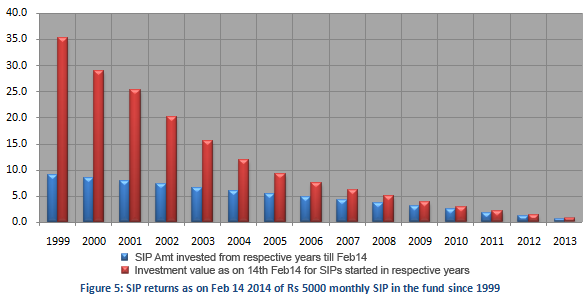 The chart above shows that a monthly SIP of Rs 5000 started on Feb 15, 1999 in the fund would have grown to more than Rs. 35 Lacs (in 15 years), while the investor would have invested in total Rs. 9 lakhs only. If the investor started investing Rs. 5000 on a monthly SIP basis in 2004, his or her corpus would have grown to Rs. 11 Lacs 83 thousand (In 10 years) with a total investment of only Rs. 6 lakhs only.
Birla Sunlife 95 Fund recently completed 19 years. Given its long term track record of strong returns, investors may consider this product for their retirement planning through systematic investment plans.