DSP BlackRock Top 100 fund has been a very popular fund with investors for a long period. Over a long period of time, it is only natural that mutual funds go through ups and downs. DSP BlackRock Top 100 Fund has also gone through a period, where the fund was unable to match with the high expectations that investors have from a fund of such pedigree. Unlike some very popular historically top performing funds, DSP BlackRock Top 100 fund has never really been a rank underperformer. Its performance relative to its peers, over the last few years, has at worst been average. The chart below shows the 10 year annual returns of DSP BlackRock Top 100 Fund versus the large cap category.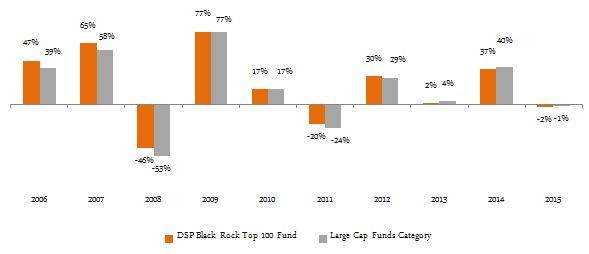 Source: Advisorkhoj Research
You can see that, the performance of the fund over the last few years has been quite average. DSP BlackRock Mutual Fund is one of the most respected fund houses in the country, with one of the best investment management teams in the industry. Mutual fund schemes of DSP BlackRock are amongst the top performing funds, across various mutual fund categories, DSP BlackRock Equity Fund and DSP BlackRock Top 100 Fund are two flagships schemes of the fund house. By 2013 - 2014, many mutual analysts were sounding the death knell for these two popular mutual fund schemes. It is said that, adversity brings out the best in top class performers.
Turnaround in performance
While in 2014 and 2015, the fund continued to underperform on a relative basis, the fund management of this scheme underwent a change last year and the fund is now making a strong come-back. The chart below shows the short term trailing annualized returns of DSP BlackRock Top 100 Fund versus the large cap funds category. Morningstar has a 4 star rating for this fund.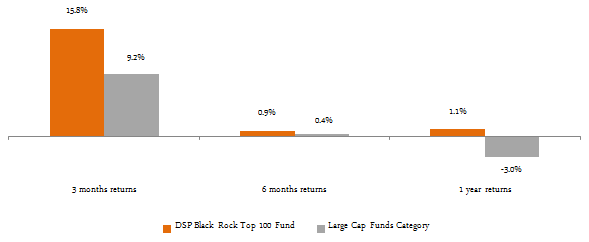 Source: Advisorkhoj Research
In the last one year, not only has the fund made a return to the top quartile (please check quartile ranking of large cap funds in our Mutual Fund research section), in the last 3 months, this fund is amongst the top 3 performers in its category (please see the Top Performing Large Cap funds in our Mutual Fund research section). According to Harrish Zaveri, investors with an investment time frame of even 1 – 3 years may consider investing in this fund.
In Advisorkhoj, we do not believe that near term returns are indicative of future returns. However, near term returns can provide evidence if the fund manager's conviction paid off, with changes in market conditions. Over the past 2 months or so, after budget, the Nifty has rallied around 1,000 points from its budget day low of 6,820 – 6,830; a rise of almost 15%. Cyclical stocks tend to underperform in bear markets but outperform when conditions reverse. Equity mutual funds which were heavily invested in cyclical stocks like DSP BlackRock Top 100 Fund, caused pain to investors in the bear market of 2015 – early 2016. However, these cyclical stocks, especially banking and finance stocks, were the ones which led the post budget rally. We observed with a lot of pride that, the maturity of the Indian retail investor has increased significantly, since the financial crisis of 2008. In 2008 many investors jettisoned their mutual fund holdings and stopped their SIPs.
However in 2015 – 2016, investors used the correction, to increase their asset allocation to equities. Hopefully, the investor's maturity will pay off handsomely in the medium to long term. Some readers may question that, most diversified equity funds are overweight on cyclical sectors, so what was so special about DSP BlackRock Top 100 Fund? We will discuss this question, later in this post, but what we are saying is that, over a long investment horizon, especially in a growth economy like India, cyclical stocks usually give excellent returns and create wealth for the investors. DSP BlackRock as a fund house is bullish on the steps taken by the Modi government and it will slowly but surely start getting reflected in the real economy and earnings over the next few quarters (please see our interview with DSP BlackRock, Head of Equities, Anup Maheshwari).
Fund Management
One concern, which some mutual fund analysts had with respect to DSP BlackRock Top 100 fund, was with regards to the change in its fund manager. Apoorva Shah, one of the most respected fund managers in India, relinquished his management responsibilities in DSP BlackRock Top 100 in the middle of 2015. Shah is well known in the industry for his meticulous, research oriented, stock picking approach, one that has paid rich dividends for DSP BlackRock equity mutual funds in the past. Shah, who had a free hand to run this fund for a number of years, is now focusing on other areas in DSP BlackRock, but the new fund manager of DSP BlackRock Top 100 Fund,
Harrish Zaveri, is also a veteran in capital markets. Zaveri has a very strong research background, having worked in senior research positions in Deutsche Equities, HSBC Securities, Edelweiss and Parag Parikh Financial and Advisory Services. That Zaveri has been entrusted with the responsibilities of managing the two flagship schemes of DSP BlackRock, DSP BlackRock Top 100 Fund and DSP BlackRock Equity Fund, tells us about the confidence which the management of DSP BlackRock has reposed on Zaveri.
When we asked Harrish Zaveri, about his outlook on Indian Equity market, this is what he had to say "Growth for fiscal 2017 ought to be well above 7 per cent, and estimates for monsoon rains suggest that it will be good, which is great for markets, because we had two years of suboptimal rains. Our view is things will be better in terms of corporate earnings for fiscal 2017. And as we accelerate, as we get into fiscal 2018 and fiscal 2019, that earnings momentum will continue. Alongside, GDP growth rate of 7-7.5 percent. We are very bullish as we get into fiscal 2018 and 2019, simply because consumption engine will begin to accelerate quite nicely this year and into the next 2-3 years. The investment cycle that many people know of and focus on, the private sector investment cycle will start really adding to growth, maybe 12 months later. We are looking at a much higher level for the index 2-3 years later based upon all the expectations of growth outlined above"
In Advisorkhoj, we believe that, a bottoms up, research backed, stock picking approach usually generates higher long term returns, compared to a top down approach of adjusting sector weights versus the benchmark index to generate alphas. The returns of DSP BlackRock Top 100 Fund over the past 3 months to a year are showing the results of Zaveri's fund management strategy. The fact that, DSP BlackRock has one of the best research and analysis teams in the industry is obviously a big advantage for the fund manager.
Investment style
DSP BlackRock Top 100 Fund, as the scheme name suggests, focuses only on large market capitalization companies. As per the investment mandate of this fund, its portfolio constitutes of blue-chip, large-cap stocks chosen from the 100 largest corporations by market capitalization listed in India. DSP BlackRock believes that, companies in this universe have achieved scale, have good management resources and generally are leaders in their industry categories. DSP BlackRock has traditionally not been a momentum chaser, unlike some other mutual fund schemes. DSP BlackRock Top 100 Fund manager follows a blend of growth and value styles. Investors should note that, value stocks can languish for a period, which can test the investor's patience, but in the long term, value investing can give better returns.
Since the performance of DSP BlackRock Top 100 Fund has been challenging over the past few years, the fund manager is now re-positioning some stocks, where the growth has been challenging. The fund manager is focusing more on companies, where he sees earnings growth reviving over the next one year or so. The blend of value and growth investing styles will enable DSP BlackRock Top 100 Fund to perform better across different investment time-scales in the future. However it is advisable that, investors should have long investment horizon, when investing in DSP BlackRock Top 100 Fund to get the best results.
Portfolio Construction
Apoorva Shah, the erstwhile fund manager of this scheme, was known to favour banks and technology sectors. The new fund manager, Harrish Zaveri, is bullish on banking and finance, automobiles, oil and gas, pharmaceuticals, cement etc. The cyclical bets of the fund manager seems to have paid off very, in the last two or three months. The chart below shows that last 3 months, 1 year, 2 years and 3 years returns of some of the top 3 sectors in DSP BlackRock Top 100 Fund.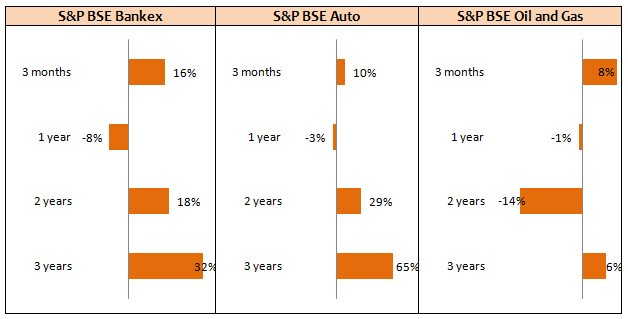 Source: Moneycontrol.com
You can see that, while banking and the Oil and Gas sectors have been underperforming over the last 1 to 2 years, in the last three months they have given good returns to the investors. The Automobile sector has been one of the best performing sectors in the market over the past 3 years. While Auto stocks saw some correction in 2015 – 2016, these stocks have rallied again in the past three years. The chart below shows that last 3 months, 1 year, 2 years and 3 years returns of some of the top 3 sectors in DSP BlackRock Top 100 Fund.
An analysis of the top 10 stock holdings of DSP BlackRock Top 100 Fund reveals that, the fund manager is focusing on market leaders in various industry sectors, with strong management capabilities, strong balance sheets and free cash-flows, and excellent revenue and earnings growth potential. The table below shows key statistics (as on May 16, 2016) of Top 10 holdings of DSP BlackRock Top 100 Fund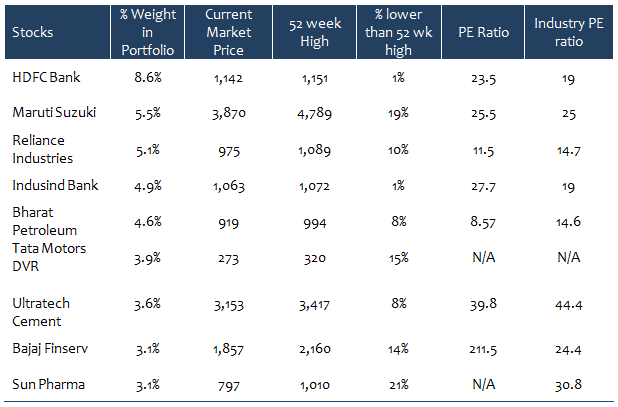 Source: Advisorkhoj Research and Moneycontrol.com
We can see in the table above that all these companies are very strong in their respective industry sectors. Most of these companies have posted strong Q4 results, either in top-line or bottom-line terms or both. We will not discuss the individual names, but most of these companies do not have severe structural problems and the ones that did in the past are getting out of it. Despite the rally over the past 2 months, some of these stocks are still trading at 15 to 20% below their 52 week highs, which imply good upside potential in these stocks, as the market retraces back to its all time high.
To some people, the valuations (P/E ratio) of some of these companies may seem to be on the expensive side. However, in Advisorkhoj, we do not believe that, price earnings ratio is not the sole determining factor, nor the most important one, for future returns of a stock. Case in point is HDFC Bank. Over the last 15 years, HDFC Bank share price has grown at CAGR (compounded annual growth rate) of over 24%, one of the biggest wealth creating large cap stocks in India. Was HDFC Bank very cheap in 2001? The answer is no. The fundamental strength of the company's business model, management capabilities, quality of earnings growth and positioning in the industry are the most important contributing factors in ensuring outstanding returns for long term investors. If in addition to some of these factors, a stock is available at cheaper than reasonable valuation, like some stocks in the list above, it is the proverbial icing on the cake for the investors.
Conclusion
India is one of the very few bright spots in the global economy. While large parts of the globe is reeling under economic slowdown, India's FY 2016 - 2017 GDP growth is expected to be around 7.5%, making it the fastest growing economy in the world. However, as far as the stock market is concerned, the macro-economic growth has to translate into stronger earnings growth, which, unfortunately, has not yet materialized. However, some of the key consumption metrics are showing signs of green shoots of recovery. Prospects of good monsoon this year is also likely to provide a big boost to consumption demand. The strength of the Indian economy, aided by the policy actions taken by the Government over the last two years and also the RBI's stance on the interest rate regime, augurs well for the cyclical industry sectors. DSP BlackRock Top 100 Fund is well positioned to capitalize on the cyclical recovery and make a strong comeback, the early signs of which, we have discussed in this article. Investors should consult with their financial advisors, if DSP BlackRock Top 100 Fund is suitable for their investment portfolios.