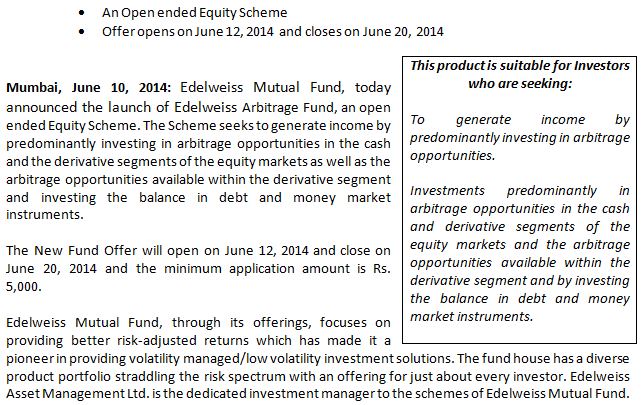 Speaking on the rationale of launching the Scheme, Mr. Vikaas M Sachdeva, CEO, Edelweiss Asset Management Ltd. said, "Edelweiss Groupis known for its expertise in the field of Arbitrage. Hence it was only logical and timely for us, to launch this fund at a time with immense positivity in sentiment. For investors with a medium to long term investment horizon, this Fund offers an immense potential, even for the very risk averse investorsArbitrage opportunities exist in all market conditions, helping investors generate relatively lower risk returns whichever way the index moves. With its equity orientation, the dividends are tax free and the capital gains , if the units are held for more than one year, are tax free too, making it more tax efficient than Liquid and Debt Schemes."
With an active investment strategy, Edelweiss Arbitrage Fund will predominantly invest in arbitrage opportunities between spot and futures prices of exchange traded equities. The Schemewould also look to avail of opportunities between one futures contract & another and also build market neutral positions that offer an arbitrage potential. The Scheme will have a concentrated portfolio and the margin money required for the purposes of derivative exposure will be held in the form of term deposits.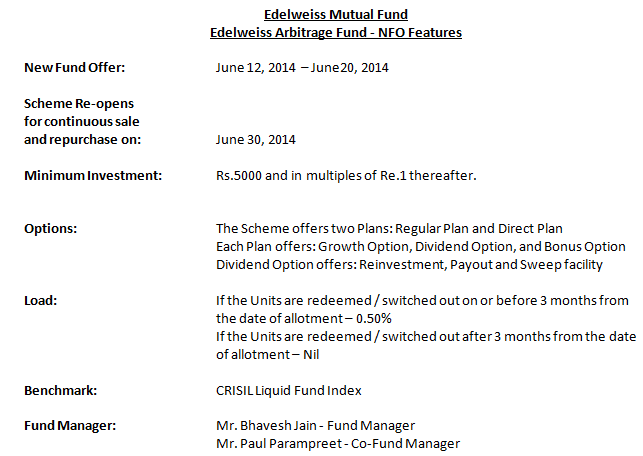 About Edelweiss Mutual Fund /Edelweiss Asset Management Limited:
Edelweiss Mutual Fund has been constituted as a trust with Edelweiss Financial Services Limited as the Sponsor/ Settlor and Edelweiss Trusteeship Company Limited as the Trustee. Edelweiss Asset Management Limited has been appointed as the Asset Management Company of Edelweiss Mutual Fund. [Edelweiss Mutual Fund has on date 10 schemes across equity and debt]
The vision of Edelweiss Asset Management Limited is to be innovative and universally renowned asset managers providing excellent investment solutions, exemplary services and setting the highest ethical standards.
To learn more about the Edelweiss Mutual Fund/ Edelweiss Asset Management, please visit http://www.edelweissmf.com
About Edelweiss Group:
Edelweiss Group is one of India's prominent financial services organizations having businesses around four broad lines – Credit including Retail Finance and debt capital markets; Commodities; Financial Markets including Asset Management and Life Insurance services. The product/services portfolio of the Edelweiss Group caters to the diverse investment and strategic requirements of over 460,000 clients across corporate, institutional, high net worth individuals and the retail space. Edelweiss Group presence extends across geographies with 207 offices in 113 cities in India and abroad.
To learn more about the Edelweiss Group, please visit www.edelweissfin.com
For further information, please contact: