The RBI kept rates unchanged in a widely expected monetary policy announcement. The MPC also decided by a majority of 5 of 6 members to remain focused on withdrawal of accommodation to ensure that inflation progressively aligns with the target, while supporting growth
Notable inferences for the governor's speech
Inflation estimates lowered to 5.1% for FY 2024 & RBI governor deviating from talking about an inflation band to moving towards the inflation target.


RBI is positive on growth outlook and retained full year GDP ay 6.5%
Banking Liquidity
Withdrawal of Rs. 2000 notes, inflow of tax revenues and forex inflows on account of FPI participation in the capital markets have resulted in a spike in system liquidity to ~Rs 2 lakh Cr. In the press conference post the policy announcement, the RBI governor emphasized Rs 1.85 Lakh Crore being deposited and only 20% of Rs. 2000 note got exchanged, this will further increase the liquidity in the banking system. The RBI has been conducting short tenor repo operations to suck out this excess liquidity without much success. We believe, the current surplus liquidity can be seen as a positive both for credit growth & softening interest rates (Already evident with money market yields dropping in April & May 2023)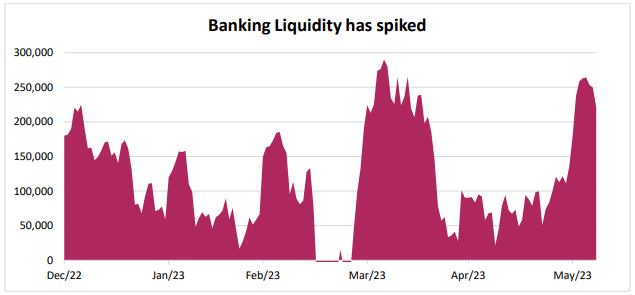 Source: Bloomberg, RBI, Axis MF Research
Data as of 7th June 2023
Growth
Domestic growth indicators continue to show robustness as reflected by high frequency indicators. Further, a normal monsoon, government investments and a strong Rabi crop could support household consumption further spurring growth. RBI remains positive about the FY24 GDP growth. The headwind for the positive outlook is from weak external demand, volatility in global financial markets, protracted geopolitical tensions and intensity of El Nino impact, however, pose risks to the outlook.
Market Moves
Surplus liquidity conditions, coupled with positive macro-economic data has resulted in money markets yields softening by ~45-60bps from March 2023 peaks. Stable policy rates across the last two MPC meets have also led 1–5year segment rates to soften albeit marginally. Post policy, market rates have remained largely unchanged.
Our View
The fall in inflation across the world and in India have given much needed breathing room for the RBI. We must recall, the RBI remained skeptical about inflation (understandably cautious) in the previous policy meeting. Further, the change to target rate from band implies that RBI has further clarity on inflation. Keeping these facets in mind, we continue to opine, rates have largely peaked.
We believe the actions of the RBI are prudent. Our estimates on growth remain lower than those of the RBI factoring base effects, more neutral view on rural consumption trends and impact on exports due to global slowdown. We expect growth projections lower than RBI expectations.
Two risks that would require the RBI to change tact.
US Fed raises rates to 6%


El Nino & a weak monsoon result in inflation spiking
From a portfolio standpoint, in line with our medium-term view, our portfolios currently run duration at the higher end of the respective investment mandates. Our expectations of incrementally softening yields across the curve and a possible policy pivot in favor of softening rates in the latter half of the financial year, this has already been factored into the current portfolio positioning. Recovery in credit spreads over the last 3-4 months has also made corporate credit (AA & above) attractive from a risk reward standpoint.
For investors with a medium-term investment horizon, we continue to believe actively managed duration strategies offer ideal investment solutions to capitalize on a falling interest rate outlook and attractive 'carry' opportunities as compared to comparable traditional investment solutions.
Products In Focus

Allocation and strategy is based on the current market conditions and is subject to changes depending on the fund manager's view of the markets. Data as on 31st May 2023
Product Labelling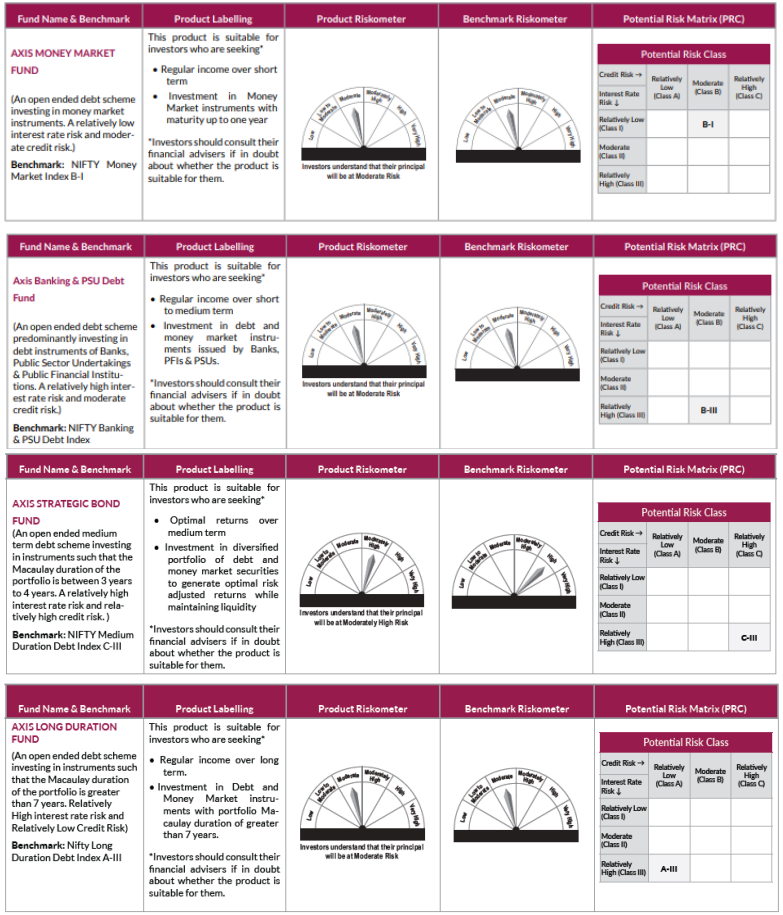 Disclaimer
Source of Data: RBI Governor' Statement, RBI Monetary Policy Statement & RBI post policy press conference dated 8th June 2023, Axis MF Research
This document represents the views of Axis Asset Management Co. Ltd. and must not be taken as the basis for an investment decision. Neither Axis Mutual Fund, Axis Mutual Fund Trustee Limited nor Axis Asset Management Company Limited, its Directors or associates shall be liable for any damages including lost revenue or lost profits that may arise from the use of the information contained herein. No representation or warranty is made as to the accuracy, completeness or fairness of the information and opinions contained herein. The material is prepared for general communication and should not be treated as research report. The data used in this material is obtained by Axis AMC from the sources which it considers reliable.
While utmost care has been exercised while preparing this document, Axis AMC does not warrant the completeness or accuracy of the information and disclaims all liabilities, losses and damages arising out of the use of this information. Investors are requested to consult their financial, tax and other advisors before taking any investment decision(s). The AMC reserves the right to make modifications and alterations to this statement as may be required from time to time.
Statutory Details: Axis Mutual Fund has been established as a Trust under the Indian Trusts Act, 1882, sponsored by Axis Bank Ltd. (liability restricted to Rs. 1 Lakh). Trustee: Axis Mutual Fund Trustee Ltd. Investment Manager: Axis Asset Management Co. Ltd. (the AMC) Risk Factors: Axis Bank Limited is not liable or responsible for any loss or shortfall resulting from the operation of the scheme.