Healthcare costs in India are increasing at a distressing rate. Based on some estimates the annual healthcare inflation is the range of 15 – 25%. A hospitalization for a serious illness can cost Rs 5 lakhs or above. Health insurance becomes even more relevant for senior citizens, because health risks increase substantially with advancing age. Unfortunately in India, the senior citizens are still under serviced as far as health insurance on concerned. Having said that, health insurance is a critical need during retirement. Increased health related risks and associated costs coupled with lower income during retirement, makes health insurance one of the most important aspects of financial planning for senior citizens.
Senior citizens, who were covered under their employer's group health insurance plan before retirement and did not have an additional individual health insurance or Mediclaim plan, have two options, upon retirement.
Immediately on retirement, seniors can switch to the retail policy of the insurer offering the group insurance plan to their former employer. IRDA's portability guidelines cover policy transfers from group to retail, allowing retiring employees to exercise this option. However, the premiums and the policy terms may change once you switch to the retail plan. In this option certain benefits like waiting period of pre-existing medical conditions, will be carried over from the group plan to the individual plan. However, in this option, you have to continue with the group plan insurer.


The senior can consider buying an individual health cover from an insurer of his or her choice. Essentially this means that you are buying a new policy, with new terms and conditions.
Seniors should evaluate both the options and then make an informed decision on choosing the right option. They need to assess several important factors when buying individual health insurance. These factors are as follows:-
Cover:

Health cover or sum insured is an important consideration in choosing a health insurance policy. Senior citizens need higher cover to protect their health, as with age the risk of health disorder increases. The public sector insurers usually offer lower sum insured compared to the private sector insurers.



Premiums:

Premiums are obviously an important consideration in buying a health insurance policy. Premiums charged by the private sector insurers are usually on the higher side compared to the premiums charged by the public sector insurers



Co-payment:

Health insurance for senior citizens comes with a co-payment clause. In other words, the insured needs to share a portion of the medical expenses incurred by them. Co-payment policies differ for insurer to insurer. For example, in case of hospitalization, a policy may stipulate 30% co-payment if the insured chooses a single or higher category room and 15% co-payment if the insured chooses a twin sharing or a lower category room.



Waiting period for pre-existing medical conditions:

This is the waiting period before a claim can be for a pre-existing medical condition (recognized in the policy). This is an important consideration for senior citizens because the risk of illness and consequent hospitalization due to a pre-existing medical condition is higher for senior citizens.



Medical check-up:

Some insurers like National Insurance, requires medical check-ups to be done before they issue health insurance policies, while some insurers do not require medical check-up. Some aged seniors may be uncomfortable with certain tests like treadmill tests.
For the sake of illustration we have chosen five health insurance plans for senior citizens from five different insurers (one from public sector and four from private sectors) and compared them across the five parameters, discussed above. The five plans that we have chosen for our analysis are the Varishta Bima plan from National Insurance, Heart Beat (Silver) policy from Max Bupa, Red Carpet plan from Star Health, Silver Health plan from Bajaj Allianz and Optima senior plan from Apollo Munich.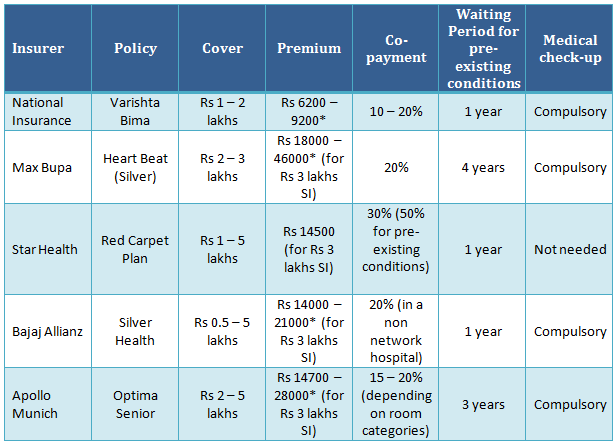 *Depending on age between 60 to 75 years
Conclusion
Health insurance is a critical need for senior citizens. In this article, we have discussed some important considerations in choosing the best health insurance policy for seniors. All of us should educate ourselves about health insurance. It becomes even more important if you are a senior citizen or if your parents are senior citizens. You can also consult a financial or insurance adviser, with sufficient experience and expertise in health insurance, to help you choose the right plan for senior citizens. Retirement years are golden years of your lives. With the right health insurance, you will be able to enjoy these golden years to the fullest extent.