In 2015 we had looked at the best family floater Mediclaim Plans, based on Mediclaim ratings by Mint, the leading financial daily. Mint rates Mediclaim or health insurance plans based on a variety of parameters like premiums, benefits and claims settlement track record of the insurer. As we begin 2016, we will take fresh look at the best family floater plans, as per Mint's most recent Mediclaim ratings. While an individual Mediclaim policy covers only the insured, a family floater plan covers the entire family. The cover for the entire family is limited to the sum insured in a family floater plan. A family floater plan provides health insurance to the whole family at a lower cost compared to individual Mediclaim policies. If the average age of the your family members is relatively less and the family members do not suffer from any pre-existing medical conditions, the risk of hospitalization of multiple family members is less and therefore, you can save health insurance cost for your family by opting for a family floater Mediclaim plan (please refer to our article, Which health insurance plan makes more sense: Individual Mediclaim or Family Floater). On the other hand, if a member of your family has a pre-existing medical condition that puts him or her at a higher risk of hospitalization, then you should buy an individual Mediclaim policy for him or her and a family floater policy for the rest of the family. One disadvantage of a family floater plan is that the plan cannot be renewed, once the senior most member of the family reaches the maximum renewability age.
For our selection of the best family floater plans, we have looked at the overall score assigned to each family floater plan by Mint based on the following factors.
Pricing or premiums


Co-pay requirements


No claim bonus


Waiting period for pre-existing medical conditions


Waiting period for specific diseases


Disease wise capping


Percentage of claims pending for over 6 months


Percentage of claims not settled
We have selected the plans in the top quartile in terms of overall score assigned to the family floater plans by Mint. The table below shows the family floater plans in the top quartile of Mint's ratings, along with the premiums and the incurred claims ratio. Please note that the premiums are applicable to a family where the most senior member is 35 years old for a total sum insured of र 20 lacs.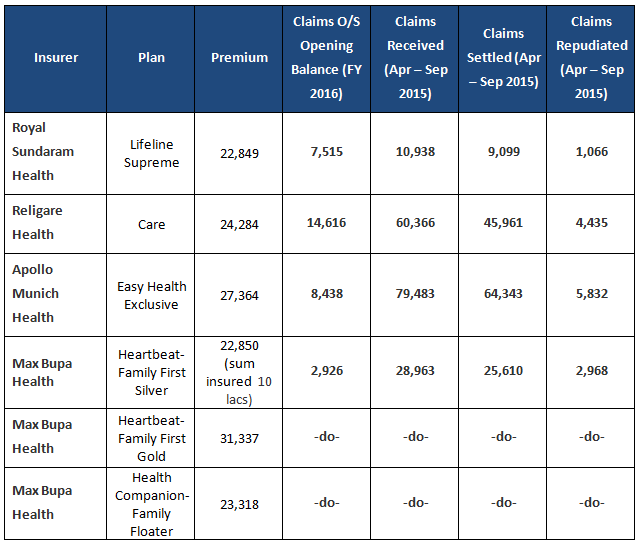 You will note that, in the above table we have deliberately not shown claim settlement ratio as percentage, based on the suggestion of one of our readers. The reader had correctly pointed out that looking at claims settlement ratio as percentage in isolation can be misleading, because an insurance company handling a smaller number of claims can have a good claim settlement ratio. If the same company received a large number of claims, then their claim settlement ratio may not be that good. Readers should look at claims settled versus claims repudiated in relation to the total volume of claims received and then determine the claim settlement efficiency of the insurer.
Conclusion
In this blog, we have discussed the best Mediclaim plans based on the most recent Mint ratings. Health Insurance is a critical aspect of financial planning and should never be ignored. With a plethora of Mediclaim products available in the market, selecting the best Mediclaim plan is often confusing for health insurance buyers. If you are not sure, which product to buy, you should discuss with your financial advisor to help you select the right product. However, you should also educate yourself about Health Insurance, so that you can ensure that you are making the correct choice. Advisorkhoj wishes you and your family a healthy and prosperous 2016.