With improving sentiments in Indian and Global equity markets, the Sensex and Nifty have surged to their historical highs in the past few weeks. With improvements in current account deficit and the inflation situation, the macro-economic outlook in India is more positive than before. With Lok Sabha elections round the corner, there is the optimism about a stable government and a return to the agenda of economic reforms. While there are certainly good reasons for optimism, we cannot start rejoicing too early. The fiscal deficit situation is still concerning. FII flows may be impacted by the actions of the US Federal Reserve. El Nino effect on monsoon may nudge food inflation up again and impact interest rates. Growth continues to be weak. Finally, a fractured mandate in the upcoming elections will spoil the party mood that the market seems to be in now. In a previous article, "Best investment option in the coming financial year", we had discussed that in an environment like this, where there is both bullishness and some significant concerns regarding the future outlook of the economy, investors should allocate a greater percentage of their investments to large cap oriented diversified equity funds. The ICICI Prudential Dynamic fund is the best diversified equity fund in terms of last 10 years annualized returns. CRISIL ranks this fund as top performer (Rank Number 1). Morningstar has a 5 star rating for this fund.
See the chart below, for the comparison of annualized returns over one, three, five and ten year periods, between ICICI Prudential Dynamic Fund (Growth Plan), Large Cap Funds category and the Nifty. Returns are based on Mar 30 NAVs.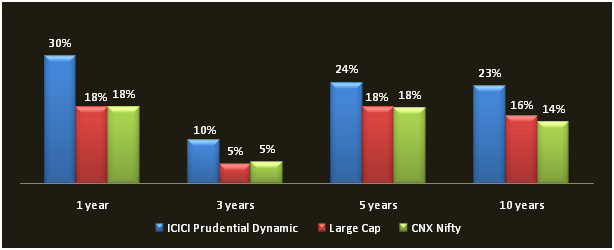 ICICI Prudential Dynamic Plan – Fund Overview
The ICICI Prudential Dynamic Plan is suitable for investors looking for high capital appreciation over a long term, with limited downside potential in volatile markets. As such the fund is suitable for long term investment objectives like retirement planning, children's education etc. This scheme, from the ICICI Prudential AMC stable, was launched in October 2002. The fund has an AUM asset size of over Rs 3500 crores, with an expense ratio of 2.04%. As an asset management company ICICI Prudential is recognized as amongst the best performers across several mutual fund categories. The fund manager of this scheme is the ICICI Prudential CIO, Sankaran Naren and Mittul Kalawadia since 2012. Sanakaran is well renowned as one of best fund managers in the country. Sankaran previously managed the fund from 2006 to 2011. The fund has delivered strong consistent returns since its inception. See the chart below for annual returns of the fund for every year since inception, compared with Nifty returns.

ICICI Prudential Dynamic Plan has given excellent returns every year since inception, except during the market downturns in 2008 and 2011. The fund managers have an active portfolio management approach, and this enabled them to protect the portfolio from downside risks during the market downturns. The fund has outperformed the Nifty in all the years since inception, except 2007. The minimum annual return was about 16% in 2004. That is why the fund is an excellent investment option both for medium and long time horizons. The scheme is open both for growth and dividend plans. The current NAV (as on Mar 30 2014) is 143.6 for the growth plan and 19.2 for the dividend plan.
Portfolio Construction
The fund has 85% of the portfolio invested in stocks, 11% in bonds and holds about 4% in cash equivalents. The portfolio has a large cap bias with a value orientation. The fund managers focus on stocks which have significant long term growth potential. From a sector perspective, the fund managers are overweight on the BFSI sector, with substantial exposure also to IT, utilities, energy and industrial sectors. The portfolio has bias for cyclical stocks and sectors, and is therefore poised to do well when the investment cycle revives in India. In terms of company concentration, the portfolio is very well diversified with its top 5 holdings, Infosys, Government of India Bond, Power Grid, ICICI and HDFC Bank for only 32% of the total portfolio value.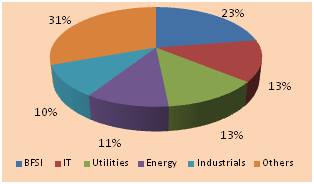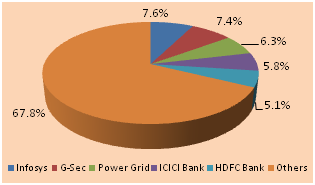 Risk & Return
In terms of risk or volatility measures, the annualized standard deviations of monthly returns of ICICI Prudential Dynamic Plan is lower than the large cap category across three, five and ten year periods are 16% and 20% respectively. While the volatility of the fund is lower than the category average, the annualized returns over the same periods are better than the category, indicative of strong risk adjusted returns performance from this fund. On a risk adjusted return basis, as measured by Sharpe Ratio, the fund has outperformed the large cap funds category. Sharpe ratio is defined as the ratio of excess return (i.e. difference of return of the fund and risk free return from Government securities) and annualized standard deviation of returns. See charts below for comparison of volatilities and Sharpe ratios of the ICICI Prudential Dynamic Plan and the Large Cap Funds Category.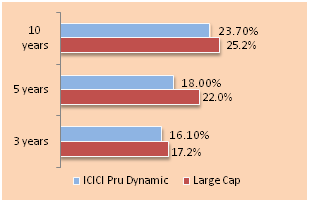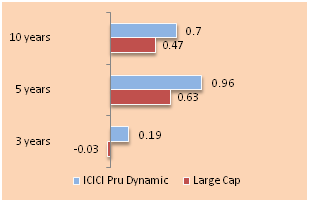 Comparison with Peer Set
A comparison of annualized returns of ICICI Prudential Dynamic Plan versus its peer set over various time periods shows this fund is considered a chart topper amongst its peers. Not only has the fund given the highest 10 years annualized returns, but it has outperformed most of its peers across various time periods (1 year, 3 years and 5 years). See chart below for comparison of annualized returns over one, three and five year periods. NAVs as on Mar 30 2014.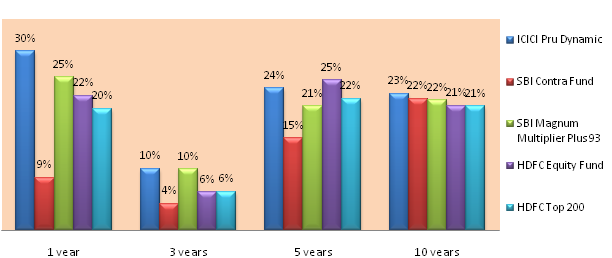 Dividend Payout Track Record
ICICI Prudential Dynamic Plan Dividend Option has an excellent dividend payout track record. It is has paid dividends every year since 2005. To its credit the ICICI Prudential Dynamic Plan, Dividend Option, paid dividends even during the severe market downturns in 2008 and 2011.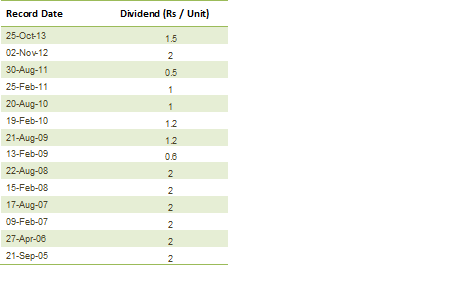 SIP and Lump Sum Returns since inception
The chart below shows returns as on Mar 30 2014 (NAV of 143.6) of Rs 5000 monthly SIP in the ICICI Prudential Dynamic Plan Growth Option, for respective years since inception. The SIP date has been assumed to first working day of the month. The amounts are shown in Rs lakhs.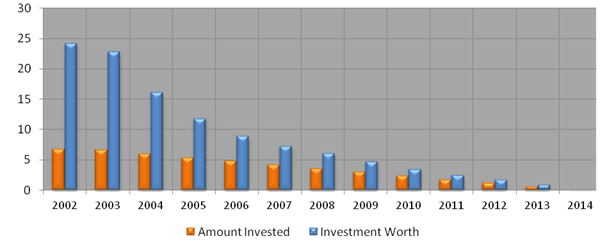 The chart above shows that, a monthly SIP of Rs 5000 in the ICICI Prudential Dynamic Plan Growth Option, from the first working day of the month since inception would have grown to over Rs 24 lakhs, while the investor would have invested in just Rs 6.7 lakhs. This implies an internal rate of return of nearly 18%. With the fund portfolio overweight on cyclical stocks, the IRR is bound to increase even further, as and when the economy recovers.If the investor had invested Rs 1 lakh in the NFO, his or her investment would have now grown to nearly Rs 14.4 lakhs.
Conclusion
The ICICI Dynamic Plan has delivered over 11 years of strong performance and is a favourite in many investor portfolios. The fund from one of India's largest and best Asset Management Companies, has established itself as a top performer with a fantastic track record. ICICI Prudential AMC has recently won the Morningstar Mutual Fund Awards for the Best Fund House - Debt, Best Fund House- Equity and Best Fund House – Multi Asset (see our news item, Morningstar Mutual Fund Awards for Fund Excellence) and ICICI Prudential Dynamic Equity Plan was adjudged the Best Equity Fund. Investors who are looking for medium or long term capital appreciation, with limited downside risks, can consider investing in the scheme through the systematic investment plan (SIP) or lump sum route. The fund has a good dividend payout track record, and as such may appeal to investors who prefer dividends. Investors should consult with their financial advisors, if this scheme is suitable for their financial planning objectives.
Please check more Fund Reviews of ICICI Prudential Mutual Fund
The best ELSS fund in the last 5 years