Balanced funds have been around in India for nearly two decades and Tata Balanced Fund is one of the oldest schemes with one of the best track record of consistent performance in this category. Balanced funds are essentially hybrid funds with both debt and equity in its portfolio mix, to balance the portfolio risk. These portfolios typically hold up to 70% of its portfolio assets in equities and the balance in fixed income. They are meant for investors with moderate risk profiles. On a risk adjusted balanced funds have delivered excellent returns compared to diversified equity mutual funds. The chart below shows a comparison of category returns between diversified equity funds and balanced funds over the time periods shown below (based on Mar 10, NAVs)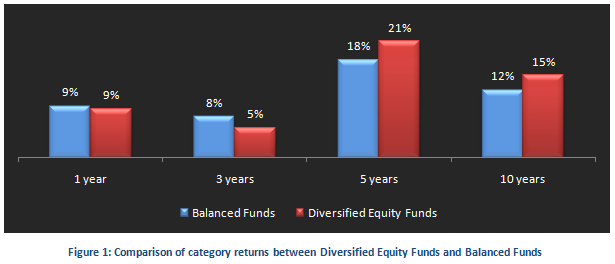 The above chart clearly shows that, while in terms of absolute returns the performance differential between diversified equity funds and balanced funds is not very significant, at the same time balanced funds have much lower risks compared to their diversified equity counterparts.
Within the balanced funds category, Tata Balanced fund has not only been a strong performer, but one of the most consistent ones across several time periods. It has consistently outperformed many of its peers in the balanced fund category. See the chart below, for the comparison of annualized returns over one, three, five and ten year periods, between Tata Balanced Fund and the balanced fund category (NAVs as on Mar 10)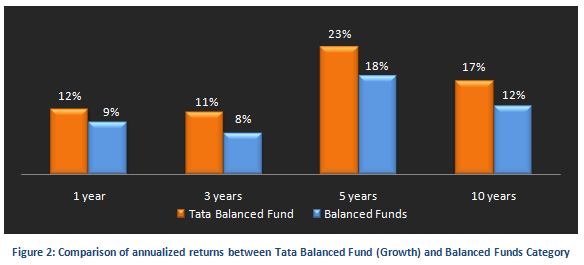 The chart above tells us why this fund is considered to be a top pick. Not only has the fund delivered excellent 5 year annualized return of nearly 25%, but even in the short term (one to three years) its annualized returns have never fallen below 11%. On a post tax basis, these are higher than returns from most purely fixed income investments.
Tata Balanced Fund – Fund Overview
This fund is suitable for investors looking for long term capital appreciation with moderate levels of risk. As such the fund is suitable for investors in the moderate risk category planning for retirement or other long term financial objectives. As one of the oldest schemes in its category, the fund has Rs 620 crores of assets under management with an expense ratio of 2.5%. The asset management company, Tata Mutual Fund, is part of Tata Group, one of the largest and most respected brands in India. Funds from the Tata stable are amongst the top performers across several mutual fund categories. The fund managers of this scheme are Atul Bhole and S.R. Acharya. The scheme is open both for growth and dividend options. The current NAV (as on Mar 7, 2014) is 108.65 for growth option and 58.77 for dividend option. CRISIL ranks this fund, as a good performer (Rank 2) and Morningstar has a five star rating for this fund.
Portfolio Construction
In terms of portfolio construction equity comprises 75% of the portfolio mix, while fixed income securities comprises the rest. The fund has a predominantly large cap bias with a high growth focus. It is very well diversified with its top 5 holdings, Govt Bonds of 2019 and 2020 maturities, HCL, TCS, United Spirits accounting for less 19% of the total portfolio value. The quality of its debt portfolio is also quite high with limited interest rate sensitivity.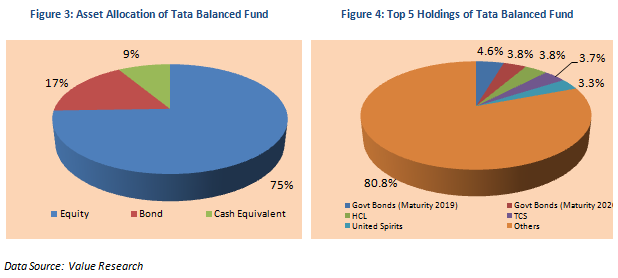 In terms of sector composition of the equity portfolio, IT, BFSI, Automobile, FMCG and healthcare have the highest portfolio weights, combining to over 52% of the portfolio value. The portfolio is well balanced between cyclical and defensive sectors. Within the fixed income portfolio government bonds account for over 40% of the fixed income portfolio, corporate bonds account for 26% and money market instruments account for the balance. See the waterfall chart below, for the sector composition of the equity portfolio of Tata Balanced Fund.

Risk & Return
From a risk perspective, the volatility of the fund is on the higher side, given the fact that it is a balanced fund. The annualized standard deviations of monthly returns of Tata Balanced fund for three to fifteen year periods are in the range of 12% and 21% respectively, which is on the higher side relative to the balanced funds category. While the high volatility is a watch out for the fund from a risk perspective, the risk adjusted return is very attractive. On a risk adjusted basis, as measured by Sharpe Ratio, the fund has outperformed the diversified category. Sharpe ratio is defined as the ratio of excess return (i.e. difference of return of the fund and risk free return from Government securities) and annualized standard deviation of returns. Higher the Sharpe ratio better is the risk adjusted performance of the fund. See charts below for comparison of volatilities and Sharpe ratios between Tata Balanced fund and balanced funds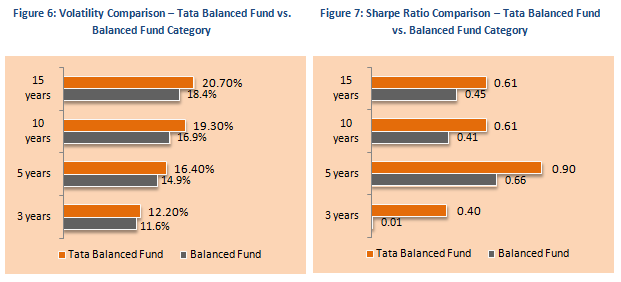 Dividend Payout Track Record
Tata Balanced Fund Dividend Plan has an excellent dividend payout track record. For the last 15 years the fund has paid dividends every year except 2001 and the during market downturns in 2008 and 2011.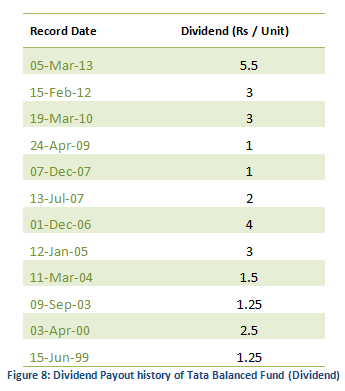 SIP Returns
The chart below shows returns as on Mar 10 2014 (NAV of 108.6) of Rs 5000 monthly SIP in the Tata Balanced Fund Growth Plan, for respective years starting since inception in 1995. The SIP date has been assumed to first working day of the month. The amounts are shown in Rs lakhs.
The chart above shows that a monthly SIP of Rs 5000 started on inception of the fund would have grown to over Rs 57 lakhs, while the investor would have invested less than a fifth of that amount (only Rs 11 lakhs). This shows the power of compounded return. If the investor had invested Rs 1 Lakh lump sum, in the NFO, his wealth would have grown to nearly Rs 11 lakhs.
Tata Balanced Fund is given nearly 19 years of strong performance. Given its long term track record of strong returns, it is a top pick in many investor portfolios. Investors with moderate risk profiles may consider this product for their retirement planning and other long term financial objectives, through systematic investment plans or lump sum route with a long time horizon. Given its good dividend pay-out track record, investors who prefer dividends can opt for the dividend plan of the Tata Balanced Fund. Investors should consult with their financial advisors, if this scheme is suitable for their financial planning objectives.