It is already the sixth month of the year and third month of the financial year. This might be the right time to reflect upon all that is going right and not so right. The word budget is not just official government announcements about the various expenses and revenues. It can also be implied in our daily personal lives. It is the simple understanding of the assets and liquid cash available and the utilization of the same to the meet the various expenses. A typical personal budget usually consists of: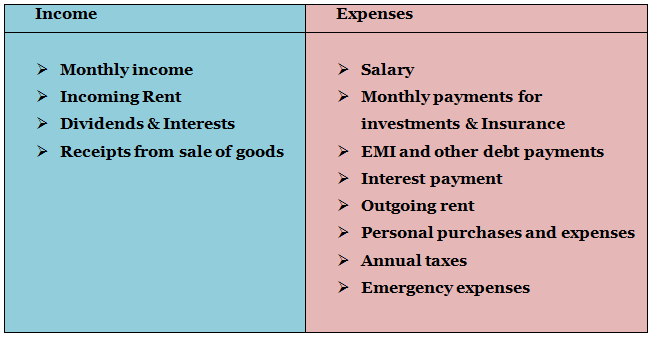 This is a summation of the most common avenues of income and expenses. It is by taking into consideration the monthly income that you determine the monthly expenses. However, if the expenses exceed the income, you will find yourself in a financial crisis. This is where the importance of a budget arises. The budget is that self developed leash that allows us to stay afloat. The importance of the budget cannot be over stressed at any point of time. Be it April or March or June without a budget you will be struggling to make ends meet. Let us see how you can stay within your budget:
Assess your net income
To put it simply, net income is the income that you will take back home. If you start building your budget based on the total salary or other income then you may fall short. Net income is assessed after deducting TDS, Employees Provident fund, professional tax and any other employer benefit that you might have taken like an advance or a personal or house building loan from your employer. All of this when gets deducted from your gross income, you get the net income. This is the income you take home and plan your monthly budget.
The perfect method to track your savings
If you think you can spend all that you want and save at the end of the month, you already know it is not going to work out. So have a budget, where you can keep track of all your expenses. I have seen a lot of people write down their expenses so they know where exactly they have spent and how much. This is quite a helpful method for all the spendthrifts. If you cannot save at least something will be there to make you feel guilty. You can also collect and keep your bills for better accounting. The best part about tracking savings to maintain personal budget is that it can be customized to suit personal needs. If an excel sheet with columns of income and expenses works the best for you so you have your method of record keeping. Determine in the beginning of the month the amount you will spend on various avenues and try not to defy that. The skill of having and staying within the budget is good old practice.
Focus on savings
My friend once remarked nobody notices the fifties and the hundreds you put away. It sounded so true. So when you are building your budget this financial year, do not forget to keep these small stashes of money into consideration. The trick of saving is to save first and then spend, spending with the consolation of saving never works. If you usually follow a neck to neck budget i.e. income = expenses your budget may not be well formulated because it does not leave any room of savings or emergency. You are neither saving nor investing. There is a high possibility that you will soon fall into debt because income seldom increases but the avenues to spend are innumerable and ever expanding.
Pay your utility bills, insurance premiums and credit card bills on time
Savings can be increased by reducing deficits. Deficits are leakages that erode your income and savings. Avoid adding to already existing deficits. If you have to pay a monthly EMI then pay it within the due date to avoid late payment charges that will be levied. Reduce credit purchases because credit card interest rates can be as high as 36%-48%. If you have made credit purchases pay back the predetermined amount before due dates. Seal off the deficits and savings will shoot up.
Fund your investments for short and long term goals
As and when you start to save you might be asking this question: why am I saving? Having a list of goals to fulfill in the near and distant future will give your savings and investments a sense of purpose. It will always act as the motivating factor and a constant reminder that failing to save might defy the fulfillment of the goal. Put down a sum against each goal that you want to achieve and the number of years or months you have to achieve. This will give you a clear picture of what and how to achieve. The investments, for example, the SIPs and the monthly premium of your life insurance policies that you have signed up for have to be a part of your monthly budget.
The effect of your personal budget
People who are directly affected by your personal budget are the ones who should always be informed about the steps you have taken to build your budget. Usually immediate family like your spouse or parents should be informed about your budget plans. You also need to take into consideration your family's idea and attitude towards money before planning the budget. Often stating your budget lets your family know the boundaries of spending and you always have someone to hold you accountable for discrepancies.
Build an emergency corpus
Emergencies and guests always come in unannounced. The arrival of a guest might be a pleasant surprise but the same does not apply to emergencies. In the planning of a personal budget one has to incorporate an emergency budget. It is said, ideally an emergency corpus should consist of an amount equivalent to three to four months of your monthly income. Such a budget allows one to deal with unexpected expenses such as medical bills, unexpected illness or a sudden need of funds. This corpus ensures that you do not have to reduce your personal expenses or redeem investments meant for a long term.
Do not focus on failing
The proven way of failing is being too hard on yourself. Too many restrictions at an early stage will only lead to failures to fulfill your budget. Budgeting should not become a way of eliminating all materialistic joys of life. It should only be a means of staying within certain boundaries and not indulging in excess spending. If you are too hard on yourself you might save even lesser and the failure at some point is bound to discourage you. So if you are used to having a sandwich every day. Do not go from 30 sandwiches a month to 0 sandwiches. Cut steadily and slowly to get used to it. Start slow and steady and not hastily.
Have a dynamic budget: Conclusion
Be flexible and open to change. Making adjustments along the way is a natural way of managing a personal budget. A goal suddenly might require more funds than you had planned. So you might have to reduce the savings or investment for other goals to make up for this. A fund may be underperforming and not generating the desired rate of returns. This may require you to either change the fund or make additional investment in another fund to make up for the deficit. An unforeseen family event might require you to make adjustments in your personal expenses. Once you start saving and investing these changes are bound to happen. The factors that do not change are: you have to save and fulfil your goals. It is after all your money, hence, your cup of tea to handle.