Asia Asset Management, The journal of investments and Pension, now in its 20th year of publication, recently unveiled the winners of its Annual Best of the Best Awards 2014.
Highlights: ICICI Prudential AMC is awarded India's Best Fund House
Asia Asset Management's annual Best of the Best Awards, which are divided into three categories – Performance, Country, Regional – have made their mark on the industry by recognising the most outstanding players in the fund management business in Asia over the last 12 years.
Following are the Winners from India at the Asia Asset Management's Annual Best of the Best Awards 2014 –
India, Best Fund House - ICICI Prudential Asset Management Company
India, CEO of the Year - Nimesh Shah, ICICI Prudential Asset Management Company
Most Innovative Product – IFMR Investment Managers Private Limited
CIO of the Year - Anand Shah BNP Paribas Investment Partners
Best Investor Education - Baroda Pioneer Asset Management Company
Best Pension Fund Manager - HSBC Asset Management India Pvt. Ltd.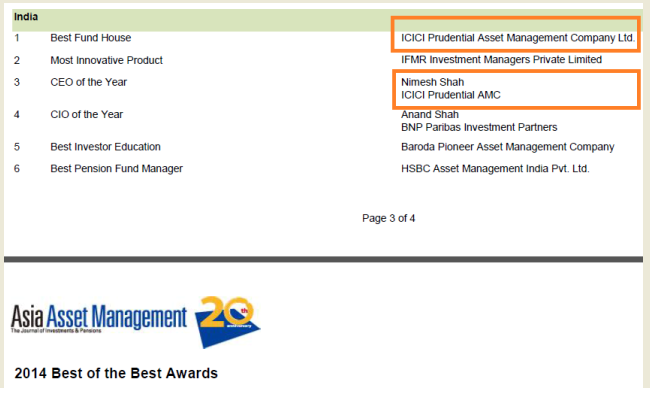 "It is part of Asia Asset Management's commitment to supporting the industry in achieving excellence by recognising the innovation, dynamism and high standards within the asset management business in the region," said Asia Asset Management Publisher and Founder Tan Lee Hock. "We would like to congratulate all the 2014 AAM Best of the Best Award winners for being at the top of their game."
Based out of Hong Kong, Asia Asset Management's Best of the Best Awards, is an annual awards programme that gives recognition to financial institutions and pension funds for outstanding achievements over the past calendar year. Best of the Best Awards is broken down into three divisions: a) performance, b) country and c) regional awards, to acknowledge each and every area where excellence has occurred.
Asia Asset Management, which first rolled off the presses in 1995, was the first trade journal in the Asia-Pacific region to cater to the needs of asset managers, pension funds and institutional investors, and for the past 20 years has been dedicated to providing comprehensive news coverage and in-depth analysis of the Asian asset management industry.
To know more about Asia Asset Management and Best of the Best Awards click on the link below- http://www.asiaasset.com/about_us_company.aspx