DSP BlackRock is back with a New Fund Offer DSP BLACKROCK GLOBAL ALLOCATION FUND.
The Fund has opened for subscripiton on Aug 1 2014 and will be closing on 14th August. The Fund is Open Ended Fund of funds and will be investing in BlackRock Global Funds - Global Allocation Fund.
TRULY DIVERSIFED :
The Fund invests in more than 700 stocks (yes, you read it right, 700 stocks) across Sectors in over 40 Countries and in almost 30 Currencies! How's that for True Global Diversification???
The Fund has team of 40 Professionals spread across the World and has 3 highly Competent Portfolio Managers with a combined experience of more than 90 years!
The Investment approach is Top-Down Marco to decide Asset Allocation followed by Bottom Up Stock Selection.
BENCHMARK :
Benchmark is unique, as you can expect.
36% S&P 500, 24% FTSE World (ex-US), 24% BofA ML US Treasury Current 5 year and 16% Citigroup Non-USD World Government Bond Index
PERFORMANCE :
The underlying Scheme has consistently beaten its peers and benchmark for a period of over 17 long years since its inception in January 1997.
The Fund has shown solid resilience during financial meltdown by avoiding Financial Sectors.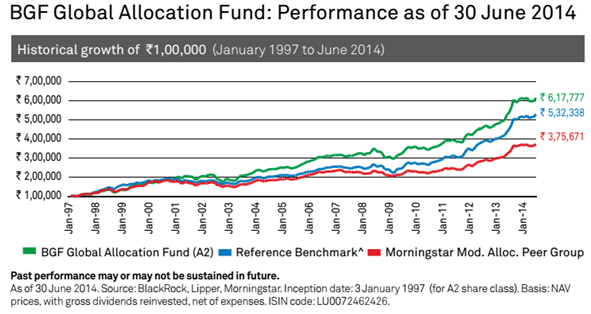 EXIT LOAD :
1% if redeemed within 1 year. Though, I would have loved if the exit load was kept at 1% for 3 years.
TAX ANGLE :
Please note that DSP BlackRock Global Allocation Fund invests primarily outside India and hence is treated as Debt Fund for Tax purposes.
So, if you sell the fund within 3 years, the gains is added to your Income and taxed as per your Tax Bracket. If you sell after 3 years, than you will be taxed at 10% without indexation and 20% with Indexation
EXPENSE RATIO:
Looking at the Fund's diversity and flexibility, one would expect the Expense ratio to be high, but surprisingly, it is an abysmal low of just above 1%.
Wow! Indian Fund Managers should take a cue from these people on how to manage expenses.
VIEWS AND RECOMMENDATION:
Every "Expert" is gung ho about Indian Economy and Markets. India continues to be attractive and is expected to post High Growth for the next few years.
Common Sense says that we should stick to Asset Allocation and have at least 5% to 10% of portfolio diversified through International Feeder Funds.
The Fund is true blue Diversified Fund with investment spread across Assets, Countries, Market Caps, Sectors and even Currencies. The Fund has outperformed its Benchmark and Peers since its launch in January 1997.
Flexible and Diverse in true sense. The Diversification across Assets, Geography, Currencies, Sectors does not mean that the Fund is the Magic Fund that you were looking for, which protects during downturns and soar in bullish times. The Fund is good at protecting your money and giving you above Inflation and Fixed Income returns.
Unlike other Global Funds, this Fund does NOT have any Currency risks as the portfolio is distributed across 30 Currencies.
Do not expect Ultra High Returns from this fund. If International Funds are missing in your portfolio, then DSP BLACKROCK GLOBAL ALLOCATION FUND easily fits into portfolio as a CORE holding.
(This is a review and recommendation by Srikanth Matrubai, the author. His views are personal and not related to Advisorkhoj in any way. Mutual Fund investments are subject to market risks, read all scheme related documents carefully)