Notice is hereby given that SBI Mutual Fund Trustee Company Private Limited, Trustees of SBI Mutual Fund has decided to make following changes in the Scheme Information Document / Key Information Memorandum of SBI Savings Fund, an open ended Debt Fund ('the Scheme') with effect from Wednesday, January 04, 2017:
Introduction of Instant Redemption facility for transaction made through SBIMF Website & Mobile applications:
Under 'Instant Redemption facility' ('the facility'), the Scheme shall endeavor to credit redemption proceeds to the registered bank account of the investor within few minutes from the time of receipt of Instant Redemption request, using Immediate Payment Service (IMPS) provided by various banks. The facility shall be available only in SBI Savings Fund on all points of time.
The brief features of the facility are mentioned below.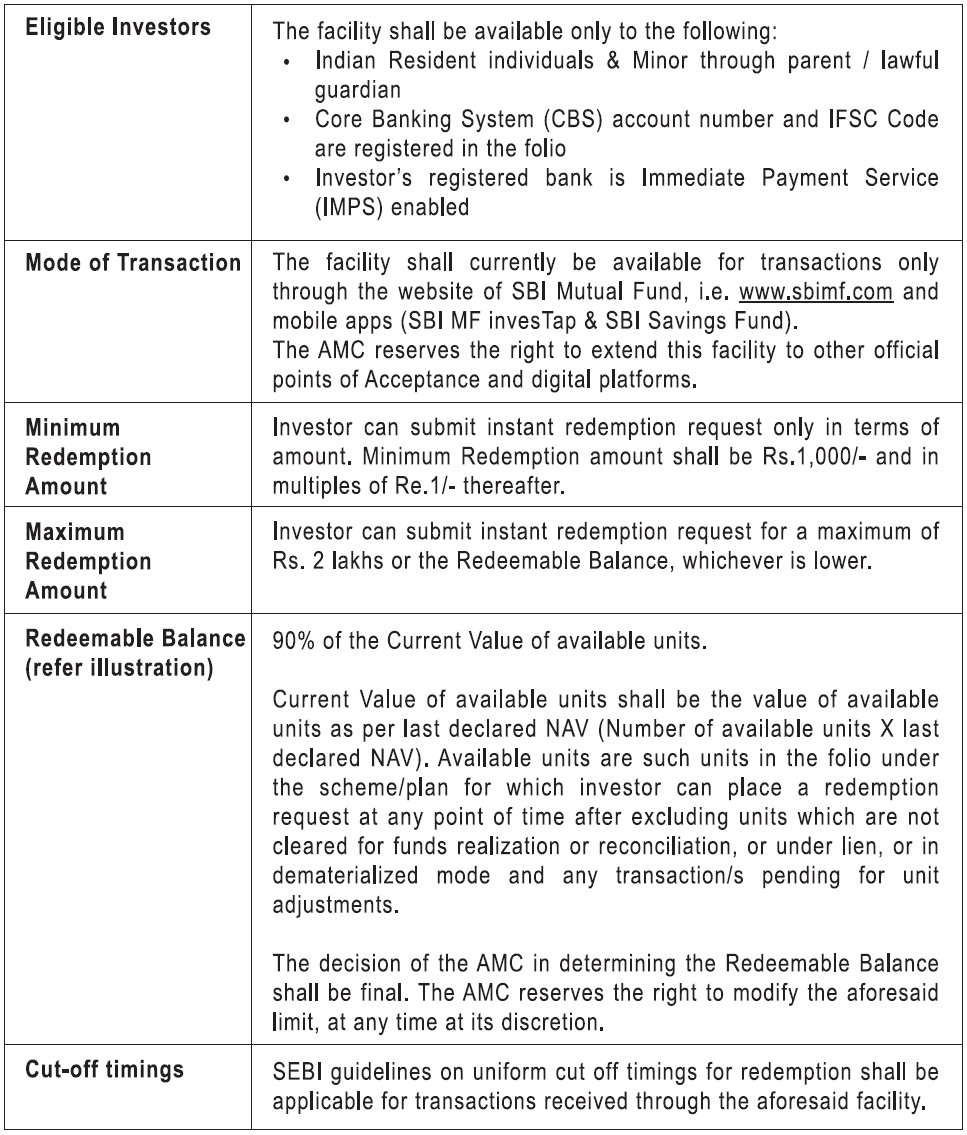 Illustration:

The AMC reserves the right to not process any redemption / switch / systematic withdrawal or any such other request received through any other mode on any business day, i.e. physical, electronic, etc. if an instant redemption request has been received and such instant redemption is pending to be processed. In case of failure in IMPS transaction, an error message will be displayed on the screen and investor should re-submit the redemption request and such re-submitted redemption request would be processed as a regular transaction and not routed through IMPS.
For more details regarding this facility, investors are requested to visit the website of AMC viz. www.sbimf.com. The AMC reserves the right to change the terms and conditions of this facility / withdraw the facility at any point of time.
All other terms and conditions of the Scheme shall remain unchanged. This Addendum forms an integral part of the Scheme Information Document / Key Information Memorandum of the Scheme as amended from time to time.