After a pro-growth and a fiscally conscious budget, the RBI backed up the government with a market consensus policy announcement. The RBI MPC on 8th February 2023 decided to raise policy rates by 25 bps, in line with market expectations. The governor stated the RBI's current objectives remained the 3 simultaneous targets – to keep inflation expectations anchored, break core inflation persistence & contain 2nd order effects of inflation.
The governor also conceded that the global economic outlook has improved materially from a few months ago. Growth prospects in major economies have improved, while inflation is on a descent, though it still remains well above the target in major economies. However, uncertainty and risks in the external sector warrant a keen eye from a policy standpoint.
Policy Action
Policy repo rate increased by 25 bps to 6.50%


The Standing Deposit Facility (SDF) rate stands adjusted to 6.25% and


Marginal Standing Facility (MSF) rate and the Bank Rate to 6.75%.
The RBI also reviewed its estimates for inflation and growth as below. While inflation especially core inflation continues to remain elevated, the RBI has built in some degree of buffer estimating crude prices for the year at US$95/barrel. Currently the India crude basket hovers at US$83/barrel.

Source: RBI Governor' Statement dated 8th February 2023
Notably, despite the overall optimism through the statement, the below statement by the governor should be read closely -
"We need to see a decisive moderation in inflation. We have to remain unwavering in our commitment to bring down inflation. Thus, monetary policy has to be tailored to ensuring a durable disinflation process."
The line along with conservatism on guidance for both GDP & inflation indicate a hint of hawkishness in the tone of future policy actions. On the positive side, with the rate hike and inflation estimates, the RBI has finally achieved real positive rates in India – Good news for Indian savers in Indian debt markets! Basis policy rates at 6.50% and RBI's CPI inflation estimate for FY 2023-24 at 5.3%, real positive rate now stands at 120bps.
Market Reaction
Market reaction was reacting largely to the possibility of further reduction of system liquidity driven by redemption of LTRO & T-LTRO securities due between February 2023 and April 2023. The curve has moved higher by ~5-7 bps. The 10-year benchmark G-Sec was trading at 7.35% at the time of writing this note.
Key Policy Announcements
Introduction of Securities Lending and Borrowing in Government Securities

In an attempt to deepen the government bond market, the RBI has now permitted participants to engage in lending and borrowing securities from the G-Sec market. The move is aimed at boosting liquidity in the Government securities market, aiding efficient price discovery. It is likely that this will augment the existing market for 'special repos'.


Market timings normalized to 9 AM to 5 PM

As part of our gradual move towards normalizing liquidity and market operations, it has now been decided to restore market hours for the Government Securities market to the pre-pandemic timing of 9 am to 5 pm. The RBI had restored market hours from 9.00 am to 5.00 pm in several segments of the money market in December 2022.
Our View
The current yield curve presents material opportunities for investors in the short to medium term space. For investors with medium term investment horizon (3 Years+), incremental allocations to duration may offer significant risk reward opportunities. For investors with short term investment horizons (6 months - 2 years) money market strategies continue to remain attractive offering competitive 'carry' and low volatility.
The policy also caps of a busy week for debt market participants, as it digests, the budget, the US Fed action, and other central bank actions. Going forward markets should operate with normalcy as no news is often good news in terms of market action.
On inflation, we believe the RBI remains focused on bringing down inflation and even remains cautious of markets getting over-optimistic. While our call for lower inflation for the next year stands, our call to action on portfolios will be driven by high frequency data and the actual inflation prints as they are released.
Growth may trend slightly below RBI projections due to lingering pressures from the base effect and external factors, but we remain constructive from medium term perspective. Overall the Indian economy is backed by resilient domestic spending & government capex. While we believe, we are at the peak of policy rates, inflation and the US Fed action can be wildcards for market participants.

Allocation and strategy is based on the current market conditions and is subject to changes depending on the fund manager's view of the markets. Data as on 31st January 2023
Product Labelling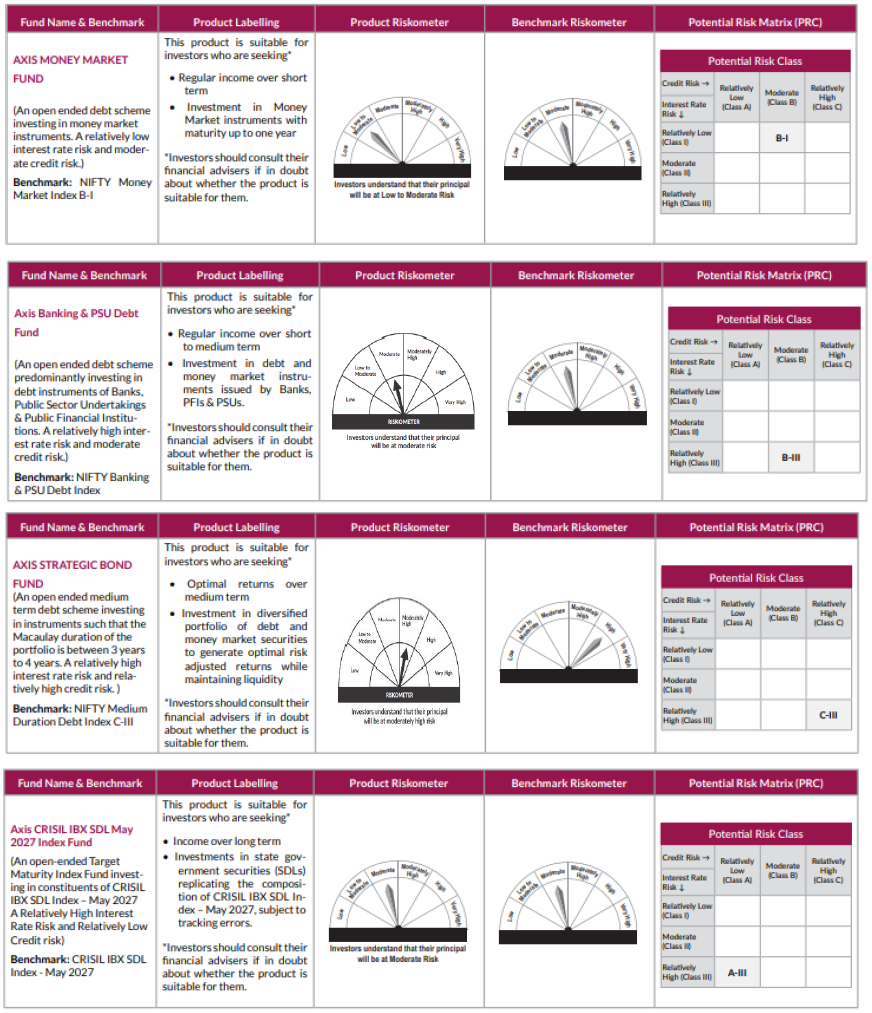 Disclaimer
* Investors should consult their investment advisers if in doubt about whether the product is suitable for them.
Source of Data: RBI Governor' Statement, RBI Monetary Policy Statement & RBI post policy press conference dated 8th February 2023, Axis MF Research
This document represents the views of Axis Asset Management Co. Ltd. and must not be taken as the basis for an investment decision. Neither Axis Mutual Fund, Axis Mutual Fund Trustee Limited nor Axis Asset Management Company Limited, its Directors or associates shall be liable for any damages including lost revenue or lost profits that may arise from the use of the information contained herein. No representation or warranty is made as to the accuracy, completeness or fairness of the information and opinions contained herein. The material is prepared for general communication and should not be treated as research report. The data used in this material is obtained by Axis AMC from the sources which it considers reliable.
While utmost care has been exercised while preparing this document, Axis AMC does not warrant the completeness or accuracy of the information and disclaims all liabilities, losses and damages arising out of the use of this information. Investors are requested to consult their financial, tax and other advisors before taking any investment decision(s). The AMC reserves the right to make modifications and alterations to this statement as may be required from time to time.
Statutory Details: Axis Mutual Fund has been established as a Trust under the Indian Trusts Act, 1882, sponsored by Axis Bank Ltd. (liability restricted to Rs. 1 Lakh). Trustee: Axis Mutual Fund Trustee Ltd. Investment Manager: Axis Asset Management Co. Ltd. (the AMC) Risk Factors: Axis Bank Limited is not liable or responsible for any loss or shortfall resulting from the operation of the scheme.