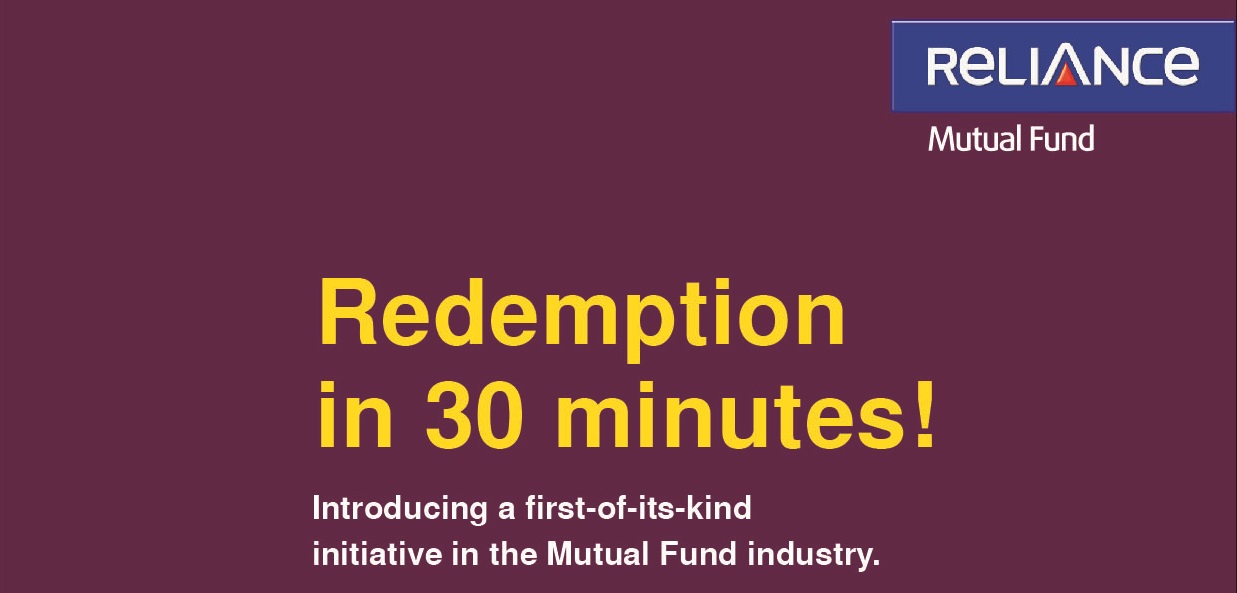 Reliance Mutual fund recently announced one more Industry First initiative - Instant Redemption - wherein investors get a maximum of Rs 2L of their investment into Reliance Money Manager Fund in maximum 30 minutes at any time of the day, 365 days an year.
Through this innovation Reliance Mutual Fund has solved one of the key barriers faced by the mutual fund industry - Liquidity. Multiple researches have proven that investors feel liquidity is one of the key barriers faced by investors.
With an investor centric approach and industry-leading innovation that has been the hallmark of this fund house, Reliance Mutual Fund has once again proven that they are at the cutting edge of fin-tech in the industry.
This unique feature allows the investors to redeem up to 95% of the outstanding amount in Money Manager Fund (subject to a maximum withdrawal of Rs. 2 Lakhs) in a matter of MINUTES!
This facility is available 365 days and 24/7 for all Resident Individuals.
For example - It is a Sunday and you place an Instant Redemption request on Reliance Mutual Fund (RMF) website, RMF will provide you with credit in your registered bank account on the same day within minutes; irrespective of it being a non-business day. So now you no longer need to wait for Business day /working day to place online redemption and get access to your own money.
Who can avail INSTANT REDEMPTION Facility?
1. Existing investor having a LIVE folio in RELIANCE MONEY MANAGER SCHEME
2. Resident Individuals only
3. Investor's bank is Immediate Payment Service (IMPS) enabled
4. Complete CBS (Core Banking System) account number is registered in the folio along with IFSC code.
Now the investors can get the confidence of getting their money within minutes back into their bank account whenever they need it.
Advisorkhoj congratulates Reliance Mutual Fund for this excellent initiative which enables the investors enjoy the bank like liquidity while enjoying superior returns than bank savings account! Download image