RBI Monetary Policy – Flip 180
April 2022
The RBI MPC decided to keep policy rates unchanged yet again. The crux of the the RBI governor' commentary, however was sharply different from the previous policy announcement. The MPC has done a complete U-turn by refocusing its attention on 'run-away' inflation, pivoting from its earlier growth focused stance.
The markets post policy saw a material sell off across the curve. The benchmark 10-year G-Sec crossed the psychological 7% threshold as market participants continued their clamour for higher interest rates. Money markets rose 25-30 bps while long bonds rose 15-20bps at the time of writing this note.
Key Announcements
Restoration of pre-pandemic liquidity framework
Citing the need to recalibrate monetary policy, the MPC decided to remain 'accommodative' while focusing on withdrawal of 'accommodation'. This reaffirms the RBI's commitment to keep inflation within the target band going forward, while remaining supportive to growth


GDP Growth for FY 2023 lowered to 7.2%, Inflation target hiked to 5.7%
Citing challenging economic conditions, commodity prices, higher interest rates and lingering COVID conditions, the RBI has lowered its growth forecasts from 7.8% to 7.2%. Further, inflation forecast for 2022-23 was marked up sharply from 4.5% to 5.7%.
Our View
Prima facie, it would seem the RBI was status quo: holding policy rates constant but the surprise was a 'Jerome Powell-esque' pivot in the language. The policy is likely to be more hawkish, because the RBI has marked growth downward, while focusing on inflation. The introduction of the Standing Deposit Facility (SDF) at 3.75% – 40 bps above the current reverse repo rate – will serve as the new floor of the policy corridor.
The RBI has also charted a new path to return to pre-pandemic monetary policy – First, ensure system liquidity goes back to neutral from the current Rs. 3-4 lakh Cr net liquidity position. Second, narrow the corridor between MSF and LAF to 50bps from the current 90 bps and third, eventually to raise the repo rate in a calibrated manner.
RBI's stated inflation target is 4%±2%. However, the 3-year average, including the RBI's projected inflation for next year, is significantly higher at 5.8%. This is a significant blow to the credibility of the RBI, in essence confirming our stance that the RBI is now behind the policy curve. Dr. Michael Patra (Dy Governor), commented that the target of the MPC will be to maintain positive real rates. Which implies that overnight rates now have to move 100 bps+ given the current state of inflation.
Our actively managed portfolios continue to remain light on duration. We continue to retain our barbell strategy comprising of a mix of high quality long bonds and low duration assets including credit as we play the 'carry' theme. Our portfolios hold assets where we find opportunities across the curve. Market rates are largely delinked from policy rates and in essence have continued pricing higher policy rates over the next few quarters. Floating rate strategies maybe ideally positioned to cushion investors from rising rates, while providing incrementally higher 'carry'.
Credits remain an attractive play for investors with a 3-5-year investment horizon as an improving economic cycle and liquidity support assuage credit risk concerns especially in higher quality names. The capital gain story in this space has incrementally given way to 'carry' as AA names trade at meaningfully higher YTMs compared to comparable AAA securities. While we remain selective in our selection and rigorous in our due diligence, we believe the current environment maybe conducive to credit exposure.
Investors looking to allocate to debt strategies are advised to look at fund segments with lower duration profiles and use target maturity strategies to gradually lock in incrementally higher rates over the next 6-12 months. To reiterate, bond yields are likely to see increased volatility and hence investors should remain vigilant in their allocations.

Allocation and strategy is based on the current market conditions and is subject to changes depending on the fund manager's view of the markets. Data as on 31st March 2022
Product Labelling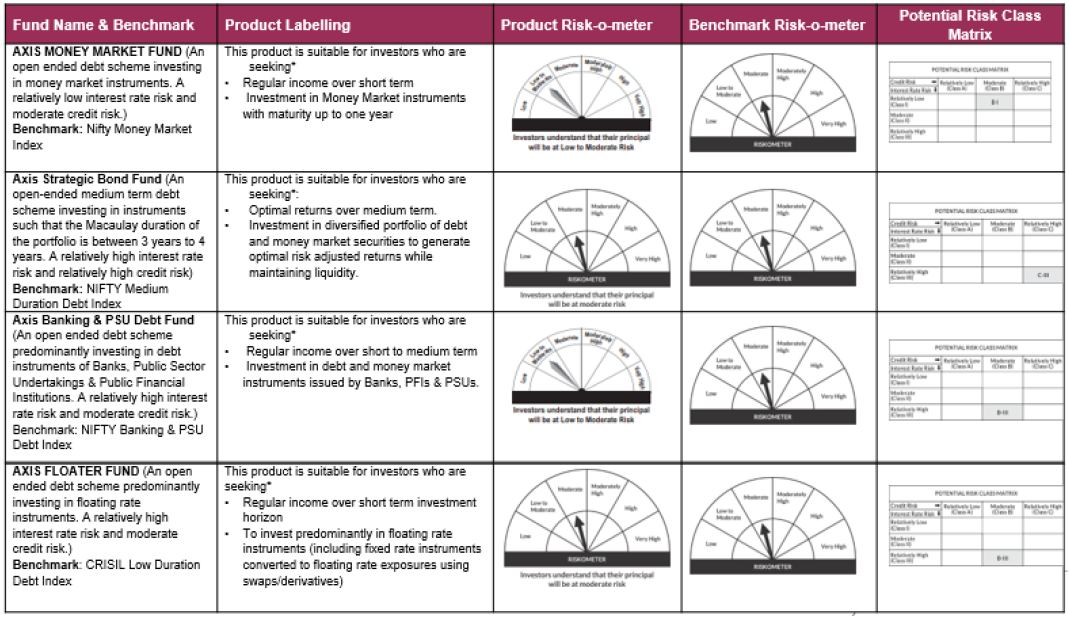 * Investors should consult their financial advisers if in doubt about whether the product is suitable for them.
Disclaimer
Source of Data: RBI Governor' Statement, RBI Monetary Policy Statement & RBI post policy press conference dated 8th April 2022, Axis MF Research
This document represents the views of Axis Asset Management Co. Ltd. and must not be taken as the basis for an investment decision. Neither Axis Mutual Fund, Axis Mutual Fund Trustee Limited nor Axis Asset Management Company Limited, its Directors or associates shall be liable for any damages including lost revenue or lost profits that may arise from the use of the information contained herein. No representation or warranty is made as to the accuracy, completeness or fairness of the information and opinions contained herein. The material is prepared for general communication and should not be treated as research report. The data used in this material is obtained by Axis AMC from the sources which it considers reliable.
While utmost care has been exercised while preparing this document, Axis AMC does not warrant the completeness or accuracy of the information and disclaims all liabilities, losses and damages arising out of the use of this information. Investors are requested to consult their financial, tax and other advisors before taking any investment decision(s). The AMC reserves the right to make modifications and alterations to this statement as may be required from time to time.
Axis Mutual Fund has been established as a Trust under the Indian Trusts Act, 1882, sponsored by Axis Bank Ltd. (liability restricted to Rs. 1 Lakh). Trustee: Axis Mutual Fund Trustee Ltd. Investment Manager: Axis Asset Management Co. Ltd. (the AMC) Risk Factors: Axis Bank Limited is not liable or responsible for any loss or shortfall resulting from the operation of the scheme.