In our previous article, The best investment choice for our children: Part 1 of 2, we had discussed why you should invest in equities to meet your children's financial goals. There are plenty of investment products in the world of mutual funds that can help parents fulfil the financial goals for their children. While starting your investment early when your child is young is essential in ensuring the success of financial goals for your children, you should also ensure sufficient financial protection for your children in the event of an untimely death, by buying adequate life insurance. In this article we will discuss, how you can use mutual funds and life insurance plans to meet the financial goals of your children.
Financial Planning for your children
When planning investments for your children, it is important to differentiate the investments made for your children from other investments in your portfolio. Goal based investing helps parents stay disciplined and is key to the success of the financial objectives for their children. You should identify different goals for your children like college education, foreign higher education, marriage etc and allocate investments to each of these goals. When your children are very young, you should start investing in equity mutual funds through the systematic investment plan (SIP) mode. As discussed in part 1 of this series, over a long term investment horizon equities can provide superior returns compared to other asset classes and investors can benefit from the power of compounding of their SIP investments. The table below shows a scenario analysis of the corpus built over various periods of time at different investment return rates, with a monthly SIP amount of र 5000/-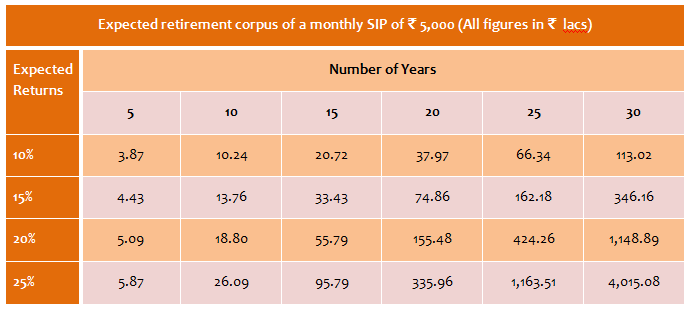 Further, we had discussed in part 1 of the series that, financial planning for your children is a dynamic process. As your children approach their life milestones like higher education or marriage, you need to rebalance your investment portfolio to have a greater allocation to debt investments to optimize risk and returns.
Financial Planning when your child is 0 – 10 years old
Life Insurance: You should buy life insurance to provide financial protection for your children's goals in the event of your untimely death. Term plans are straightforward protection policies and is the purest form of life insurance. Term plan is a much better option than traditional insurance cum savings plans like endowment or money back plans. Endowments and money back policies will offer a return of between 5 to 6% per annum. Term plans are more cost efficient than traditional insurance cum savings plans. The cost savings in premiums can be invested in mutual funds which offer much higher returns than endowment plans. You should also avoid child plans. The maturity benefit of child plans is much less then what you can get from a combination of term plans and mutual funds for the same monthly investment.
Investment: Since your child is very young, you have a long investment horizon to meet financial objectives for his or her higher education and marriage. You should invest in equity mutual funds through monthly systematic investment plan (SIP) mode. SIPs helps the investor stay disciplined towards their financial goals and also helps with the rupee cost averaging of the units purchased in volatile markets. Among equity funds, diversified equity funds which invest in both large cap and midcap companies are ideal for investors with a long time horizon. Diversified multi cap funds outperform large cap funds in the long term, but their downside potential is limited compared to midcap funds. Usually during this stage, parents also look for tax saving investment options under Section 80C of Income Tax Act. Equity Linked Savings Schemes (ELSS) is the best investment option for young parents looking to save taxes and investing for the children's futures. An ELSS is essentially a diversified equity fund with a lock in period of three years from the date of the investment. Investment in ELSS qualifies for deduction from your taxable income up to the overall limit of र 1.5 lacs allowed under Section 80C in the last Union Budget. Top ELSS funds have given over 30% annualized returns in the last 3 years. You can read about the top ELSS funds in our article, FY 2014 -2015 Tax Planning: The top 6 Equity Linked Saving Schemes.
Investing in gold has huge cultural significance for Indians. Many Indian parents start buying gold for their children's wedding even when their children are quite young. Apart from buying gold for weddings and other auspicious occasions, gold is also a good investment in the long term. Over the last 10 years investment in gold as a commodity has given nearly 17% annualised returns. Gold is an effective hedge against inflation and serves to diversify your portfolio since it has a negative correlation with equities. Buying gold jewellery is the traditional and popular form of investing in gold. While gold jewellery has its own aesthetic and cultural appeal, it is disadvantageous from an investment perspective. The making charges of gold jewellery can be 15 – 20% of the total cost. When you sell the jewellery, the jeweller will deduct the making charges from the selling price. The jeweller may also deduct an additional amount for impurities when you sell gold. Gold in physical form usually involves storage costs, since security is an important concern. . Physical gold also attracts wealth tax, if its value is over र 30 lacs. Gold ETF is the most cost efficient, safe and secure form of buying gold. A gold exchange-traded fund (or GETF) is an exchange-traded fund (ETF) that aims to closely track the price of gold. Gold ETFs are units representing physical gold which may be in paper or dematerialised form. The units of the gold ETFs are traded on the stock exchange like shares of a company. SIP is an excellent investment option for investing in Gold ETFs because SIPs can benefit the investors by taking advantage of volatility in commodity prices.
Financial Planning when your child is 10 – 18 years old
Life Insurance: Buying life insurance is not a one-time exercise. At every stage of life, you should evaluate, if you have adequate life insurance to meet the aspirations you have for your children, in the event of an unfortunate death. Your life insurance should cover not only the current expenses of your children, but also the future obligations towards your children's education and marriage. If your life insurance is not adequate you should buy additional term policies. ULIPs are more suited for younger investors with high risk appetite. Since ULIPs invest in equity markets, the returns can be very volatile. ULIPs give much lower returns than mutual funds over a shorter investment horizon due to the high charges like premium allocation charges, policy administration charges, mortality charges etc. Generally in this stage of life you should avoid ULIPs
Investment: When your children are in the age group of 10 – 18 your risk tolerance level is moderate and gets lower as your children approach college and higher education. Balanced funds are excellent investment choices for parents with children in this age group. These funds typically have 60 – 70% of the portfolio invested in equities and the rest in fixed income securities. Due to the equity component these funds can give attractive returns, while the risk is substantially lower compared to equity funds due to debt component. Parents should switch their assets from equity funds to balanced funds when their children reach this age group. Parents should use systematic transfer plans (STPs) to transfer their accumulated corpus from equity to balanced funds. STP is a mechanism to transfer your assets from one fund category to another gradually over a period of time. STP is effective in volatile markets and negates the need to time the market. In addition to switching your accumulated equity fund assets to balanced funds, you should continue to grow your corpus by investing on a monthly basis through SIPs. Typically parents of children in this age group have higher income than younger parents. Your contribution to employee provident fund, principal component of your home loan EMIs, children's school tuition fees and life insurance premiums typically constitute the major portion of your 80C tax saving. If you need to make additional tax saving investments to meet your 80C investment limit, you should invest in ELSS for your children's longer term goals like marriage. As your children approach their college education you should switch to more conservative investment options like income funds or monthly income plans, depending on your risk profile and financial objectives. As discussed earlier, STP is an effective mechanism for transferring your assets from equity or balanced funds to debt funds or MIPs. For your children's marriage you should continue to invest in Gold ETFs through SIPs. Use one time cash flows to top up your investment in Gold ETFs.
Financial Planning when your child is 18 – 25 years old
If you had planned carefully and stuck to your plan diligently, you should be able to accumulate a sufficient corpus to meet your children's education needs. Now is the time to fund your children's college or higher education expense, from your accumulated assets. Since you need to fund your children's college and higher education over several years, you should use systematic withdrawal plan (SWP) to fund your children's educational expense. With SWP you can withdraw a fixed sum very month to meet your children's tuition fees and other expenses, while the balance assets continue to earn returns. You should be mindful of the holding period for the new long term capital gains tax regime. In the last Union Budget, the holding period of debt funds and MIP for long term capital gains is 36 months. Long term capital gains for debt funds are taxed at 20% with indexation benefit. For your children's marriage you should continue to invest in Gold ETFs. For other wedding expenses continue to invest in balanced funds and switch to debt funds when your child's wedding is near. Before your child's wedding, you can redeem your ETFs and other investments to buy gold for the wedding and fund other marriage related expenses.
Conclusion
In this series, we have discussed the best investment choices for your children. Remember that while the future of our children is probably the biggest concern for most parents, other financial goals like retirement planning are also important. Failure to meet other financial goals may indirectly have an impact on your children. The key to success in meeting your financial goals is planning and disciplined investing. You should discuss the financial goals for your children with your financial advisor what investment options are best for your children's future.