Infrastructure funds, which have been the biggest laggards in the last five years, are now making a strong comeback. Infrastructure sector funds, as a category, have given nearly 65% returns in the last year. They have clearly outperformed the diversified equity funds category, over the last one year time frame. Please see the chart below for the trailing 3 months, 6 months, 1 year, 2 years and 3 years returns of diversified equity and infrastructure funds (returns over 1 year are annualized). The trailing returns are based on NAVs of July 4 2014.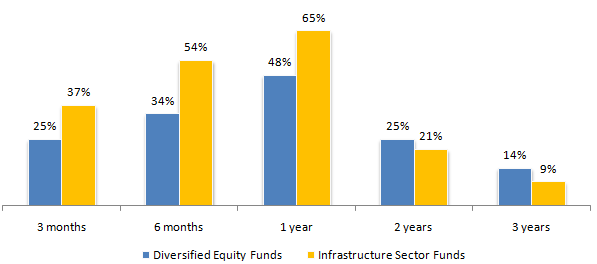 We can see in the chart above that infrastructure funds have outperformed diversified equity funds within the last one year. However, over 2 years or more, infrastructure funds had been lagging behind diversified equity funds for reasons that are well known. The rally in equity market leading up to the recently held Lok Sabha election, was riding on the expectation of a reversal of the policy paralysis situation that characterized the previous government. Stocks in the infrastructure sector have been among the biggest beneficiaries of the pre-election rally. The election results did not disappoint the market, with NDA and BJP getting absolute majority in the Parliament. Post elections, the structure of the new NDA government has been viewed by the market as one that will enable faster decision making and will kick start the stalled infrastructure projects. Consequently, post elections infrastructure funds have continued to perform well. Infrastructure stocks and funds are expected to gain further strength in the pre budget rally, currently underway. Since the beginning of this year, infrastructure funds as a category have given over 50% returns.
The top performers in this category have given over 70% returns in the last one year. In the last six months, top funds in this category have given over 55% returns. The top performing infrastructure sector fund, in terms of last 1 year returns, Escorts Power and Energy (Growth Option), has given trailing return of nearly 85% in the last one year. While infrastructure sector funds as a category has outperformed diversified equity funds, it is important to note that, from a risk perspective, diversified equity funds offer more risk diversification compared to sector funds. Unlike diversified equity funds which aim to diversify unsystematic risks (i.e. stock specific and sector specific risks), infrastructure sector funds are exposed to sector specific risks. Infrastructure funds are affected by central government policies, either in a positive or in a negative way. These funds are also impacted in the short term by the monetary policy of the Reserve Bank of India. As such, investors with a short time horizon should stay away from infrastructure sector funds. However, for well informed active investors, infrastructure sector funds can be good investment opportunities in the medium term, due the reasons mentioned above. The table below lists the regular plans of the top 10 infrastructure sector funds, in terms of 1 year returns.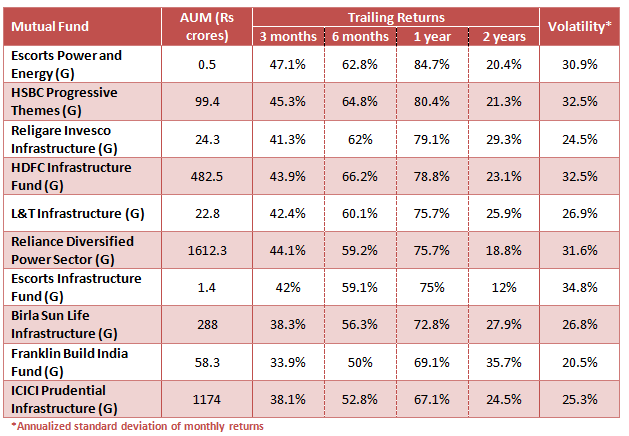 Future Outlook of Infrastructure Funds
The outlook of Indian equity market is bullish. A recent Economic Times report suggested that the Sensex may touch 31,000 before the end of FY 2014 – 2015. It is very likely that, the infrastructure sector will play a major part in the Sensex rally, after the Budget. Fund managers of leading mutual fund houses are very bullish on this sector. However, investors need to have a three to five year horizon, when investing in infrastructure sector funds. Since the Union Budget is just around the corner, investors may want to wait, to go through the Budget announcements benefitting the infrastructure sector, before investing in infrastructure sector funds.
Conclusion
In this article, we have discussed that top performing infrastructure funds have given very strong returns in the last one year timeframe. As discussed earlier in our blog, timing is an important aspect of investing in thematic or sector funds. As far as infrastructure sector funds are concerned, this is a good time to invest in such funds. However, since sector funds, especially those related to cyclical sectors like infrastructure, are more risky compared to diversified equity funds, investors must ensure that these funds are aligned with their individual risk profiles and financial objectives. Investors should consult with their financial advisers, if infrastructure sector funds are suitable for their investment portfolio.