All of us have something to say, a voice waiting to be heard. A lot of stories remain unheard. It is not that they are spoken enough. They are! However, they lack the means of powerful storytelling which will make the world get up and take notice. If you have one such story to tell, but do not know how to say it out loud then "Mastering Communication for Influence Boot Camp" is just what you have been waiting for.
About the Event
It is an immersion programme designed to help you gain experiential learning and the key to becoming a master communicator. This enables you to uncover your ideas, say your story and you will be provided with the framework that allows you to deliver it powerfully. It is done by covering three subjects:
Positioning: Gauging your unique position by focussing on your ideas


Platform: Identifying the correct platform and methodology for your message


Packaging: The new and unique marketing frameworks to get your commercial message out


Should You Attend?
Whether you are professional who wants to speak the company events and conferences or an expert who wants to be an authority in their field or an individual who wants to disseminate their story in a commercially viable way; then this an event for you.
The Speakers
Georgina Adams: Relocation and Transition Coach
Sarah Cordiner: How to Get Seen and Heard in Your Industry
Dr Kinnar Shah: Certified Gallup Strengths Coach
Craig O' Sulivan: Master of Story Teller
Gloria Lawrence: Spirit Leadership
Kanak Kr Jain: Understanding Mind through Handwriting for Communication
Sushma Jain: Energy Consciousness in Communication
Seema K Bharwani: Content Specialist
Himanshu Buch: Humorist and Stage Artist
Kate Cawthorn: Certified Gallup Strengths Coach
Greg Mowbray: Leadership
Biju Thampy: Leadership and Philanthropy
Randa Habelrih: Inspirational Story and Young People
Sam Cawthorn: Founder & CEO speaker of speakers!
And Many More speakers of acclaim!
Schedule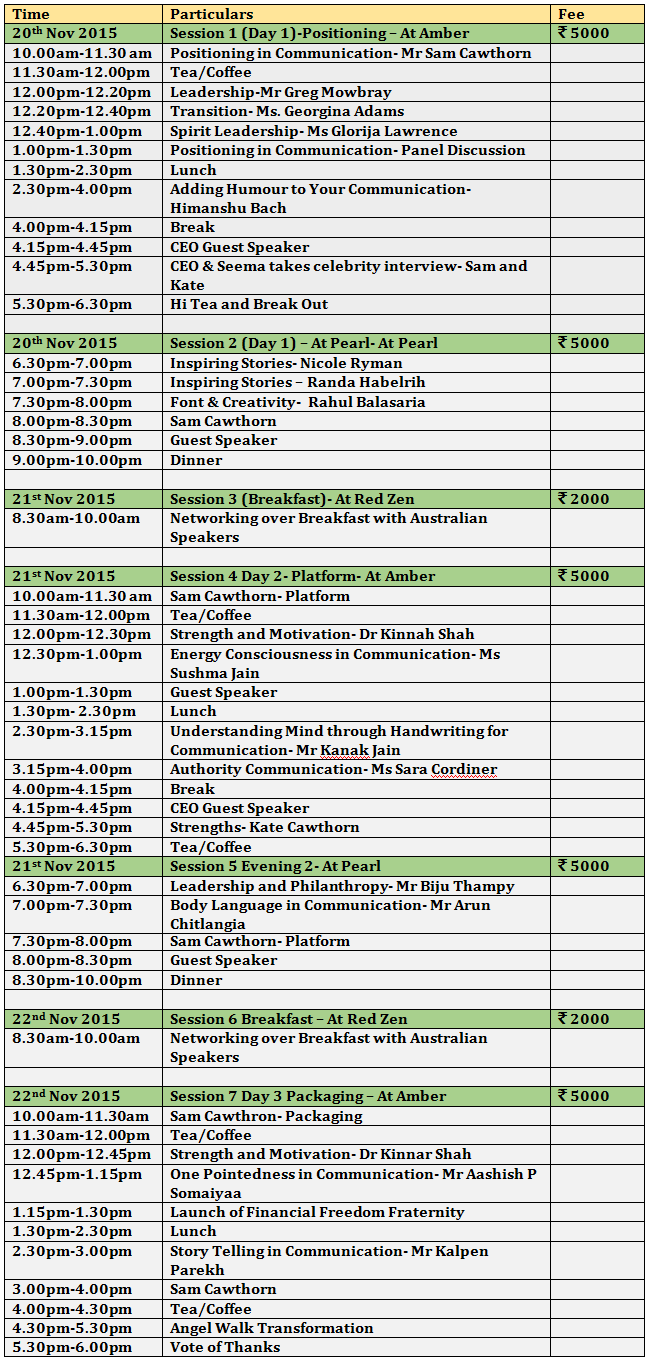 Date and Location
A three day boot camp will held from 20-22 November, 2015 in Courtyard by Marriott Mumbai, Andheri East (Maharastra).
Registration & Tickets
For registration and tickets log on to: http://goo.gl/RCo9PJ or https://goo.gl/N94eYD