NOTICE is hereby given that Edelweiss Trusteeship Company Limited, Trustee to Edelweiss Mutual Fund, has approved declaration of dividend under following Schemes of Edelweiss Mutual Fund, as per the details given below: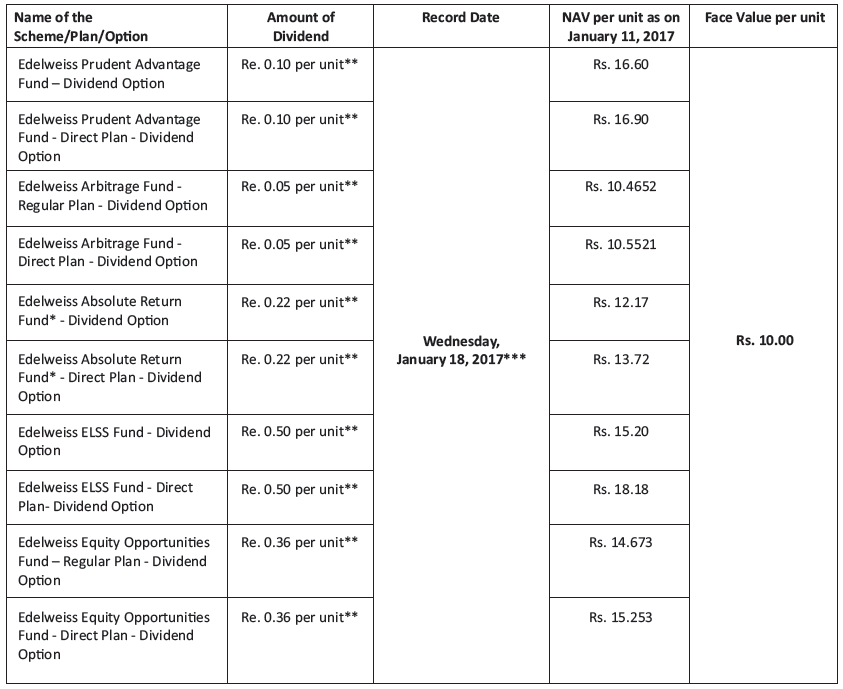 Pursuant to payment of dividend, the NAV of the aforementioned Dividend Options of the Scheme(s) will fall to the extent of dividend payout and statutory levy, if any.
*The Scheme is an equity-oriented Scheme. Investors in the Scheme are not being offered any guaranteed/assured returns.
**Distribution of the above dividend is subject to availability of distributable surplus as on the Record Date and as reduced by the amount of applicable statutory levy, if any. Considering the volatile nature of the markets, the Trustee reserves the right to restrict the quantum of dividend upto the per unit distributable surplus available under the Scheme on the Record Date in case of fall in the market.
***or the immediately following Business Day if that day is a Non-Business Day.
All Unit holders whose name appears in the Register of Unit holders of the aforementioned Dividend Options of the Schemes as at the close of business hours on the Record Date shall be eligible to receive the dividend so declared.
Investors are requested to take note of the above.
Please check out Historical Dividends of Edelweiss Mutual Fund schemes below -
Edelweiss Absolute Return Fund