Introduction
Every economy goes through growth phases - periods of rising growth, that begins to decline after a peak; only to rise again from a bottom slump.


This 'expansion' and 'contraction' is cyclical. Each phase favours growth in different sectors and opens different cyclical opportunities. (For example – the pandemic opened up tremendous opportunities in the healthcare and IT sector)


This calls for a unique investing style – 'Business cycle-based investing'
Presenting Aditya Birla Sun Life Business Cycle Fund
An open-ended equity scheme following business cycles-based investing theme.
This scheme seeks to identify upcoming cyclical opportunities by estimating:
The changes in cyclical phase of the economy


Favorable sectors and opportunities based on the specific economic phase


To ultimately build a portfolio of industry leaders within these identified opportunities
The key focus is to apply fund manager expertise to pre-empt these cyclical phases and identify these opportunities before they present themselves
Why should you invest in this fund?
Make your portfolio conscious of business cycles Different cyclical phases tend to favour different sectors – in a contraction phase for example defensive sectors such as consumer staples and healthcare that are essential tend to outperform; whereas in an expansion phase, opportunities open up in other non-defensive sectors that have discretionary demand. By focusing on identifying these opportunities in advance, this fund has the potential for growth through all business cycles.


Get a 'first mover' advantage through fund manager expertise Expert fund managers seek to pre-empt cyclical changes and opportunities in finding industry leaders to maximise potential of growth for investors


Flexibility giving diversification Can invest across all market sectors, themes and market caps.


Global exposure as well The fund also has the flexibility to invest in select and favourable global opportunities, giving you the potential exposure to global markets as well


Potential for long term capital appreciation Being an equity fund it has the potential for long term capital growth
Invest in Aditya Birla Sun Life Liquid Fund and Initiate NFO Smart Switch simultaneously

With this NFO, we introduce new and unique 'NFO Smart Switch'
Here's how it works:
While the NFO opens on 15th November 2021, the NFO Smart Switch opens from 25th October 2021 (till 12th November 2021)


In NFO Smart Switch, investors can park the money intended for the NFO in the Aditya Birla Sun Life Liquid Fund.


In this way you have the potential to earn returns on your surplus idle funds before they get invested in the NFO – Aditya Birla Sun Life Business Cycle Fund.


This invested money will be 'switched out' from the Aditya Birla Sun Life Liquid Fund into the Aditya Birla Sun Life Business Cycle Fund on the last day of the actual NFO period i.e. on 29th November 2021.


The NFO Smart Switch is available to all existing and new investors of Aditya Birla Sun Life Mutual Fund and can be done directly through our website, ABSL MF Investor APP or 'Active Account App'.
NFO Smart Switch gives you the benefit to potentially earn returns on your surplus investible funds while ensuring you do not miss out on the upcoming NFO.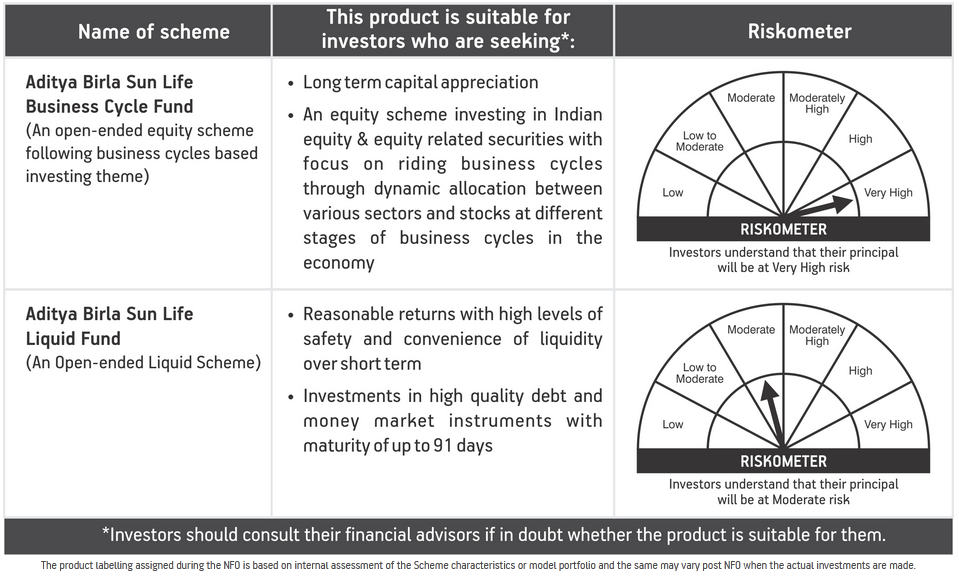 For more information on the schemes, please refer to SID/KIM of the respective scheme.